Remember that show, The Wonder Years? The TV series was basically following Fred Savage around, from ages 12 to 17 going through the trials and tribulations while growing up in American suburbia. I could somewhat relate to the main character: how to gain social status, what to do about studying, girls, peer pressure and so on. It's during those years that as a person, you are molded and discover who you are.
That was no different to what happened to me in what I call my "wonder year" of 1989. My family was going through a major transition. After growing up in Edmonton (and yes, I grew up as an Edmonton Oilers fan following Wayne Gretzky, Mark Messier, Jari Kurri, Glenn Anderson, Paul Coffey, Grant Fuhr and the like), my father was offered a drafting position in Vancouver in the spring of 1988. After some consultation, we decided to move. It was a very tough decision to say goodbye to my friends, sell our Edmonton home, pack up and leave for uncharted territory.
This was also the same summer that the unthinkable happened. The day before we moved, Wayne Gretzky was traded to the Los Angeles Kings. Nobody saw this coming, and many of my Edmonton friends were stunned beyond belief. The hockey world as I knew it was never going to be the same. And with that, I left town.
Excerpt from Kings Ransom:
A Tough Adjustment
The move to Vancouver was not without its rough patches. I entered Grade 8 as a new student at my new school, and was treated miserably. My bike was stolen within the first week of class, I was bullied between classes, and I didn't go out of my way to make any friends, except for a few at tail end of Grade 8. Don't get me wrong, Vancouver is a great place to visit. But to live there and try to fit in, for me it was very tough. What was worse, it rained all winter long.
My father and I kept busy with activities such as gym, skiing up at Grouse Mountain, and checking out a few football and hockey games. My first ever Canuck game was an exhibition event with the Canucks hosting Dynamo Riga from Soviet Latvia at the time. Who knew that in only a few short years, things were about to change in the Eastern Bloc and the Soviet establishment. That was the first time I saw Arturs Irbe. And it was also the first time that I saw a young phenom named Trevor Linden in action.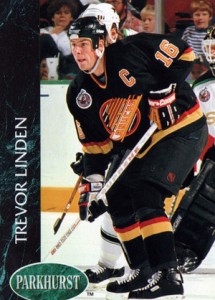 Throughout his rookie season, everyone in Vancouver was talking about Linden and how he lit up the NHL rookie rankings. Not since 1982, everyone was taking notice at the Canucks led by Stan Smyl, Tony Tanti, Greg Adams, Kirk McLean and coached by Bob McCammon & managed by Pat Quinn. In the Smythe Division, they were clearly not on the same level of talent as the Oilers or Calgary Flames at the time. And with Gretzky's move to Los Angeles, the chances of Vancouver making the post-season rested on their rag-tag roster to wrestle the lowly Winnipeg Jets for the final playoff spot in the Smythe.
A New Canucks Fan
On January 31, we went to another game at the old Pacific Coliseum, Canucks vs. the Gretzky-less Oilers. I remember it being a tense game because many fans wanted to show the Oilers how mortal they were. The Canucks didn't disappoint. Linden had a 3-point night and Steve Bozek scored two goals. They romped the Oilers 6-2. The Oilers were a great team to cheer for growing up, but the dismantling had already begun. It was at that moment that I no longer cheered for the Oil. I became a Canucks fan.
I remember the whole city was getting giddy about Linden's rise to prominence at such a young age.  You could tell watching him play that he was taking charge, making plays happen, and putting the team on his back. Linden finished his rookie season with 30 goals and 59 points. Not bad for the youngest player in the NHL that year. He was a finalist for the Calder Trophy which was won by Brian Leetch of the New York Rangers.
A Spring to Remember
With the rainy winter all gone, I couldn't wait to move back to Edmonton. The family decided that because things weren't going so well for all of us adjusting to a completely different lifestyle, we would move back right after my Grade 8 semester was done.
The spring that year saw some significant events around the world. There was the start of a student movement in China. There were also some political rumblings in Eastern Europe that began in Poland in March and culminated in widespread revolutions in Hungary, Bulgaria, Czechoslovakia (today's Czech Republic and Slovakia), East Germany and finally in violent Romania. When the violent events of Tiananmen Square occurred on June 4, I remember Chinese-Canadian people extremely pissed off, breaking out into protest all over Chinatown. To me, that was a surreal life experience.
The same could be said about the 1989 Stanley Cup Playoffs. The first round in the Smythe Division semi-final was notable for two things: It was the first time that Gretzky faced his old team, the defending Stanley Cup Champions. No one knew who that series was going to end. And it was also the first time that the Calgary Flames were predicted to win the Stanley Cup. The Flames were stacked with great talent such as Al MacInnis, Doug Gilmour, Gary Roberts, Gary Suter, Hakan Loob, Theo Fleury and Mike Vernon. They finished first overall in the season and were poised to go all the way.
Nobody gave Vancouver a chance.
While many hockey fans were glued to the Kings-Oilers series, many of the Canuck fans were focused on the series with the Cup favourites. To loosen up the team prior to the face-off, Bob MacCammon was known to crack a joke . The Flames came out blazing but the Canucks were able to keep pace and frustrate the Flames. In Game One, it was former Flame Paul Reinhart who scored the crucial game winner in overtime. However by Game Two, the Flames took full control and handily won 5-2. The trend continued in Game Three and Mike Vernon earned his shutout in a 4-0 victory. Canucks goalie Kirk McLean was lit up and was replaced by Steve Weeks.
In Game Four, the momentum shifted back to Vancouver and Linden had a special night.
Four points. This was a sign of things to come.
With the series on the line heading into Game Six, the Canucks were faced with a do-or-die situation. McLean was back in net and the once again, Linden led the Canucks into a gritty but convincing win.
Game Seven would prove to be the most nerve-racking and decisive game. I don't need to tell you how it ended, but I do recall that Linden, Smyl and Tanti had glorious opportunities to put away the Flames in the first round. But alas, that didn't happen.
Forever A Canuck
Pat Quinn's selection of Linden at the 1988 Entry Draft was not only one of the best acquisitions in Canucks history, it was also the start of the Canucks' rise from mediocre obscurity. With the later addition of players like Jyrki Lumme, Cliff Ronning, Geoff Courtnall, Jeff Brown and Pavel Bure, the Canucks rose to the top of the Smythe twice, had Bure score 60 goals twice, and reached the Stanley Cup Finals only to lose to the New York Rangers in 1994. Linden would continue his glorious career playing for the Canucks until his trade to New York Islanders, Montreal Canadiens and Washington Capitals, before returning to Vancouver in 2001. He retired after the 2007-08 season and had his banner raised to the rafters at GM Place (now Rogers Arena.)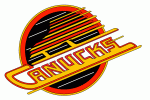 1989 was a year I will never forget. The year ended with my family's return to Edmonton, resettling into another home, joining another high school and adjusting to slower-paced living again. Even though I was back in Oil Country, I kept tabs on how things were going in Vancouver, and still do today. My time in Vancouver was short but memorable. I left Vancouver a changed kid, still happy go-lucky but more cautiously optimistic. It wasn't hard to follow a up & comer like the Canucks. They really were a team on the rise.
The Canucks today are no different that what they were when Linden started. I lived, breathed, and died with this team through thick and thin, and I wouldn't have it any other way. This is what I live for – I am forever a Canuck fan.
A former novice/atom player, timekeeper and fan of the game, Peter has lived and breathed hockey throughout his life, covering hockey happenings in Edmonton, Vancouver, and currently in Saskatchewan. He is now a contributing writer for the Hockey Writers.