The Carolina Hurricanes had great news Sunday night in their 3-2 win at home against the Florida Panthers. They gained what appears to be a legitimate backup goalie in Michael Leighton. They also had some very bad news in that their veteran center Jordan Staal is out with a concussion. As the timeframe for the loss of Staal is undetermined, it is tempting to say that the bad news outweighs the good.
Gaining Leighton
As I watched the first period unfold against the Panthers, I had the notion that the game was going to be a tough one for Carolina to win. After Leighton gave up two goals in a short amount of time in the first period, that notion turned into, "this could get really ugly." Visions of Al Montoya of the Montreal Canadiens getting left to absorb a 10-goal beating a couple of weeks ago were vivid in my head. Cam Ward was getting a night off, but would he have to suit up and take the ice, or would head coach Bill Peters leave Leighton in and allow him to continue to get shelled?
Fortunately for Leighton, the team and the fans, it did not "get ugly." The 'Canes came out in the second period like a different team, scoring three goals and eventually beating the Panthers 3-2. Leighton was in many ways the story, as he showed multiple moments of brilliance.
Still got it. Michael Leighton flashes leather en route to his first NHL win since December 2010. pic.twitter.com/oqxbGmlR6O

— NHL (@NHL) November 28, 2016
Leighton made several saves worthy of a slot in the ESPN Top 10, and 'Canes fans breathed a collective sigh of relief after that rough first period. If Leighton can maintain the form he showed in the final 40 minutes against the Panthers, Carolina can give Cam Ward the nights off he needs and not be overly worried about his backup.
Losing Staal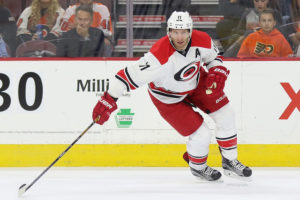 Staal took a stick to the head from Florida defenseman Jason Demers in the first period. While listed by the team as the all-encompassing "upper-body injury" it was clear that upper-body meant head, and that a concussion was certain to be the diagnosis. Hurricanes GM Ron Francis confirmed on Monday that Staal had been placed on injured reserve and that there was no timetable set for his return. Francis also announced that forward Phil Di Giuseppe has been called up from the team's AHL Charlotte Checkers.
For the 'Canes, losing "the big guy" as Peters often refers to Staal is a serious blow. Yes, they played on fire after losing him against Florida in the subsequent periods. But Staal's veteran presence and size are not easily replaced. However, some fans can find the silver lining in any adversity as noted in this Tweet during the Hurricanes' game at the New York Rangers Tuesday night.
https://twitter.com/swagelin/status/803761388640288768
For the Hurricanes to win consistently, they will have to play consistently, and turn losing Staal into extra motivation. Gaining a good two periods from Leighton was definitely good news. Losing Staal indefinitely is bad news, but not insurmountable. The adage of taking one game at a time will be crucial for this young team. I think Peters is capable of instilling that focus. The character of this team will be evident as they deal with this adversity, one game at a time and one shift at a time. They can rise to the occasion and meet the bad news with a good response, and keep their season alive.