Other than Alex Galchenyuk, Montreal's centers have not produced much offensively this season. On his own, Galchenyuk has 22 points in 22 games. Meanwhile, Tomas Plekanec, David Desharnais and Torrey Mitchell have 21 points COMBINED between the three of them. For Mitchell as the fourth-line center, he has seven points in 22 games, which is reasonable considering his role, but for the other two, it's nowhere near good enough.
Not Good Enough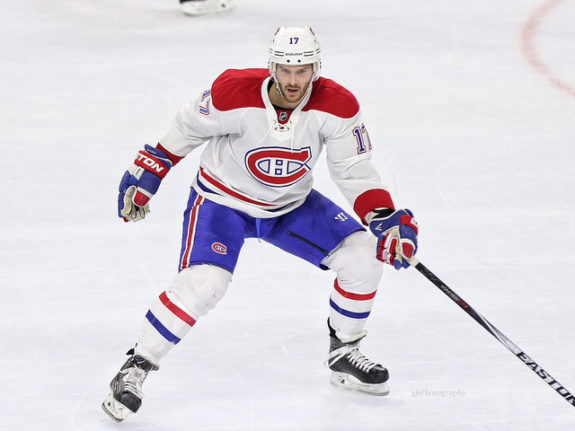 For Montreal to take that step forward, they need a proper second line center who can produce consistent offense and be solid defensively. The Habs won't scare anyone going into the playoffs with their current center depth. Galchenyuk has emerged as an elite offensive threat while Mitchell is very solid on the fourth line, but for Plekanec and Desharnais, they need their roles to be redefined at the very least.
Plekanec has just one goal in 22 games this season, and his ability to produce has virtually disappeared. At this stage in his career, he seems better off as a third-line center as he is still reliable defensively. However, he is making $6 million this year and next so it's pricey to keep him around in a reduced role.
Coming into game vs. #Hurricanes the #Habs David Desharnais had 26:29 total ice time on the power play this season with one assist.

— Stu Cowan (@StuCowan1) November 25, 2016
For Desharnais, he is given every chance to produce offensively, from playing with the team's best players to ample time on the power play, but he just can't do it consistently. He is easy to play against, and if the team is serious about winning, Desharnais should not be playing a big role. In this case, Phillip Danault would be a better option as the third-line center as he is better defensively and has shown so far this season he is capable of some offense.
Time to Go for It
Finding a solid second-line center could be challenging. The rumor mill has tossed around Martin Hanzal's name in connection to Montreal, but he doesn't seem like the ideal fit for the Habs. While he has good size at 6 feet 6 inches and is solid defensively, he doesn't score enough (his career high in points is 41) and he is injury-prone.
Montreal doesn't have any immediate in-house options either. Michael McCarron has a lot of potential but it remains to be seen if his NHL future lies on the wing or at center, or if he will be a scorer at the next level. Danault has the smarts and looked good in a small sample size playing up in the lineup, but he looks destined to be a third or fourth-liner in the meantime.
Alex Galchenyuk's OT winner gave him points in 17 of 22 GP this season. He sits atop this list & is tied for 4th in NHL scoring with 22 pts pic.twitter.com/zVkQ2KdEyf

— StatsCentre (@StatsCentre) November 27, 2016
If Montreal hopes to contend in the spring for a Stanley Cup, acquiring a second-line center would improve its chances. Relying on Price every night to steal a game should not be the only way this team will win. Bergevin is in his fifth season as Habs GM and made the bold move to get Shea Weber. Winning one or two playoff rounds isn't going to cut it this time. The window to contend is open, but will the Habs take advantage?