When was the last time the Montreal Canadiens truly had an offensive dynamic duo that could create chances at will and bring fans out of their seats on a nightly basis? In recent years, defenceman PK Subban and forward Alexei Kovalev entertained fans with their skill and flash during their respective stints with Montreal, but it has been years since the Habs have had a duo up front that could rival the NHL's best. However, that time has arrived as the Habs currently have an elite offensive pairing up front in the form of Alex Galchenyuk and Alexander Radulov.
Something to Prove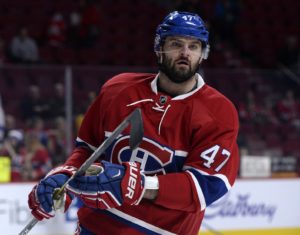 Galchenyuk and Radulov didn't start the year together but in the rare moments they were on the ice at the same time, they showed flashes of brilliance. When they were finally paired together, the chemistry between them became more obvious as they complement each other very well. Both are skilled in all facets of the game but Radulov's playmaking has benefited Galchenyuk in the goal scoring department.
They are the most skilled forwards on the team as they both possess dynamic skill sets. Galchenyuk showed some chemistry with Max Pacioretty last year but it's on a whole different level this season with Radulov. On a team that has mostly had second line talents at best up front in recent years, Galchenyuk and Radulov are a breath of fresh air with their skill.
Coming into the season, both players had something to prove. Galchenyuk had to show he was a true number one centre in the making and could put up consistent offence. For Radulov, he was making his return to the NHL for the first time in four years and had to shed the immature troublemaker label that had been following him around. So far, both players have shattered expectations.
Alexander Radulov and Alex Galchenyuk have played 12 games on the same line:
Radulov: 2 G, 10 A, 12 pts
Galchenyuk: 7 G, 8 A, 15 pts

— Аrpon Basu (@ArponBasu) November 27, 2016
Growing Up
Galchenyuk has had his struggles with faceoffs and defensive miscues but overall, he has taken a big step forward this season and looks like that franchise number one centre the team has been trying to find for many years. His skill, size and work ethic make him an effective player and at just 22-years-old, he hasn't even hit his prime yet.
Radulov is the veteran at 30 but plays with the vigor of a teenager. While Radulov's elite skill stands out, his hustle on every shift is just as noticeable. He has made the Bell Centre faithful fall in love with him as he gets a loud cheer after every goal and the crowd seems to hold its breath in anticipation every time he has the puck.
Keeping Them Together
Galchenyuk is a restricted free agent at the end of the season while Radulov is unrestricted. If both players can keep it up for the rest of year and into the playoffs, they could be looking at big pay days. Galchenyuk and Radulov have been driving the offense up front for the Habs so far this season as players like Pacioretty, Tomas Plekanec and Brendan Gallagher have struggled to score on a consistent basis.
As much as Carey Price is relied upon, not having Galchenyuk and/or Radulov wouldn't be ideal either. It's worth noting that the Habs lost both games that Radulov missed with the flu. Having not one but two elite offensive talents gives Montreal a different dimension than they have had in recent years. While Price is no doubt Montreal's best player, Galchenyuk and Radulov have brought plenty of goals and an entertainment factor to a team in need of both.