In the six-plus games since Jordan Staal was injured, the Carolina Hurricanes have struggled to find a replacement for his sturdy net-front presence in both zones and his faceoff excellence.
Since Staal exited, with what was later diagnosed as a concussion, in the first period of their Nov. 27 game against the Florida Panthers, the Hurricanes have eked out a 3-3-1 record but could have several more wins if not for the absence of arguably their most well-rounded forward.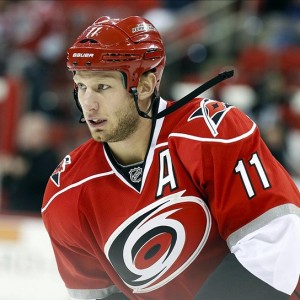 In the crease, Staal's 6-foot-4, 220-pound body is missed. Without him, the team's been unable to get traffic in front of their own shots, a priority for coach Bill Peters this year, and keep opponents out of Cam Ward's sightline. But he's also conspicuously absent from board battles, the faceoff dot and even presumably in the locker room, where the Hurricanes aren't exactly flush with 710-game veterans.
Although so much of what No. 11 adds is intangible, and the impact of a missing player is much more difficult to statistically quantify than the impact of a player on the ice, Staal's influence on the team's success has been demonstrated visibly and statistically over the past few weeks.
Crucial Goals Allowed
In the defensive zone, the Hurricanes recently surrendered two crucial late-game goals as a direct result of poor boxing out in Ward's sight line.
Last week in Boston, Torey Krug's shot was saved by Ward but unfortunately deflected off Teuvo Teravainen's skate and past Ward for the tying goal with just 31 seconds left.
The only reason why the puck deflecting off Teravainen went toward the goal instead of away from it, however, was that Boston's David Backes had been left all alone just outside the blue paint. Teravainen (a man with a four-inch, 40-pound deficit on Backes) noticed and attempted to turn around to shove him away.
The idea of using Teravainen to protect a one-goal lead in the game's final minute is questionable — and to employ him as a net-mouth guarder dubitable — but the youngster would likely never have been stuck in that scenario if Staal had been healthy.
A week later, on Wednesday in Anaheim, Nick Ritchie sparked the Ducks' late comeback with a nifty deflection from the lower slot past Ward with four minutes left. Jay McClement — sporting a one-inch, 27-pound deficit on the husky Ritchie — was in charge of covering him, but had been sandwiched in between Ward and Ritchie (no man's land in this situation) and was actually making no contact whatsoever with Ritchie at the moment of the deflection.
Again, generally, that's where Staal would be.
By the Numbers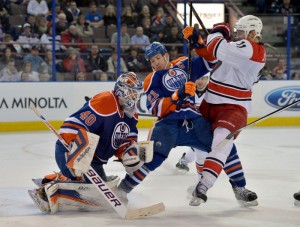 Those two scenarios exemplify a trend for the Hurricanes over their past seven games, notably aligning with the duration of Staal's injury to date.
From the Nov. 27 game on, Carolina has conceded an average of 11.4 scoring chances per game (per Corsica.hockey), up from an average of 9.1 per game before that and even more drastically up from 8.6 per game in the seven games directly preceding that, when Staal was arguably playing his best hockey of the autumn.
Similarly, from Nov. 27 on, 28.7 percent of the shots on goal faced by Hurricanes goaltenders have been designated "high-danger," as opposed to 24.8 percent before that and 23.7 percent in the seven games immediately prior.
Even beyond just offense-related statistics, the absence of Staal — the team's leader in hits per game (2.1) this season — has reduced Carolina's ability to keep up with opponents physically. This week's back-to-back games in Southern California had the visitors out-hit by a combined 50-25 margin.
Effects in the Faceoff Dot
The Hurricanes' once-lofty ranking in faceoff winning percentage has taken a massive hit since Staal, the league's third-best faceoff-taker this season at 60.1 percent, went down.
The team has slipped from top five in the league to 9th. Their season winning percentage has declined from 52.7 percent to 51.1 percent, thanks to a woeful 46.1 winning percentage over the last seven games.
If Staal had played those seven games and taken an equivalent amount of faceoffs, the team would have benefitted from almost 13 more cumulative faceoff wins, or nearly two extra per game.
The value of faceoff success is surprisingly little in terms of generating and preventing shot attempts, but its worth is amplified in special situations like the penalty kill, where the Hurricanes have fortunately been well-stocked with specialists (McClement, Viktor Stalberg, Joakim Nordstrom, etc.) to continue their remarkable run of near-impeccability.
Most concerning for the team as a whole in regards to Staal, is the fact that a timetable has yet to be established for his return. As long as No. 11 remains out of the lineup, the Hurricanes will have to make do without their best option in a number of oft-unheralded yet critical roles.