On Tuesday, the Carolina Hurricanes proved that defenseman Brett Pesce is part of their long-term plan. Pesce and the team agreed to a six-year extension that will pay him $4.025 million per season starting in 2018-19.
For those who were wondering if he would get an extension when his defensive linemate, Jaccob Slavin, did a few weeks ago, the question has been answered. The Hurricanes see value in Pesce, and have proven it with a lengthy contract and excellent compensation.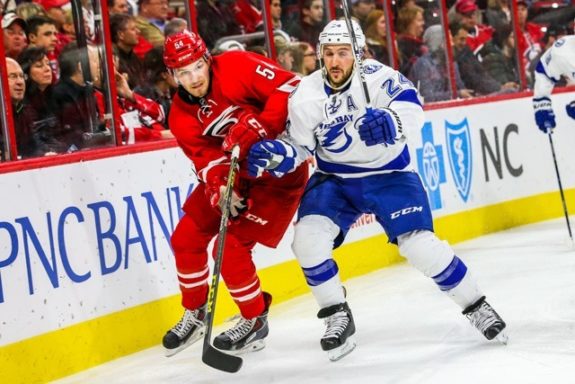 Pesce said that negotiations had been going on for about a month and that he is excited to have the deal done. "Obviously, I always try to hope and strive for the best," Pesce said via teleconference with the media on Wednesday. "It's pretty surreal. I have a lot to be thankful for."
Pesce Earned a Long-Term Deal
Along with linemate, Slavin, Pesce has steadily improved and earned his spot. In the team's press release regarding the contract, Francis said:
Brett took another big step forward last season. He plays a smart defensive game and has good ability to move the puck and contribute offensively. We plan for him to be a part of the Hurricanes' defensive corps for a long time.
In other words, Pesce has earned this contract extension. Anyone objectively assessing the Hurricanes would agree. After playing just three games in the 2015-16 season with the team's AHL Charlotte Checkers, Pesce was called up to the NHL when James Wisniewski sustained a knee injury and has never looked back.
Sometimes the remarkable amount of youth on the Hurricanes' squad is focused on players like Sebastian Aho, 20 and Noah Hanifin, also 20. But, Pesce is only 22, and has already played two full seasons in the NHL.
He played in all 82 games in 2016-17, and according to the team's statement: "Along with his defensive partner Jaccob Slavin, posted a franchise single-season best plus-23 plus/minus rating. Pesce and Slavin finished the 2016-17 season ranked tied for 10th among all NHL skaters in plus/minus."
Congrats Pesce! Can't wait for 7 more seasons together! brettpesce22 @ PNC Arena https://t.co/3XtVflBtaK

— Jaccob Slavin (@Jslavin74) August 1, 2017
While plus/minus as a statistic has its adherents and its detractors, the bottom line is that Pesce and Slavin play very well together, and Francis extending both of their contracts in the past month is a plus for the team.
Pesce, Slavin and Francis at His Best
Just a couple of weeks ago Francis nailed down the first half of this dynamic defensive duo. The team and Slavin came to terms on a seven-year contract extension that will begin during the 2018-19 season and has an average annual value of $5.3 million. That is a little over $9 million per year between the pair of Pesce and Slavin. When the contract of Justin Faulk is added to the mix with his $4.83 million, the 'Canes have three top defenders under contract under $15 million per year.
Pesce also said Wednesday, "Everyone knows how much chemistry me and Jaccob had last year. Hopefully we'll continue to keep building on that and grow together, obviously if we get the opportunity to play again which I'm hoping we will."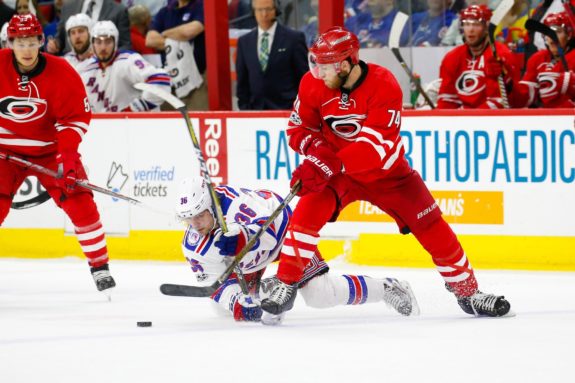 The solidifying of the back end for the team, at what can be argued is a reasonable price, puts the team in a good position to continue to build for now and for the future. The almost chess-like moves that Francis is making, locking in good players without breaking the bank, speaks to the thoughtfulness and preparation for negotiations.
In an article posted Wednesday, Jared Clinton of The Hockey News says Francis has delivered another masterstroke.
At the rate Pesce and Slavin are developing, both stand to be in their prime in, say, three years' time. On shorter-term contracts, that would mean both are due big-money deals, if they hadn't signed them already. But by handing the two defensemen those contracts earlier in their careers when they're only starting their breakout keeps the cap hit down.
There are other contracts that will need attention over the next two years. The Hurricanes current roster will have four unrestricted free agents and five restricted free agents in 2018-19, and three of each the following season. Francis is being prudent but fair as he negotiates these contract extensions, fully aware that he will need cap room the next two years.
Francis is building, and the foundation he is laying appears to be solid and one that will likely get better over time. Whatever the status of the sale of the team to Chuck Greenburg, ownership has to be pleased with the way Francis is going about his business. As the season approaches, we'll see if the team can live up to expectations that continue to rise.
Brett Pesce: "We made the moves to be a playoff team, for sure. Anything below that is an underachievement." #Canes

— Michael Smith (@MSmithCanes) August 2, 2017
Pesce said Wednesday, "I love Raleigh, honestly. I consider it home now. I love the team. Management is great too me. I really don't anything bad to say. That's why it was a no-brainer when we were talking six-years for me."
Signing Pesce to a multi-year extension was a no-brainer for the Hurricanes, as was signing Slavin. The pair is already playing well, and their room for growth and improvement is expansive. For Francis and the team, this was an excellent move and one that will very likely pay huge dividends for the team, possibly as soon as this upcoming season.