The Carolina Hurricanes are enjoying a fabulous Octoberfest. Not to be confused with "Oktoberfest", which is one of the world's longest running festivals featuring lots of beer and activities over a 16-18-day period. Originating in Germany, Oktoberfest celebrations are held all over the world.
Currently, there is an Octoberfest of a different kind being held in Raleigh, NC. While this is not a festival of beer, wine, and traditional activities, it is instead a festival of good feeling and excitement about a team with a new coach and a new culture to start the season.
It is likely, however, that many adult beverages have been tilted back by "Caniacs" in celebration of their team's outstanding results thus far during this October. They are 5-3-1 with 11 points and sit atop the Metropolitan Division as of this writing.
No Octoberfests Under Peters
Looking at recent past results reveals that October was sometimes not a kind month for the Hurricanes. Under former head coach Bill Peters, they were inconsistent at best. In 2014-15, his inaugural season, the team recorded a 0-6-2 start. The mere two points virtually assured the Hurricanes that they would not appear in the playoffs.
On the other end of the spectrum were the seasons of 2015-16 and 2017-18, wherein the Hurricanes put 10 points on the board. Wedged in the middle of Peters' four seasons was October 2016, with a 2-4-2 start for the 'Canes, netting them six points. Notably, their first seven games were on the road to start that season, which did not help.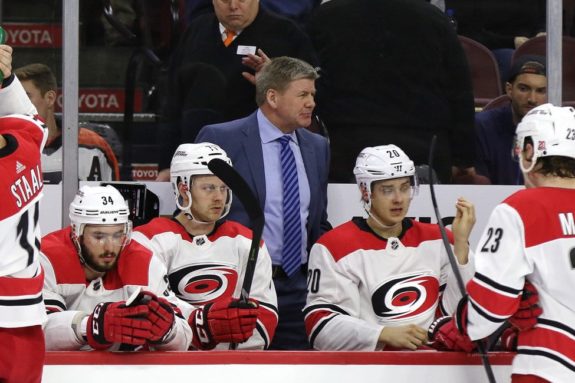 Peters' first win as the coach of the Hurricanes was against the Arizona Coyotes on Nov. 1, 2014. Over his four-year tenure behind the Hurricanes' bench, the team accrued point totals of two, 10, six, and another 10 in the Octobers. There was never an Octoberfest feeling under Peters, never a joyful optimism that settled in during the first month of the season.
Why the Octoberfest Feeling Now?
So far under new head coach Rod Brind'Amour, the Hurricanes have 11 points. Needless to say, this October is bringing a more festive attitude among the fans than those in the past four years. Granted, folks were hopeful last season when the Hurricanes had a good start. But, it was a very guarded hope.
This season the hope seems to be more upbeat and is definitely more fun. And that is by design. One of the goals stated when Tom Dundon bought the Hurricanes was that he wanted the fans to be entertained. He's done things on the marketing side of the team's business like adding a third jersey with a new logo to capture the fans' attention.
Hurricanes unveil their new third jersey. pic.twitter.com/u1nHvUSUr0

— Cory Lavalette (@corylav) June 22, 2018
But, Dundon also understands that the ultimate way to entertain the fans is by winning. At the team's end-of-season gathering with the media, Dundon said the following:
I want as many people to come to watch the games as possible. If we win, people will come to watch. Some people come to watch because they love it, it's entertaining.
Dundon hired Brind'Amour to fill the void left when Peters exercised the option in his contract to leave. There are a lot of things that can be pointed to that can be given credit for this October's hot start for the Hurricanes, and at the top of that list has to be Brind'Amour.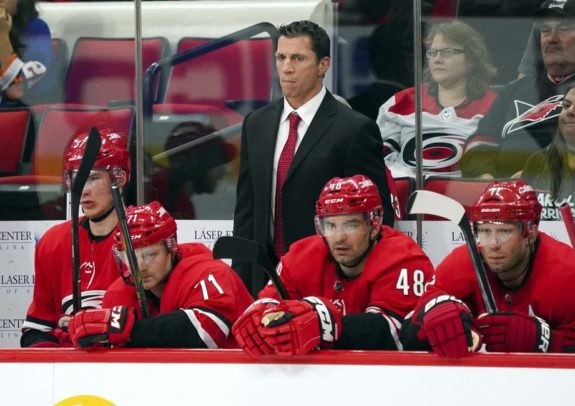 Installing his brand of offense is the most visible thing that Brind'Amour has done to change the Hurricanes' culture and get them winning in dramatic fashion. The high-octane offense has created the Octoberfest atmosphere surrounding this team. It helps, also, that they have been winning. As Dundon said, that's entertainment.
Octoberfest With Aho and Ferland
There is Dundon with the vision to win and entertain in so doing. There is the highly-intense coach Brind'Amour, who is demanding and getting a relentless offense from his mostly young team. And then there are the on-ice purveyors of Octoberfest: Sebastian Aho and Micheal Ferland.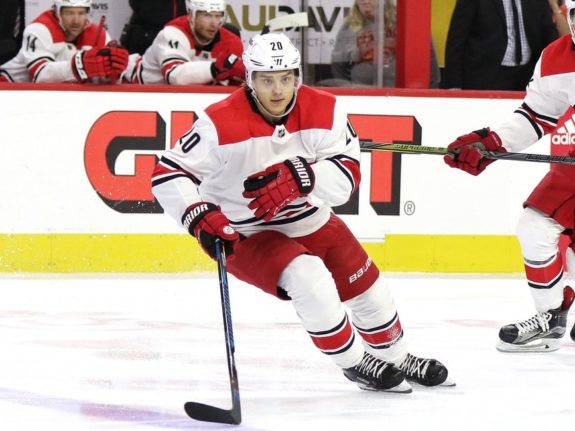 Craig Custance of The Athletic recently wrote of Aho, "As it turns out, he [Aho] has survived. He was good as a rookie. Had a breakout season last year and his trajectory this year is towards stardom. He has 14 points in nine games and he's now doing it as a center on a team that might be the most fun to watch in the league." (from 'Sebastian Aho is the budding star Carolina is willing to wager on', The AthleticNHL – 10/24/18)
Aho is playing center this season and is flourishing. He has not scored in his previous two Octobers in the NHL, and his game is a large part of what is setting the festive tone that surrounds the Hurricanes. With the potential to score a goal every time Aho races up the ice with the puck, the fans have a reason to stay engaged.
Ferland came to the 'Canes from the Flames in a big trade this past June. All eyes were on Dougie Hamilton and his defensive prowess and ability to score as a defenseman. Ferland was sort of an "also ran" in the headlines. No more. Ferland is proving to be a beast and is a huge reason why the Hurricanes have been winning.
So nice, gotta see it twice. #TakeWarning pic.twitter.com/9ZMYZp1SOi

— Carolina Hurricanes (@Canes) October 23, 2018
Hurricanes' Octoberfest Here to Stay
Allan Erickson wrote on thegruelingtruth.net on Oct. 10, "Another thing we've seen in the past 10 years of Carolina Hurricanes hockey is a reluctance to make mistakes and to come to the aide of teammates who get involved in scrums. Not this year. We've seen players young and old get involved in post-whistle scraps, and it just shows that this team believes in each other, they enjoy playing with each other and will go to bat for one another when called upon."
The Octoberfest feeling is likely to extend into November and beyond for the fans of the Hurricanes. That is because the fans are not hearing things like, "We didn't start on time." Peters once said this after a humiliating loss in 2015 that he didn't think the team was engaged emotionally in the game. It is highly unlikely those words will ever come from Brind'Amour as long as he is the head coach.
There is a sense that, even if they slide into a prolonged losing streak, the Hurricanes will keep fighting, keep believing in each other and keep having positive expectations. The culture is changing and that is why it is Octoberfest in Raleigh, NC, and could be all season for Hurricanes fans.