As the final seconds ticked off the clock Saturday night, the Everett Silvertips emptied their bench to mob and congratulate their goaltender. The goaltender in question, Carter Hart, had just finished blanking the Brandon Wheat Kings and inched closer to a Western Hockey League record. Its not easy keeping an opponent off the scoreboard but its becoming almost routine for Hart.
The shutout this past weekend was his sixth of the season and 25th of his junior career, putting him just one short of the league mark set by Tyson Sexsmith.
Hart has turned in an excellent season in what will be his last junior year, one that he hopes finishes with a championship.
"I want to end things on a good note," he says. "If I have a chance to compete in a Memorial Cup this year, it would be unbelievable. Especially with the guys we have here. It's such a tight group that it would be a lot of fun winning here."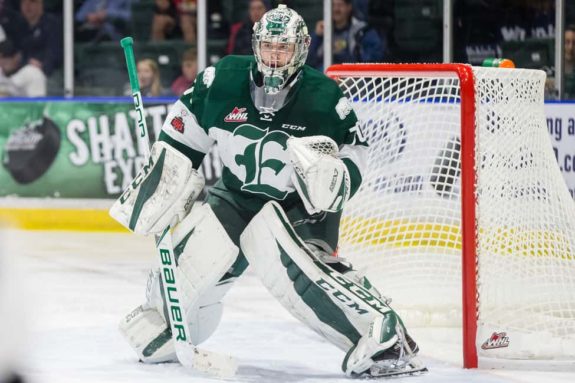 The Silvertips have had a lot of fun winning this season and Hart is the main reason.
Coming into the season, the experts didn't see Everett as a contender and Hart, a 2016 second-round pick of the Philadelphia Flyers, saw his name pop up in trade rumors. He started the season dealing with an illness and the team struggled out the gates, seemingly proving the preseason prognosticators right.
Things changed as Hart got healthy, got stingy in net, and has carried his club to first place in a tightly contested U.S. Division race. Everett general manager Garry Davidson realized that he had a team in contention and pushed his chips into the middle of the table at the trade deadline. He made a number of moves, highlighted by the additions of Garret Pilon and Ondrej Vala from Kamloops.
"Those guys we picked up are going to help our team down the stretch," Hart says. "They've already made an impact and I think to add those guys to our lineup that's been playing well for the past two months is really cool."
The additions Everett made should take some pressure off Hart as the Silvertips now have an offense to match their goaltender. For much of the first half of the season, Everett was among the bottom of Western Conference teams in goal scoring.
Since the trade deadline they're averaging 4.6 goals-per-game, a span of five games and part of a six-game win streak the club is on. You add those goals to Hart's numbers and the formula for winning is clear.
Don't Tell Hart About His Numbers
Hart simply doesn't want to hear about his numbers and judges his performances by different metrics.
"There's the win part but at the same time I know what kind of goals I let in," the Sherwood Park, Alberta product says. "I try to do my assessments after the games. Once the game is done, finding the right time to assess your game and learn from it."
He says that he watches a lot of film. It's not just the few goals allowed that he focuses on, but any time he touches the puck that he'll review. Whatever it is, it's working.
His numbers deserve to be talked about, even if he doesn't want to.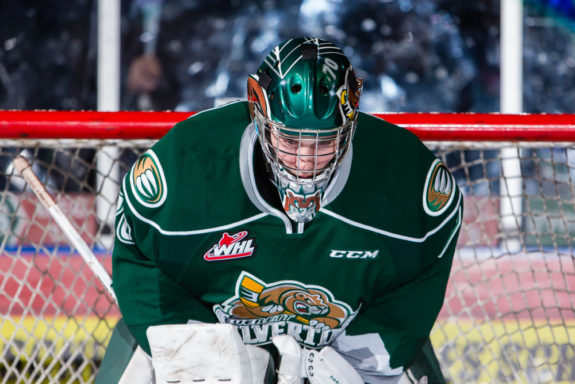 In 21 games this season, he's posted a 17-3-0-1 record while boasting a .958 save-percentage and 1.35 goals-against average. Those are gaudy numbers, even for the two-time reigning WHL Goaltender of the Year.
The numbers are career bests for Hart and he says he really didn't do anything different in his preparation for the season. It's a preparation that he says is both mental and physical and starts long before the puck drops on game night.
"Preparation is before the game and all the stuff you do prior," Hart says. "It's at practice, it's at the rink, it's at home or whatever you do. Once the game starts, that's where all your preparation leads up to, it's just time to play."
Lessons Learned at the WJC
Hart, like many goaltenders, can be slaves to superstition. That was highlighted at the World Junior Championships in January as he had a stare down with a Swiss goalie. Both players wanted to be the last to leave the ice between periods and as the Zambonis came out, the two goaltenders were locked in a battle of wills.
The incident got a lot of media attention and Hart says the reaction was both positive and negative. In the end, the 19-year-old says he learned a lot from it.
"I think it's something that can go from my game," he says of superstitions. "I read some things from pro players in the NHL that have said 'it's something that not's going to determine if you stop pucks or not.' I think once superstitions get a hold of you then they're not really helping anymore. If it's not helping, then why do them?"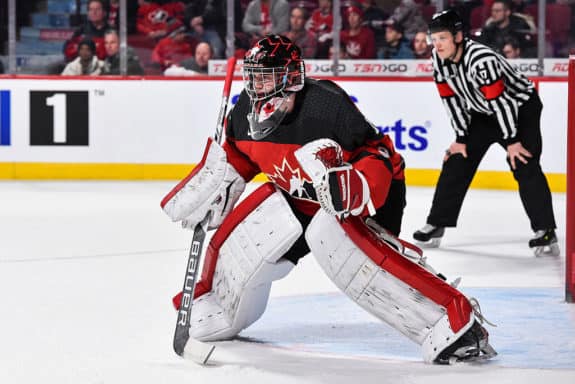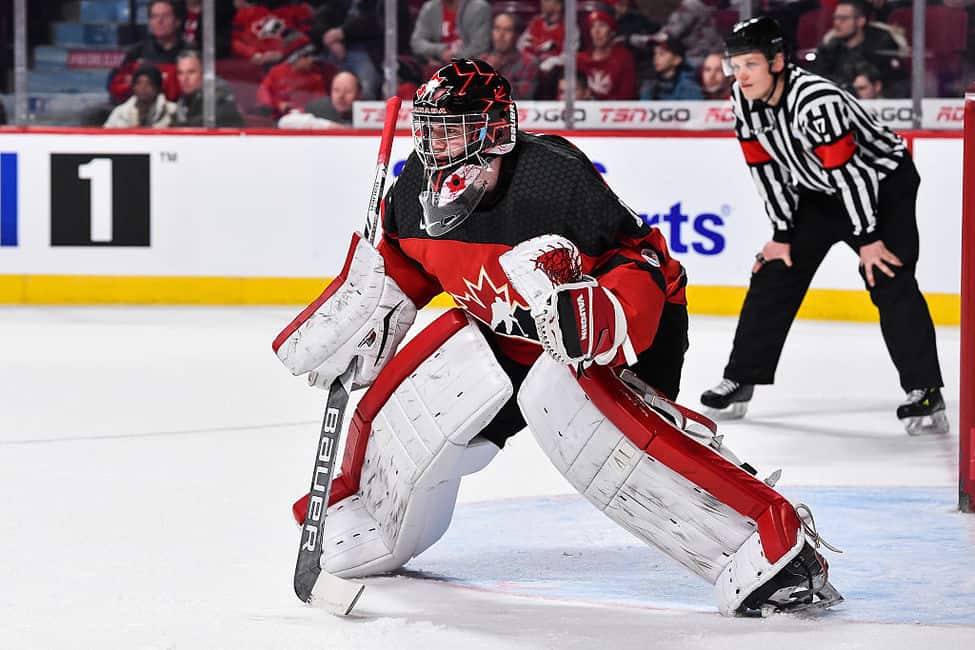 Letting go of superstitions aren't the only lessons that Hart has taken from his gold medal run with Team Canada this winter. He says that being put into big time situations like the World Juniors will only help him.
Not only for the stretch run he's about to go on, but also next year and beyond.
"Those kind of experiences are going to help me here and going into pro hockey next year," he says. "Just being put into those kind of environments that are different than the everyday life of the WHL, just having those experiences and learning more about the game, it does nothing but help my game."
Down the Stretch the Silvertips Come
It is hard to imagine that Hart needed any more help to his game and it is not something Everett's division rivals will be excited to hear.
After six straight wins the Silvertips have a two-point lead on the Portland Winterhawks for the division lead. Everett went all-in at the trade deadline and hopes to ride Hart to not only a division title, but to a WHL Championship as well.
"It's going to be a tight division," Hart says of the stretch run. "You've got some good teams now and the other teams picked up some other players. (We need) to make sure we're rested and when we get the days off, make sure we rest. Try to improve as much as we can as a team. We have a lot of fun when we win here."
Andrew writes about the WHL and NHL Draft Prospects. He also covers the Seattle Thunderbirds for 710 ESPN Seattle and spent two years with Sportsnet. Follow him on Twitter @andyeide.