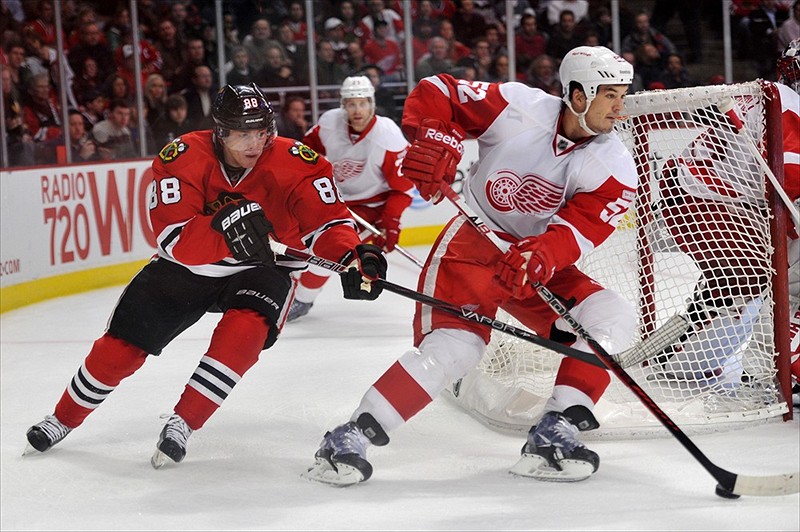 For the first of four meetings this season, the Detroit Red Wings will visit the United Center tonight and attempt to deliver the Blackhawks their first loss of 2013.
After a 3-2 victory over the Columbus Blue Jackets on Saturday night, the Blackhawks are tied for the best start in franchise history, defeating Los Angeles, Phoenix, St. Louis, Dallas, and Columbus en route to a 5-0-0-0 record. The previous record was set in the 1971-72 season when the team was coached by Billy Reay and led by Bobby Hull, Keith Magnuson, and Tony Esposito.
Early in the season, the 'Hawks' core of Jonathan Toews, Patrick Kane, Marian Hossa, Patrick Sharp, Duncan Keith, and Brent Seabrook have excelled, but the added contributions from players such as Dave Bolland, Nick Leddy, and a number of others look to be what will set this team apart. Additionally, solid performances from Corey Crawford appear to have instilled extra confidence in the coaching staff and his teammates.
Kane currently leads the team in scoring with nine points (two goals, seven assists), but many would argue that the team's best player so far has been Marian Hossa, whose return from a concussion suffered in last season's playoffs left many wondering if he'd ever be able to return to form.
The Red Wings, on the other hand, are currently 2-2-0-0 and only earned their first regulation victory on Friday night over the Minnesota Wild. The season opened on an ugly note for the historic franchise as they were shut out by the rival Blues 6-0 at the Scottrade Center.
Despite mainstays such as Pavel Datsyuk and Henrik Zetterberg returning, the Wings have struggled on the backend after losing all-time great Nicklas Lidstrom to retirement. They haven't gotten much early help in net either, as both of their goaltenders, Jimmy Howard and Jonas Gustavsson, are allowing over three goals per game and have a save percentage below .900.
Detroit has the overall advantage in the rivalry that has lasted since the 1920s, but the Blackhawks have given them trouble over the past few years, possessing an 11-4-3-0 regular season record since the start of the 2009-10 season.
These two teams have faced each other in the regular season more than any other two franchises in NHL history and never fail to provide an entertaining spectacle. If the playoffs are included, only the Boston Bruins and Montreal Canadiens have squared off more than the 'Hawks and Wings.