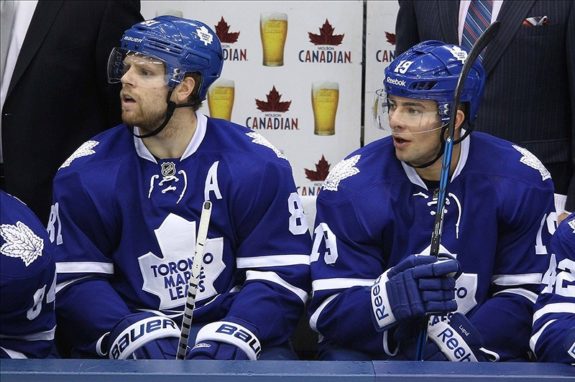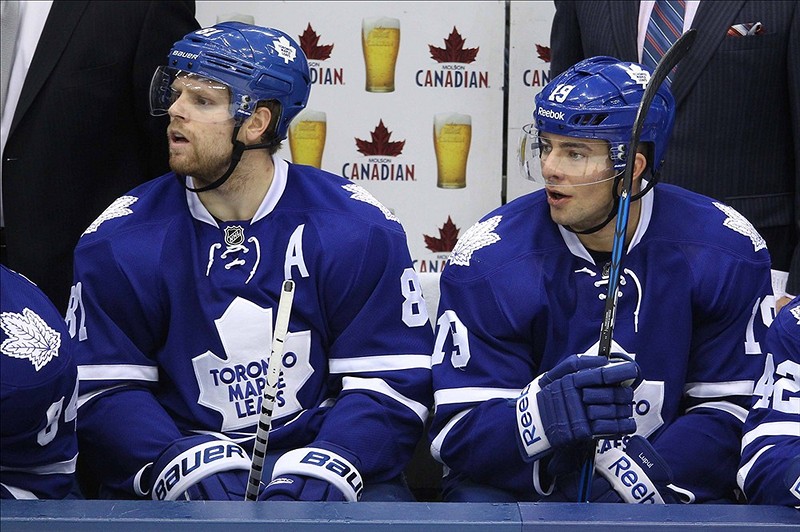 No professional sports team is ever happy to see one of its star players get hurt. While the Toronto Maple Leafs weren't exactly ecstatic upon learning Joffrey Lupul had suffered a fractured arm on Wednesday night, nor should they have been, the injury presents the team with a somewhat welcomed situation.
When the Maple Leafs traded Luke Schenn to the Philadelphia Flyers in exchange for James van Riemsdyk some seven months ago, no one was entirely sure as to where the Leafs' new acquisition would fit in the lineup. Although known as a winger in the NHL, there was a whisper of him skating down the middle on a team that hasn't had the benefit of a real first line centreman since the days of Mats Sundin. That seemed like too big of a risk at the time, though, and it still does. With that, van Riemsdyk still finds himself playing on the wing.
The issue with van Riemsdyk playing on the wing is that the Leafs already had four top line wingers on the team when he arrived and nothing has changed in that regard. Lupul and Phil Kessel remain mainstays on the top line while Clarke MacArthur and Nikolai Kulemin have also held down spots in the top-six forward group. Now, though, that has all changed.
The injury to Lupul has allowed van Riemsdyk the chance to take on a full-time role on the second line, at least in the absence of Lupul. van Riemsdyk struggled to produce while on the third line with Leo Komarov and Nazem Kadri but immediately began to play better when placed on the second line with Grabovski and Kulemin against the Pittsburgh Penguins on Wendesday night and again on Thursday and Saturday nights. That just so happened to be the game where Lupul suffered his fractured arm, the same one that van Riemsdyk notched a pair of goals and an assist.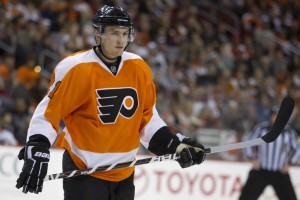 Now with Lupul out and van Riemsdyk expected to receive top-six minutes for the time being, Leafs head coach Randy Carlyle may have received somewhat of a breather when it comes to sorting out any difficulties he may have had while deciding how to distribute ice time to the 23-year-old American.
But wait, what about Nazem Kadri?
At 22 years of age, Kadri seems of have finally found his stride in the NHL. It took him almost four years but Kadri has finally made a strong impact with three goals and five points in just as many games. And it gets even better if you're a Leafs fan; Kadri has achieved these statistics all while playing on the third line with Leo Komarov.
Kadri made such a quick impact, in fact, that Carlyle recognized his hard work and talent right out of training camp and therefore immediately began to give him power play time. As long as Kadri can continue to translate the success he has had on the man advantage over to even strength, he will keep pushing for a top-six spot. This is sure to create tremendous competition between a player who is expected to do well on the second line and one who has already thrived on a third line role.
That's great news for the Maple Leafs but one still has to wonder what would happen to van Riemsdyk if Kadri was to take over his spot on the second line. To competition is good to see but van Riemsdyk failed to produce in the two games prior to being bumped up to the top-six.
The good news for van Riemsdyk is that Kadri has been playing centre, and he has done a very good job of it, this year. It's unlikely Kadri would be switched to the wing, which would be necessary given that Mikhail Grabovski and Tyler Bozak already have the first and second centre positions nailed down. Still, if he was to play well enough, the possibility remains.
Although not a major player, another guy to keep an eye on is Matt Frattin. The 25-year-old showed last season that he does have the ability to play well in a checking role but his play in his first game of 2013 suggested he may be able to handle a little more than that. Only time will tell but Frattin has already impressed quite a bit only two games into his NHL season.
As mentioned above, no professional sports team is ever happy to watch one of its star players get hurt. Although the Maple Leafs would like to have Joffrey Lupul back in the lineup, his absence over the next handful of weeks may be good news for the team.
Twitter: @LukasHardonk | Email: lukas.hardonk@gmail.com | Lukas' archive
For every Leafs article on THW, follow @THW_MapleLeafs on Twitter.
Check out Maple Leafs Central, a THW Network site.