After taking a closer look at how the Chicago Blackhawks have managed to sustain Stanley Cup contention for as long as they have, the evidence suggests it might have something to do with players developed in the NCAA. Of course, Stan Bowman, the Blackhawks' general manager and chief mastermind behind it all has multiple strategies in place when it comes to maintaining his roster, not all of which are exclusive to players from the NCAA.
Regardless of where players are developed, Bowman has turned low-value players into high-value assets in sometimes as few as three years. However, Bowman's streams of asset revenue are becoming increasingly common for players with NCAA backgrounds and what's more interesting are his strategies used to flip them.
Trade Assets for NCAA-Developed Players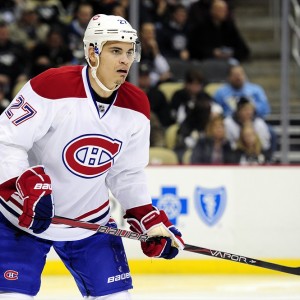 René Bourque is one of many trades still sustaining the Chicago Blackhawks through years of Stanley Cup contention. Although he was traded before Bowman became general manager, what was acquired as a result of this trade was handled by Bowman himself.
Bourque was a non-drafted winger who eventually began his NHL career with the Chicago Blackhawks in the 2005-06 season at the age of 24. By this point, he had already played four seasons with the University of Wisconsin in the NCAA, serving as team captain in his final year.
After three seasons with the Chicago Blackhawks, Bourque was traded to the Calgary Flames on July 1, 2008, for a 2010 second round pick. He left the Blackhawks with a point-per-game played (P/GP) of 0.39, making $825,000 a year. Somehow his P/GP skyrocketed with the Flames, reaching 0.69 in 2009, 0.80 in 2010, and by 2011, Bourque was making $4 million a year.
By the time the 2010 Draft came around, which was just a couple months after Bowman won his first Stanley Cup, he could finally cash in on that 2010 second-round pick from the Bourque trade. Bowman decided to trade it to the Toronto Maple Leafs for Jimmy Hayes, a winger who was drafted in the second round of the 2008 Draft. Hayes had already spent three seasons in the NCAA playing for Boston College and eventually joined the Blackhawks' roster in the 2011-12 season.
2013 Stanley Cup Win Skyrockets Hayes' Value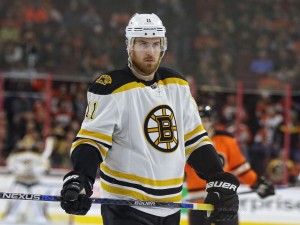 Two games into the 2013-14 season, Bowman traded Hayes, who had made $662,500 in 2013 (played in 10 regular season games leading to the 2013 Stanley Cup), as well as Dylan Olsen, a 2009 first-round pick who also played in the NCAA for two seasons, to the Florida Panthers. The Panthers held onto Hayes for two seasons but eventually traded him to the Boston Bruins, which is when his annual salary tripled.
In exchange for Hayes and Olsen, Bowman acquired Kris Versteeg back from the Panthers, as well as Phillippe Lefebvre. Lefebvre never ended up playing in the NHL and Versteeg continued to play for Bowman for the remainder of the 2013-14 season. He also played in 61 regular season games and 12 playoff games in the 2014-15 season, which is when he won his second Stanley Cup with the Chicago Blackhawks.
2015 Stanley Cup Win Increases Value Again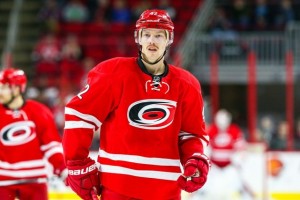 Shortly before the 2015 preseason started, Bowman traded Versteeg, Joakim Nordström (a third round pick from the 2010 Draft who never played in the NCAA) and a 2017 third round pick to the Carolina Hurricanes. Nordström was making $625,000 a year when he last played for Bowman and this year that amount doubled with the Hurricanes.
In exchange for Versteeg and Nordström, Bowman acquired Dennis Robertson (a sixth-round pick from the 2011 Draft who played for Brown University for four seasons and served as team captain for the last two), Jake Massie (a sixth-round pick from the 2015 Draft who's currently playing in his first year at the University of Vermont) and a 2017 fifth round pick. On Feb. 29, 2016, Bowman traded Robertson back to the Carolina Hurricanes and acquired Drew MacIntyre (a fourth-round pick from the 2001 Draft) and just like Lefebvre, he too never played for the Chicago Blackhawks.
Summary
René Bourque (non-drafted) = Jimmy Hayes (2nd round pick, 2008 Draft)
Jimmy Hayes + Dylan Olsen (1st round pick, 2009 Draft) = Kris Versteeg (5th round pick, 2004 Draft)
Kris Versteeg + Joakim Nordström (3rd round pick, 2010 Draft) + (3rd round pick, 2017 Draft) = Jake Massie (6th round pick, 2015 Draft) + (5th round pick, 2017 Draft)
Although it looks like Bowman got the short end of the stick here, this could be part of his longer-term plan where he uses this 2017 fifth-round pick as a bargaining chip at the 2017 Draft. It's sort of like the way Bell bundles their sports channels; you pay an arm and a leg for the thing you really want, then you get a bunch of things you don't really care for.
Somehow, it's enticing.
Hidden Value of 5th Round Picks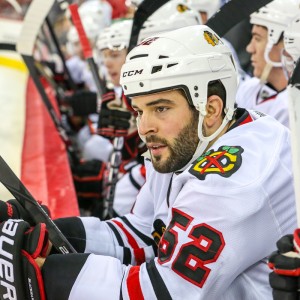 This is exactly the case with a string of trades originating from Brandon Bollig, an undrafted winger who played with St. Lawrence University for two seasons before joining Bowman's team. Over the course of Bollig's first two years with the Blackhawks, he played in 43 games without getting a single point. In the 2013-14 regular season, he played in 82 games and finally put up 14 points. During the playoffs that year, he played in 15 games, got one assist and had made $575,000 that year. Then Bowman traded him to the Calgary Flames, which is when his salary doubled.
In exchange for Bollig, Bowman acquired a 2014 third round pick (No. 62), which was bundled into a trade package with the San Jose Sharks at the 2014 Draft. To sum it up, Bowman swapped first round picks and traded this third round pick (No. 62) for a sixth-round pick (No. 179). The sixth round pick was the thing he didn't really care for. What Bowman really cared about was moving up seven spots in the draft. Instead of getting the No. 27 spot, he got No. 20 and drafted Nick Schmaltz. He then used the newly acquired sixth round pick to draft Ivan Nalimov, who like so many others, never played for Bowman and now plays in Europe.
The San Jose Sharks drafted Nikolay Goldobin (No. 27) and traded their newly acquired third round pick (No. 62) to the Nashville Predators for a later third round pick (No. 72), as well as a fourth round pick in the same draft.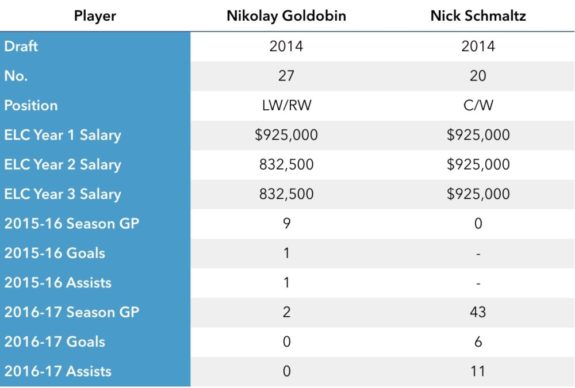 Bringing players into the NHL before they're ready can actually disrupt their trajectory and this might be the case for Goldobin. Although he's the same height as Schmaltz, Schmaltz is actually five pounds lighter and spent two seasons playing for the University of North Dakota before joining the Blackhawks' roster, an added selling feature not shared by Goldobin.
In addition to Bowman's original investment for Schmaltz (the 2014 third round pick acquired from the Bollig trade), swapping first round picks will cost Bowman an extra $180,000 over the next three years (that's the difference in salary). However, Schmaltz has the potential to double or even triple his monetary value by the time his entry-level contract ends. Not only could Bowman get a 100 percent return on investment, he could also get a couple new draft picks in a future trade.
Summary
Brandon Bollig = (2014 third round pick)
(2014 third round pick) = Opportunity to get hands on Nick Schmaltz (No. 20, 2016 Draft) instead of a lower first-round pick.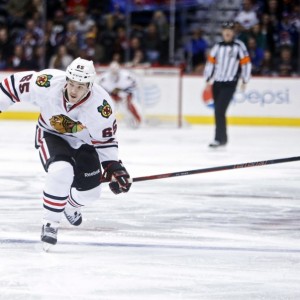 So now what's left of Bourque is Massie and a 2017 fifth round pick. Bowman could potentially ask another general manager at the upcoming draft (who's drafting a first round pick after Bowman), to swap first round picks, so Bowman would draft lower in the first round and then trade this fifth round pick for a second round pick. Or the Chicago Blackhawks could win another Stanley Cup sometime soon and turn this 2017 fifth round pick into two, second round picks like he did with Andrew Shaw. Shaw was traded to the Montréal Canadiens at the 2016 Draft in exchange for two, second round picks in that draft. Bowman selected Alex DeBrincat at No. 39 and Chad Krys at No. 45. Krys is a defenseman currently playing in his first year with Boston University, so in three to four years from now, there's a higher probability that he'll out-perform the other blueliners drafted in the first round, currently developing in the CHL.
When it comes to flipping players, the possibilities are literally endless with Stan Bowman. His decisions are far from short-sighted, involving many moving facets operating over the course of years. Quite often interlocking with each other, Bowman sees the maximum potential in each and every draft pick. Refueled by a trilogy of Stanley Cups, Bowman has sustained his core set of guys by using a system with interchangeable pieces that come and go on the regular. It's now the last day of February in the 2016-17 regular season and the Chicago Blackhawks are tied with the Columbus Blue Jackets for fourth overall in the NHL standings. Well on their way to the playoffs, Bowman's team has managed to find playoff contention once again.
I'm a Hockey Journalist based out of Barrie, Ontario, a Contributing Writer for The Hockey Writers covering OHL, and NHL prospects with an insatiable thirst for all things LA Kings, and PR gal for Abel Sports Management.