The Ottawa 67's completed a successful home stand this past weekend, gaining ground in the OHL's Eastern Conference playoff race. Facing some tough competition in the Oshawa Generals, Hamilton Bulldogs and the Niagara IceDogs, the 67's have moved up the standings and are in seventh place in the East after earning four of six points on the weekend.
2017 NHL Draft Prospects
For the 67's to get back into the postseason picture, they need their 2017 NHL Draft prospects to be their best players. That was the case this weekend. Sasha Chmelevski, who was previously on a 13-game goal drought, scored goals in back to back games and has looked like a different player. After Sunday's game against the IceDogs, Chmelevski explained how he is stepping up his game:
"I think my play has been really good. I have been really aggressive trying to shoot the puck, especially today, trying to get the puck in the goalie's feet if I didn't have a chance to do anything else. I think it was a really good weekend for me." Chmelevski told The Hockey Writers,
Sasha Chmelevski snaps a 13 game goalless drought with his OT winner, #67s beat the Bulldogs 5-4 in OT. Now just 3 pts back of SBY for 6th.

— Kenny Walls (@LongBallsWalls) February 25, 2017
The other 2017 NHL Draft prospect that has stepped up in the playoff stretch is Austen Keating. He had three goals this past weekend and is on a seven-game point streak. Head coach and general manager Jeff Brown praised Keating after the weekend home stand:
"I thought by far, Austen Keating was our best player today (Sunday vs. IceDogs). I thought he was exceptional. He is a great kid, works hard. He is a very good player in our league and he's going to do some things in this league in the next two to three years," Brown explained to the media.
.@AustenKeating scored 2 and picked up an assist for a 3 point game but the #67s still lost to the @OHLIceDogs on Sunday.#OHL

HIGHLIGHTS ⬇ pic.twitter.com/EqZV7fPLNM

— Ottawa 67's (@Ottawa67sHockey) February 27, 2017
If the 67's are to clinch a berth in the postseason, they need Chmelevski and Keating to continue their excellent play and offensive production.
Needing a Better Start
The 67's earned much needed wins against key divisional opponents in the Generals and Bulldogs earlier last week. However, a poor start against the IceDogs cost them valuable points on the weekend, as they lost 5-4 in that game. Giving up three first period goals proved too much for the team to overcome. The early stumble didn't impress coach Brown:
"We lost because we weren't ready to play. We talked about after the billet appreciation to get your head back on and mentally, we didn't. The first period we were terrible. You can use three in three (games[BM1] ) as an excuse, but excuses are for losers and we certainly didn't look very tired the second and third period. Mentally, we weren't into the game until the second period. It's a game that a more mature team win's 5-1 or something. Mentally, we need to get stronger. We weren't prepared to compete," said Brown after Sunday's loss to the IceDogs.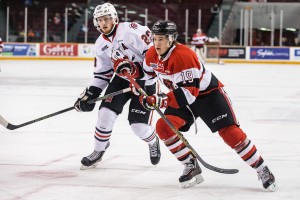 The 67's will have another opportunity to advance in the standings and gain ground in the playoff race this week. The team will face the Kingston Frontenacs twice, and the Barrie Colts, who currently sit last. All are winnable games and all are must wins. With a third consecutive playoff berth on the line, it will be up to the 67's to improve their starts in games and seize the opportunity to be a playoff team.