The Colorado Avalanche along with the NHL's worst record enter the City of Brotherly Love Tuesday night to take on the fading Philadelphia Flyers. The visiting Avalanche have had anything but an ideal season.
Just a few seasons removed from being a playoff team under then-rookie head coach and Jack Adams Award winner Patrick Roy, the Avalanche have been free-falling into oblivion. Having not qualified for the post-season in each of the last two years they now find themselves at the bottom of the league's standings with the best chance of landing the first overall pick in June's NHL Entry Draft. If they finish at the bottom it will be their second first overall draft pick for the franchise since 2013 when they selected Nathan Mackinnon.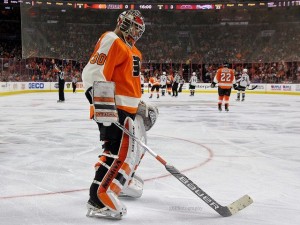 The Flyers in their own right, have also been playing some of the worst hockey in the league over the last several months. Falling drastically out of the playoff race in the Eastern Conference after owning the second wildcard spot for much of the season, the Flyers have dug themselves a nearly impossible hole in which to crawl out of. Their latest loss, Saturday night in Pittsburgh at Heinz Field for the NHL's Stadium Series game could have potentially been the final blow to their season.
The Flyers now sit six points out of the last spot in the east with a game in hand and have now lost seven of their last 10 games. Whereas, the Avalanche have been losers of eight of their last 10 games. Tuesday night's matchup between the Avalanche and the Flyers will be a game where something has to give. Both teams struggle mightily on both offense and defense, so it could very well be an entertaining game for both parties as goals could come in bunches.
---
Colorado Avalanche vs. Philadelphia Flyers
Wells Fargo Center – 7:00 p.m. EST
Broadcast channels – NBCSN, CSN-PH; 97.5 The Fanatic
2016-17 Season Series: 1-0 Flyers
Colorado Avalanche: 17-40-3 – 37 Points
Road Record: 9-20-1
Hot Players: Matt Duchene, Nathan MacKinnon
Scratches: Cody Goloubef (healthy), Carl Söderberg (healthy), Semyon Varlamov (IR, groin muscle surgery), Nikita Zadorov (IR, ankle)
Projected lines:
Forwards:
Gabriel Landeskog – Nathan MacKinnon – Matt Nieto
Blake Comeau – Matt Duchene – Mikko Rantanen
Mikhail Grigorenko – John Mitchell – Jarome Iginla
Rene Bourque – Andreas Martinson – Joe Colbourne
Defense:
Fedor Tyutin – Tyson Barrie
Francois Beauchemin – Erik Johnson
Mark Barberio – Patrick Wiercioch
Starting Goaltender:
Calvin Pickard
Philadelphia Flyers: 28-26-7 – 63 Points
Home Record: 17-10-4
Hot Players: Shayne Gostisbehere, Brayden Schenn
Scratches: Brandon Manning (NHL suspension), Nick Schultz (healthy), Roman Lyubimov (healthy), Travis Konecny (IR, lower body)
Projected lines:
Forwards:
Jordan Weal – Claude Giroux – Wayne Simmonds
Nick Cousins- Brayden Schenn – Jakub Voracek
Michael Raffl – Sean Couturier – Dale Weise
Chris VandeVelde – Pierre-Édouard Bellemare – Matt Read
Defense:
Ivan Provorov – Andrew MacDonald
Mark Streit – Shayne Gostisbehere
Michael Del Zotto – Radko Gudas
Starting Goaltender:
Steve Mason
---
Game Notes
[miptheme_dropcap style="normal" color="#222222″ background=""]1)[/miptheme_dropcap] Perhaps the biggest story going into Tuesday night's matchup will be what players still remain intact on their respective rosters for the rest of the season. Wednesday afternoon at 3:00 pm is the league's trade deadline and with both these teams well out of their respective playoff races and possible sellers, there could be some missing pieces to these teams in the near future.
[miptheme_dropcap style="normal" color="#222222″ background=""]2)[/miptheme_dropcap] Speaking of trade rumors, Avalanche stars Gabriel Landeskog, 24, and Matt Duchene, 26, have been two names for the Avalanche that have been swirling with trade rumors all season. Duchene has two years remaining on his contract and with the team clearly not ready to win anytime soon, Duchene could be the one to go first as the deadline looms.
[miptheme_dropcap style="normal" color="#222222″ background=""]3)[/miptheme_dropcap] The Flyers, now losers of four of their last five, have been dealing with rumors of their own. Captain Claude Giroux, whose struggles have been weighed heavily on the back of the team has had speculation that he might be on the block. However, there's no truth to these rumors, as Flyers general manager Ron Hextall will not look to blow his team up a year after making the playoffs with a still young NHL coach in Dave Hakstol. Hextall has preached patience and Giroux will stay intact.
[miptheme_dropcap style="normal" color="#222222″ background=""]4)[/miptheme_dropcap] It looks as though Steve Mason will get his first start in the crease for the Flyers after watching Michal Neuvirth start the last seven in a row. It will be interesting to see who stays and who goes in regards to the Flyers' crease at Wednesday's trade deadline.
Glen Stricker is a Temple University graduate with a degree in Media & Communication. He is the Lead Writer for the Philadelphia Flyers for The Hockey Writers as well as the social media coordinator and contributor for @PHLFlyersNation