There have been so many positives from the Philadelphia Flyers over the past month stemming from their 10-game win streak. Goalie Steve Mason found his game again, Jake Voracek went on a tear and Brayden Schenn potted some important goals in a couple games.
For the most part, those players have had those traits over the last few seasons and have been statistical leaders for the Flyers for quite a while. But flying under the radar in Philadelphia is Michael Raffl.
The 28-year-old barely gets any credit ever since he joined the team in 2013, despite scoring as many as 21 goals in a season during his time with the orange and black. The goal scoring, plus other attributes, makes him the most underrated player on the Flyers.
Cases can be made for rookie defenseman Ivan Provorov or Mason deserving that honor, but they're both slowly earning more recognition. Raffl's been waiting for his for years.
Raffl Battling Through
While playing with Claude Giroux and Voracek, Raffl scored a career-high 21 goals in 2014-15. Despite team struggles, Voracek and Giroux were among the highest scorers in the league and finished fourth and 10th, respectively.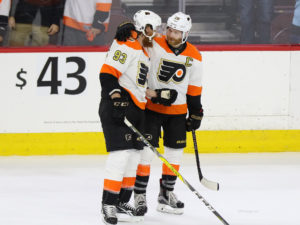 Raffl played the grinding, power-forward role on the line. He was expected to get in hard on the forecheck, win puck battles and stuff in any rebounds he could. While it didn't take much of skill, he obviously excelled by scoring over double than he had the year before.
In the 2015-16 season, the Flyers started slow and new coach Dave Hakstol was willing to juggle lines. Raffl started the year with Giroux and Voracek, but when the whole line struggled, Hakstol started experimenting.
Eventually he found some chemistry with Brayden Schenn at left wing with Giroux. That forced Raffl down the lineup. He'd spend games with Sean Couturier or even at center, a spot he never had much luck in at the NHL level.
Away from two stars and not always in a comfortable position, the Austrian's goal amount took a hit. He finished the year with 13 tallies, but actually totaled a career-high 31 points. The Flyers rewarded him with a three-year extension just before the trade deadline, but not before all avenues were looked at:
Flyers were trying to get two RD2 picks for Raffl. Knew they had extension, just wanted to test mkt. 3Y, just under 2.5 per. #TwitterCentre

— Travis Yost (@travisyost) February 28, 2016
In the offseason, Philadelphia signed free-agent Dale Weise, a similar forechecking, board-working player, to a four-year deal worth $2.35 million per year. Not only was it a similar player, the Flyers offered Weise another year at the same salary.
Making matters only worse heading into the 2016-17 season, rookie Travis Konecny made the team out of training camp, taking Raffl's spot in the top six.
Underrating 2016-17
Not only has Raffl been underrated among the league, he's also underrated on his own team. Weise wasn't brought in to replace the 6-foot-2 forward, but he was brought in to do similar things.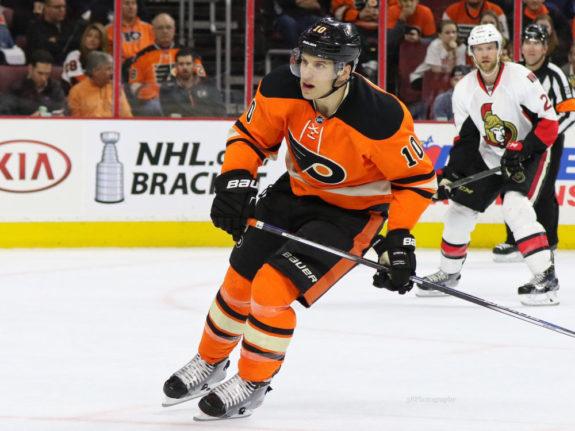 Despite that, Raffl started out the year on the first line with Giroux and Wayne Simmonds while Schenn served a three-game suspension from the previous playoffs. But as soon as Schenn returned, Raffl was demoted to the bottom six.
However, Schenn struggled on the first line almost right away. He didn't have the finishing ability that he had last season and Haskstol continued to experiment, moving the sixth-year pro all over the lineup.
That opened up an opportunity for Giroux, Voracek and Raffl to reunite as the team attempted to work out some kinks through the first month and a half of the season. The move has worked wonders — even if Raffl isn't scoring at a high rate.
Giroux had 12 points during the winning streak while Voracek had 16. Raffl only managed four during that streak, but his play on the puck has seemed to take a huge change — for the better. He carries the puck in more, stickhandling around opponents akin to Voracek instead of simply dumping the puck in.
It's a pleasant surprise for a player who seemed to have reached his max potential. He even scored the game winner and one of the best goals of his career in an emotional win over the Oilers.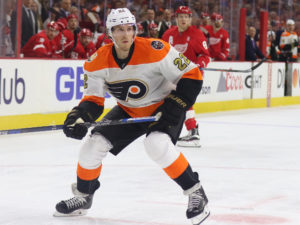 Meanwhile, Konecny is still a solid contributor on the second line after a short tryout with Giroux and Voracek. However, Weise, the player signed a year longer than Raffl just months after him, is the farthest thing from a challenge to his playing time.
Weise was scratched in Monday's game against the Nashville Predators and Raffl took his spot on the second power-play unit. Even when Weise is inserted back in the lineup, it's hard to imagine Weise deserving that role over Raffl.
While the Flyers would like some improvements from Weise, it makes things easier when you have such an underrated player in Raffl in the lineup — even if they don't always realize it.