If you rostered a Chicago Blackhawk this past week then you are probably waking up this week with a smile to go along with your big fantasy win. Two of the three awards this week were taken home by Blackhawks as their four-win week nine came with extremely positive fantasy results. With that, here are your week nine fantasy hockey awards:
Fantasy Hart Trophy – Artemi Panarin
GP:4 G:3 A:7 Pts:10 +/-:+5  PPP:3
The Fantasy Hart Trophy is awarded to the week's most valuable player.
It has taken nine weeks but there has finally been a double-digit point producer across a seven-day fantasy period. Artemi Panarin of the Chicago Blackhawks had a little extra step in his game this past week as he led both the Blackhawks and fantasy teams with his elite point generation.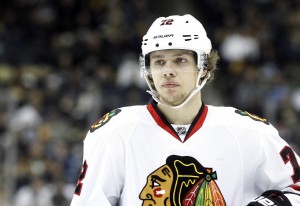 Recording a ridiculously impressive 10 points across four games, Panarin recorded four more points than any other player in the week.
His four multi-point games were highlighted by his seven assists across that spread which was good for more than best in the league this week. Artemi's three goals put him second best among forwards while his three power-play points had him tied for tops among all players. Panarin basically took a majority of the fantasy categories.
In his sophomore season, a lot of experts and fantasy fans expected regression from the Russian after such a successful first year where he amassed 77 points that season after coming over from the Kontinental Hockey League to join the Blackhawks. Continuing to line up with fantasy point fiend Patrick Kane, Panarin has been enjoying yet another very productive year as he continues to cement himself as one of the elite point producers of the NHL.
Currently tied with Sidney Crosby for third in the league in total points at 34, Panarin is proving that he's capable of improving his spectacular numbers from the year before as he is on pace for 82 total points, five more than last year.
With such talent and point production occupying Chicago's first line and power play, expect Panarin to be up for this award more than once as the fantasy season plays out. With impressive numbers like he has shown in week nine and the first double-digit point week this season by any player, he's proving to be a real elite fantasy talent and is here to stay.
Honourable Mentions: Mark Stone, Tyler Toffoli
Fantasy James Norris Trophy –Victor Hedman
GP:3 G:1 A:5 Pts:6 PPP:3 SOG: 9
The Fantasy James Norris Trophy is awarded to the week's most valuable fantasy defenseman.
Finally, the third defenseman behind Erik Karlsson and Brent Burns in fantasy has taken the James Norris weekly fantasy award. After constant weeks of honourable mentions Victor Hedman, the towering blueliner out of Tampa Bay, is this week's fantasy James Norris winner.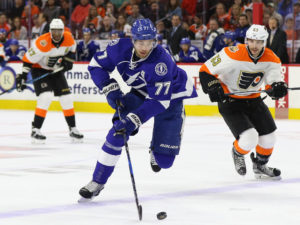 With six points in three games, Hedman rewarded fantasy owners with a very productive week across multiple fantasy categories, something owners have gotten used to throughout his very successful 2016-17 season thus far.
Hedman deserves this award mostly due to his leading all defenseman in both points and power play points. He was second to only Panarin for most points on the week for all players, making this defenseman seem like a very successful forward with his counting stats.
In a week where he also became the all-time defensive points leader in Tampa, Hedman seemed to have a bit of an extra spark in his step, much like he has all year. Ranking third in season points among defenders, Hedman's 25 points across 32 games has him on pace for his season to date, as he will likely surpass his career high points of 55 in a season from 2013-14.
Expected to break out and become a fantasy stud on a lethal Lightning team, Hedman has finally stepped out of his average fantasy defenseman shell and turned into an elite back-end option.
As Hedman continues to lead the Lightning and run their power play, expect him to maintain his creeping into the elite tier that we see Karlsson and Burns occupying as the far and away best fantasy defenseman. With that level comes many nominations and expectations to win this award, so do not be surprised to see Hedman's name here again soon.
Honourable Mentions: Justin Schultz, Brent Burns
Fantasy Vezina Trophy – Scott Darling
GS:4 W:4 L:0 GAA:2.51 SV%:.921
The Fantasy Vezina Trophy is awarded to the week's top goaltender.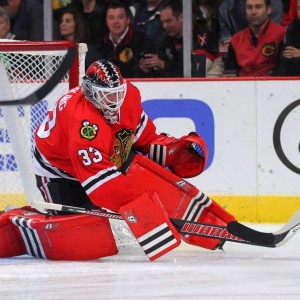 What's that? A backup spot fantasy starter is taking this award again? It has almost become like clockwork at this point and I don't know why I still get surprised, but for the third straight week, a goalie who was considered a backup on his squad is your Fantasy Vezina winner. Scott Darling of the Blackhawks is this week's award winner after taking the starting reigns from Corey Crawford after he went down with an appendectomy a few weeks back.
If fantasy owners were on the ball and managed to scoop this fill-in goaltender they have more than reaped the benefits as he put up the rare, yet impressive, four-win fantasy week.
Darling's four wins were good for best among all goaltenders while his .921 save percentage made him a very reliable nightly start throughout week nine.
Although his counting stats were not overly impressive, he still managed to have the most fantasy relevant week due to his high win total and seemingly above average other counting stats.
Starting for the injured Crawford, Darling has enjoyed success throughout his career as the Blackhawks reliable backup option. When called upon he always seems to perform at a high level earning himself roster-able status in big enough leagues where he can be played when required. Darling is a super reliable option in net due to his current position on the very win prone Blackhawks team and owners should enjoy that benefit while they can.
Illinois native @sdarling_33 is living his dream playing for the @NHLBlackhawks and he is doing a great job. Look at these numbers! pic.twitter.com/mYvYjpRHjH

— NHL Network (@NHLNetwork) December 19, 2016
If owners haven't caught on already, the common theme of weekly spot starters seems to be a successful strategy for the time being as backups continue to step up with elite production like we've seen in recent weeks from Chad Johnson and Antti Raanta.
As long as Darling is opening for the Blackhawks, he becomes a top end option and will continue to be in contention for this award as he racks up the wins as the fill-in starter. If Darling is available in leagues, and you have room on your roster, grab him as soon as possible for the time being but be aware that Crawford could be back as soon as this weekend.
Honourable Mentions: Henrik Lundqvist, Matt Murray
My name is Michael Bondy, or Beebs for short. I currently have a joint degree involving an Honours B.A. in Journalism from Wilfrid Laurier University and a Videography and Broadcasting degree through Conestoga College.
My previous work includes articles for Daily Faceoff as well as Wilfrid Laurier University Athletics. You can currently find me weekly on the "Daily Faceoff Podcast" with hopes to one day find a career in sports talk radio.