The Winnipeg Jets started the season as a trendy pick to sneak into the playoffs. A new goalie was coming in, lots of rookies were stepping into the lineup, taking the spots of older, slower veterans, and the leadership group was established. The warning was always that everything would need to go right for them to make it. But if just one thing went wrong, they would find themselves going the other way. The goalies had to be great, all the rookies had to shine, and the veterans needed to step up and lead the way.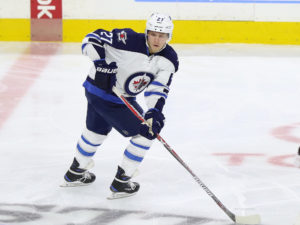 Thirty-four games into the season, the Jets are on the outside looking in. They sit one point back of Calgary (as of December 19) for the second wild card spot but have played one more game. They are an abysmal 5-10-2 on the road, have allowed the second most goals against in the league, and are tied for the most regulation losses with 16.
The Jets have many issues that need to be addressed (as does every team in the NHL) if they are going to make the playoffs. Here are four of them:
What Needs to be Fixed
Puck Possession
The 2015-16 version of the Jets was a solid possession team, ranking 10th in the league with a 51.17 SAT% in close games. Even when they were ahead, they never fell back, riding a 50.00 SAT%.
This year, the team is a possession black hole. In close games, they sit 24th in the league with a 47.86 SAT%. The only time the Jets control the game is when they are losing, which is something they have done too often. And this isn't necessarily bad luck for the Jets, as their PDO is 993 (1000 is normal).
So what happened? Our first instinct is to blame the kids, and in some ways, that would be correct. But, unfortunately for the Jets, they aren't the only problem.
2015-16
SAT% Close
2016-17
SAT% Close
Mark Scheifele
54.12
47.60
Dustin Byfuglien
53.99
49.86
Nikolaj Ehlers
52.63
51.53
Mathieu Perreault
57.30
50.20
Blake Wheeler
54.08
54.66
Patrik Laine
46.90
Jacob Trouba
52.62
46.03
Adam Lowry
47.56
46.42
Brian Little
51.85
51.96
Most of the core players have seen a sizable drop in possession stats (other than Blake Wheeler and Brian Little). In fact, of all the Jets forwards (who have played more than 15 games), only Wheeler, Nikolaj Ehlers and Mathieu Perreault are above 50%, and Josh Morrissey is the only defenceman posting positive numbers in close games.
So did every Jets player regress at the same time? That seems unlikely, especially if you've watched Ehlers, Scheifele or Armia play at any point this year. There is another problem, and this may be what ends up costing the Jets a playoff spot.
Coaching
I've been a big Paul Maurice supporter since he was hired. I had no problem with the team missing the playoffs last year because improved in puck possession was evident. Once they cleaned up their discipline issues, Maurice's game plan would take them into the playoffs.
I think Paul Maurice is a good coach, but I'm starting to wonder if he's the right coach for this team.#NHLJets

— Marc Silva (@msilvawpg) December 12, 2016
This season has been an eye-opening one. Paul Maurice must be feeling the pressure, not because the Jets aren't in a playoff spot, but because of how bad they have been. Again, there are some great players on the team. A good coach needs to get the best out of his players, though, and Maurice isn't.
The Jets had a major issue taking penalties last year, especially during the most crucial moments of a game. This year, they have spent the second most time in the league on the penalty kill. Even worse, they lead the NHL in penalty kill time during the third period, and it's not even close. They have spent over 83 minutes killing penalties in the third period alone. On average, the Jets take one penalty a game.
And why are the lines juggled every game? What is wrong with Ehlers-Scheifele-Laine? Maurice is trying to spark his team, but putting Laine on the third line with Stafford, or moving Byfuglien to the front of the net on the power play isn't the way to do it. Wheeler is not a center, but Petan, Perreault, and Dano are. So why didn't any of them get a shot when Little and Scheifele were out?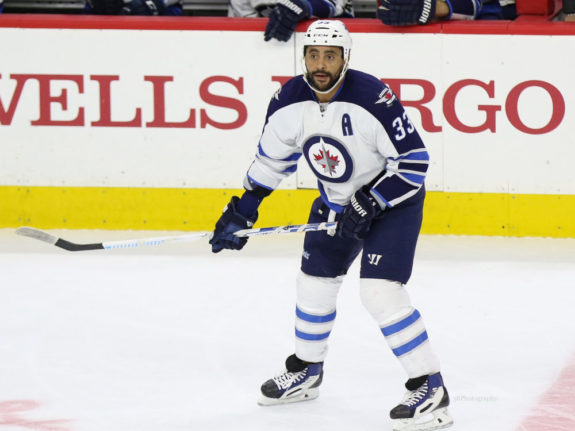 If Paul Maurice can't stop the bleeding, then Kevin Cheveldayoff needs to find somebody who can. Chevy has built a solid team with an amazing future (aided by a bit of luck). He can't afford to let it go to waste because the coach couldn't get them there.
Consistency
We're only 6 days away from Christmas and the Jets have yet to win more than two games in a row. While that would be OK if they only had a single loss between those, but they don't. They have three, four and five game losing streaks between those wins, which has killed them in the standings.
Worse than the losing streaks is when they have lost those games. Many times, those losses were right after a huge win that took a full team effort. The Jets beat the Leafs in a huge 5-4 comeback victory, then proceeded to get shutout at the outdoor Heritage Classic by the Oilers, 3-0. They had a convincing 5-3 win over the Red Wings, then lost 5-2 to the Rangers just two days later. And after taking down the Central-leading Chicago Blackhawks 4-0, they lost back-to-back games against Eastern Conference teams that are barely hanging to a playoff spot, in the Philadelphia Flyers and Boston Bruins.
Stringing together wins is incredibly important. Stringing together regulation wins is necessary if you want to make the playoffs. The Jets need to start showing up each game with the same level of determination.
Goaltending
I hate doing this because I'm a huge fan of Connor Hellebuyck. I believe he will be a bonafide starting goaltender in a couple of years. He's tall but has the agility to move quickly across the net. Other than Carey Price (minus the last few games), I haven't seen too many goalies that are calmer than Hellebuyck.
Hellebuyck is currently sporting a .911 SV% along with a 2.67 goals-against-average. Those are not the worst numbers in the NHL, but they are not good enough. Hutchinson's numbers are even worse, sitting at .896 and 3.14 respectively.
That said, we need to take a closer look at the numbers, because in this case, we might be able to share the goaltending blame with the whole team. Hellebuyck has saved .925% of shots at even strength, which puts him well back of the leader (for goalies who have played more than 20 games), but firmly in the middle of the pack (ahead of goalies like Henrik Lundqvist, Ben Bishop and John Gibson).
It's a different story on the penalty kill, where he has only saved .845% of the shots. Hellebuyck needs to improve that number, but the Jets need to stop putting him in no-win situations (we already mentioned the amount of third-period penalties they take).
Rumors are swirling that the Jets may be looking for help in this area. It's unlikely to happen this season, but Hellebuyck needs to prove he is their starter and he will need his defense to help.
What Doesn't Need to Be Fixed
Patrik Laine, Mark Scheifele and Nikolaj Ehlers. The Jets' top line has been electric every single time they hit the ice. Is their puck possession as high as we want it to be? No. But their combined age is 61, which is only a couple of years older than Jagr. Their combined point total is 85 over the course of 34 games. It's safe to say that the top line will be deadly for a long time.
On the defensive end, you can't ask for anything more from Josh Morrissey other than a couple of extra goals. He looks outstanding paired with Byfuglien. He's solid defensively and has consistently generated shots. He is only shooting 3.0%, which is bound to go up. With all the hype on the big name forwards and the big-bodied Byfuglien, there isn't enough praise for the small but smart Morrissey.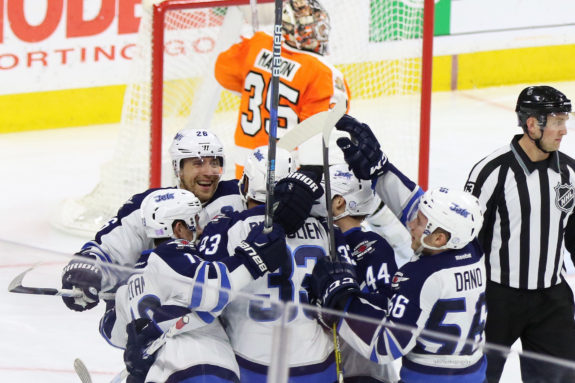 What do you think? What do the Jets need to do to make the playoffs? Or should they focus on development instead of the playoffs? Let us know in the comments below.