So it's that time of year again. It's cold outside, with holiday parties going on and too much candy hanging around the house for anyone's good. The San Jose Sharks' season is much the same as it ever was: playing well enough, already firmly in the thick of the playoff picture and dreaming not so much of a white Christmas as much as a long summer of hockey.
San Jose undoubtedly is on the "good" list this year. The team is coming off a successful road trip. Brent Burns is making another case for himself as a Norris Trophy candidate. Maybe even more importantly, San Jose finds itself atop the Pacific Division. As jolly old St. Nick is loading up his sleigh, here are the items he hopefully brings for the Sharks.
Increased Secondary Scoring
Head coach Pete DeBoer has tried just about every possible line combination outside of sending himself out on the third line to provide a spark to the Sharks' struggling secondary scoring. Outside of the players you expect to see at the top of the stat sheet, there are too many passengers who might be working hard, but 32 games into the season more production is necessary.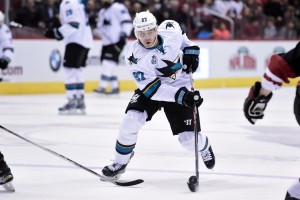 Joel Ward found himself in the press box to make room for Timo Meier's debut and responded well in the Chicago game., With only two goals, though, even a streaky scorer needs to have more than that when skating in these skilled middle-six lines.
Much digital ink has appeared on the struggles of Mikkel Boedker, who has only six points in his first year in teal. Boedker is currently on pace to post just five goals and ten assists for the entire season. Joonas Donskoi and Melker Karlsson were both expected to provide bigger boosts in their second and third years, respectively, in North America.

Most troubling: these four are on pace to provide only 20 goals in the 2016-17 season for a cap hit of $9.85 million. That has to be better.
A Trade
The need for a trade follows the wish list item above because if something doesn't improve, things are going to need to change. Factor in that the Sharks will almost assuredly lose a defenseman in the expansion draft, Burns' new contract kicks in next year and Marc-Edouard Vlasic and Martin Jones both will be in their contract year and some estate planning is necessary.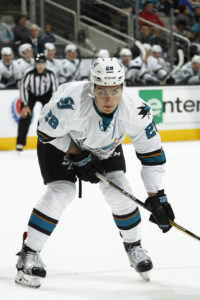 Already the Sharks would have to send down one of Meier or Kevin Labanc to make salary cap room for the return of Tomas Hertl, which will hopefully help get the third line producing. Chris Tierney has done an excellent job filling in for the injured Hertl, but the Czech center is a step up in offensive talent. Either way, there is a lot of deadweight cap-wise if things don't turn around. 
The defense is quickly getting very expensive as well. Justin Braun has been a fantastic partner for Vlasic, but can the Sharks afford him at $3.8 million or Brenden Dillion at $3.27 million, both until June of 2020? Looking at CapFriendly.com, the Sharks have a lot of contract years and cash tied up.
There are also a number of players down on the San Jose Barracuda that are knocking on the NHL door with vigor. Some of them need a look soon to see just how ready they are for the NHL, and all present more affordable options. Youthful, affordable speed and skill should be getting a look, but there is no room at the inn right now. A trade would open up a lot both this year and into the future.
More Starts for Aaron Dell
Martin Jones is the best San Jose Sharks goaltender since Evgeni Nabokov. But DeBoer leaned too heavily on Jones last season when former backup Alex Stalock's game went south, necessitating a trade to acquire James Reimer at the 2016 NHL trade deadline. History is repeating itself except that the Sharks appear to have a more stable backup in Aaron Dell.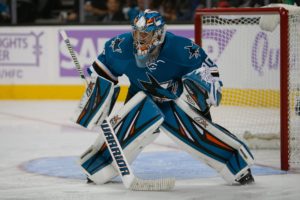 Dell has only appeared in five NHL games so far this year, and only four of them starts. He's done more than adequately as a second-stringer with a 2.16 goals-against average matched, with a .926 save percentage. Somehow, Dell did not get a start in the Canadian leg of the recent four-game road trip in which the Sharks played four road games in six nights, which include a back-to-back against Toronto and Ottawa.
The real season for Jones and the rest of the San Jose Sharks starts in April and ideally ends in mid-June. Most teams want their goalie to have their game dialed in the final weeks of the season, so let us say that Dell needs to get his starts in before the last week of March.
More starts for Dell will mean a fresher, more ready Jones later in the campaign.
A Trophy for Brent Burns
The Hockey Writers' excellent San Jose Sharks writer Zeke already presented a great case for everyone's favorite Wookiee to not only be in consideration for a Norris Trophy but maybe even the Hart Trophy as well. Burns is the most dynamic force in the NHL today, leads the Sharks in points, logs over 24 minutes per night and leads the NHL in shots as well. If Santa is coming with the other items on the list, he and Rudolph should be able to haul some hardware for Burns as well. After all, Burns certainly doesn't seem all that interested in his two front teeth.