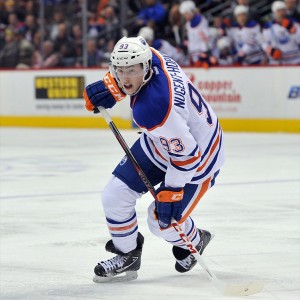 The Edmonton Oilers won a close battle against the St. Louis Blues on Monday. It was the Oilers second straight defeat of a team that, in the past, has owned Edmonton in the win/loss column. Refusing to get pushed around, they mustered up enough wherewithal to mount a comeback and eventually won the game in overtime thanks to a goal by Ryan Nugent-Hopkins. This win puts the Oilers solely in second place in the Pacific Division and as good as that news is for Oilers fans, the game results aren't what's catching most of the attention in Oil Country.
One of the goal scorers — Patrick Maroon — was interviewed post-game by Rogers Sportsnet's Gene Principe. During that interview, it's what Maroon said and did that has Edmonton and much of the hockey world talking.
Patrick Maroon: The Player
With respect to the game, Maroon's line, along with Leon Draisaitl and Nugent-Hopkins was dominating. It was a combination of speed, skill and size and on almost every shift they controlled the play. That line created, developed and hopefully found repeatable chemistry.
The trio was good for nine major scoring chances and they had the Blues hemmed into their own zone for much of the game. The Oilers wound up with 35 shots against the Blues. Maroon, Draisaitl and Nugent-Hopkins were responsible for nine of them. That's if you don't count shots from defensemen on the ice with them at the time.
Loved line of Drai, RNH & Maroon. Oilers deserved win, with 9 Grade A chances to just 4 for the Blues. Running counthttps://t.co/ZemdEs6hc3

— David Staples (@dstaples) December 20, 2016
It was a great sign for the Oilers who seem to be in an everlasting battle to find secondary scoring. It was the kind of performance anyone could have been proud of. One person — Patrick's son Anthony Maroon — perhaps more than most.
Patrick Maroon: The Person
Patrick Maroon is from St. Louis. Expectedly, because the Oilers were playing in his hometown, Maroon's family were all in attendance to watch this game. In fact, Maroon's parents are Blues season ticket holders. But, on Monday, the entire Maroon clan was cheering for the Oilers, including his son who couldn't have been prouder of his dad when he tied up the contest.
Prior to this interview, whether Maroon saw footage of his son or not, seeing it on video during his post-game comments was enough to make an ordinarily very tough and rugged NHL hockey player, sappy and emotional. As Principe put it, "Maroon is a tough guy on the outside, but a real person on the inside."
Patrick Maroon: The Father
The interview reminds us of something that is all too important to forget this time of year. Points in the standings are important, but the human element on display during this interview shows how much bigger the game is than just the scoresheet.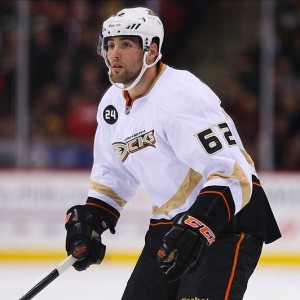 Maroon has spoken in the past about the difficulty of being on the road so much with a young son. Even with the Anaheim Ducks, he realized how much of his son's childhood he was missing.
In an interview with the NHLPA.com, Maroon said, "It's tough being far apart, but being able to chat with him every day is pretty great." He added, "It doesn't really matter what we talk about it. It's just that we do get the chance to connect and talk about what's going on in both our lives."
Maroon's performance on Monday will give he and his son Anthony lots to talk about.
A Simple Reminder
This is a professional hockey player whose career is often defined by how much he's helped his team secure a victory. The mentality is often one of "what have you done for me lately". When you choose to play professional sports, that sort of thing comes with the territory. In the eyes of Maroon's son, none of that matters.
VIDEO: Oilers' Patrick Maroon gets emotional watching son's reaction to his goal. https://t.co/8ddRmMDEhC pic.twitter.com/Rlg5kYbWAX

— theScore (@theScore) December 20, 2016
The game of hockey translates on many levels. In this particular case, Maroon is first and foremost, a father and a human being who misses his family. Clearly, the feeling is mutual. Edmonton's return to St. Louis brought Maroon and his son closer, even if only for a day or two.
Any time of year, the concept of family is something that should always be remembered. The Oilers have their hockey families, their extended families and their immediate families. Too often, these families are apart and the idea of "immediate" is the furthest thing from reality. This time of year, in particular, it rings true even more so.
I have a seven-year-old son who absolutely adores the game of hockey. He loves to play it, watch it and pretend one day he'll be an NHL superstar. We watched the game together on Monday as the Oilers beat St. Louis. You know what my son talked about as I put him to bed? Patrick Maroon's son.
That's one of the things I absolutely love about this game.