With the trade deadline less than 24 hours away, the Philadelphia Flyers and GM Ron Hextall have yet to make a trade. But that doesn't mean the team hasn't been thinking about the future in the process.
On Sunday afternoon, the team announced a three-year extension for impending unrestricted free agent Michael Raffl, averaging a cap hit of $2.35 million per season:
Forward Michael Raffl has been signed to a multi-year contract extension → https://t.co/tflikaJ6Hj

— Philadelphia Flyers (@NHLFlyers) February 28, 2016
Raffl was reportedly being shopped by the Flyers according to TSN's Travis Yost as the team tried to acquire more draft picks toward the future:
Flyers were trying to get two RD2 picks for Raffl. Knew they had extension, just wanted to test mkt. 3Y, just under 2.5 per. #TwitterCentre

— Travis Yost (@travisyost) February 28, 2016
Whether Hextall was able to get that return or not, he decided to hold on to Raffl for a few more seasons at a reasonable cap hit, and Philly should be better off for it.
The Flyers' Weaknesses
Philadelphia has been far from perfect this year. But things are much better than last season, especially on the backend, where there's hope from rookie Shayne Gostisbehere.
The biggest deficiency has been a lack of depth scoring among the forwards. There has been a maximum of five reliable scorers among the group, while the rest have been lackluster, to say the least.
The biggest culprits have been Matt Read, Sam Gagner and R.J. Umberger with his one goal in 38 games. Raffl could also be counted among this collection, but he tends to bring more to the table as he can be moved around the lineup and still has found chemistry with several different linemates.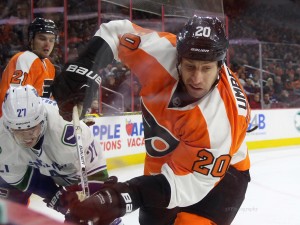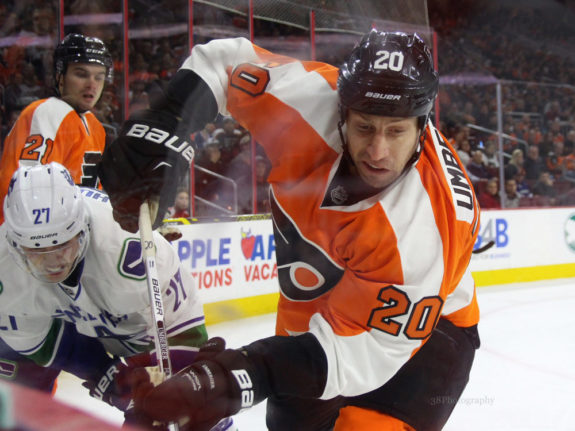 Hockey has become a game of pairings, on defense and offense, and while Raffl doesn't fit into any of the established ones on the Flyers, he has completed lines effectively during his tenure with the team. Trading him for future draft picks when the team could be ready for playoff contention next season doesn't make much sense. Hextall showed he's aware of those issues by signing Raffl to an extension.
The Austrian forward won't be the only answer to fix those problems in the depth scoring among the bottom six, but he's the one that has shown the most among the current roster. Flyers fans should hope that this is the first step in solving the bottom two lines.
Possible Solutions
As noted earlier, the trade deadline isn't over yet, so the Flyers could make an addition still before the offseason. But more than likely, it will take some offseason signings to get that done.
However, there's players still in the system that could fill in for the underperforming roster players. Nick Cousins and Scott Laughton have shown flashes of taking those roles, while Taylor Leier is perhaps more than a dark horse for a role next season.
Revamping the fourth line is also a big importance. Chris Vandevelde and Ryan White haven't done much, even on the penalty kill where they're more known for their defensive play.
Fixing the bottom six, won't be easy, but Hextall showed he knows what he's doing on Trade Deadline Eve.
Featured image provided by Amy Irvin / The Hockey Writers
Wes Herrmann graduated from Penn State with a bachelor's degree in journalism in 2014. He used to write hockey for Cardiac Cane and Broad Street Buzz and has loved the game since birth. Follow him on Twitter at @Wes_Herrm or contact him at wherrmann421@gmail.com