The normally soft-spoken Connor McDavid didn't mince words when he called out Philadelphia Flyers Brandon Manning after the Oilers loss to the Flyers on Thursday.  Manning was front and center when McDavid broke his collarbone last season and missed three months in his rookie year. McDavid's comments put Manning front and center again.
It's a shocking development considering last season McDavid went to bat for Manning after the injury, suggesting he didn't see it as a move done on purpose. What changed?
Connor McDavid calls Brandon Manning "classless," claiming he made comments about the injury last year. @Mike_Cat95: https://t.co/Zu3kbaWNyE

— CSN Philly (@CSNPhilly) December 9, 2016
Apparently, Manning told McDavid during Thursday's contest that the injury was no accident. McDavid didn't go into details about the comments, but whatever was said got McDavid more than riled up. The 19-year-old center took his game to a new level and personally went after Manning on more than one occasion. McDavid looked ready to fight and Manning did not oblige.
If what McDavid is claiming is accurate — and there really isn't any reason to think he would be untruthful — this is a very big deal and for more than one reason.
What Kind of Player Is Manning?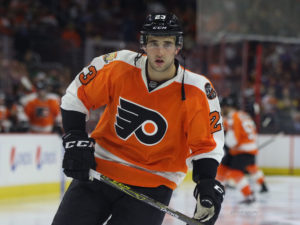 Everyone, including Manning, knows he plays a tough game. Manning is the first to admit that's why he's in the NHL. But, last season, he also publicly stated he did not intentionally hurt anyone. He wanted people to know he played an honest game.
Were these accused comments made in the heat of battle as an attempt to throw McDavid off his game? Because the Oilers lost, some will say it worked. Others will cite that McDavid got a goal and an assist and looked dangerous all night long. McDavid was fired up and it showed in his game.
Whether the intention worked or not, what does it say about someone willing to stoop so low to stop one player? Is this the type of thing that gets said all the time on the ice? Or, is this specific to the type of person Manning is? If it matters, Manning is again vehemently denying intentionally hurting McDavid after all of this went public.
Manning rips McDavid. Says he called him classless and yelled at Flyers bench. Says McDavid chirped at him all night.

— Sam Carchidi (@BroadStBull) December 9, 2016
Low class or not, Manning now has a target on his back. When the Oilers meet the Flyers again on February 16, there will be a lot made out of this storyline and Manning better be as tough as he says he is.
What Kind of Person Is McDavid?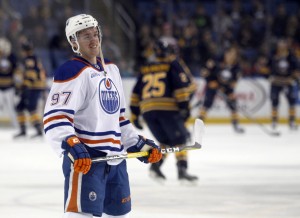 The, at one time, somewhat bland McDavid has disappeared and perhaps the real McDavid is standing up. This can happen when you get comfortable with your role. It can also happen when someone gets under your skin. McDavid lashing out may be a little of both.
As short as his NHL career has been thus far, McDavid has been known as a classy player and ever classier person. So it's odd to see him use the media as a microphone in this fashion — something which is often considered taboo. His response is not all that surprising either.
McDavid has been more vocal in interviews, often cursing and stating firm opinions. He's also been showing a feistier side to his game. He's more celebratory, he's more emotional and for the first time since becoming an Oiler, became more angered than he's ever been. To call someone classless is no small thing.
Manning said in his post-game comments that McDavid was chirping the Flyers bench all night, but didn't challenge him. Manning added that McDavid was unfocused on the game and too focused on settling some sort of vendetta. It may be true, as on multiple occasions McDavid was seen yelling at and going after Manning during the game.
To again go after Manning in the media means McDavid is prepared for the next chapter in this story. Is this a new McDavid? Are Oilers fans being introduced to the real person that will lead this team for the next decade? I'm sure many Oilers fans won't mind.
The Downside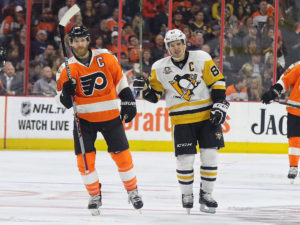 While it makes for entertaining hockey, there is a downside to all of this drama. First, it would be a shame if this is the kind of talk that happens on the ice on a regular basis. If it isn't, it's a shame that Manning chose to be so cavalier about something so serious.
The second downside was that McDavid felt the need to address it publicly. Is this a result of the NHL rules against fighting and NHL players inability to police themselves? Is this a subtle way for a superstar to speak out about being targeted?
I'm sure McDavid doesn't care, but social media was ablaze with comparisons to that of Sidney Crosby. Crosby, who is likely the most talented and often targeted player in the NHL, is now known as one of the whiniest. He's developed a reputation as a complainer, a crybaby and a privileged NHL superstar. I wouldn't suggest this situation puts McDavid in this category, but it doesn't help make an already targeted player even more of a target.
Now What?
The next time the Oilers and the Flyers meet, there should be sparks.  The verbal part of this joust will end quickly, but the physicality in their next contest will be off the charts. Both the players and the teams will have a little something to prove and both Manning and McDavid will look for each other. The Oilers will hope to even the series, and potentially the score.
I can understand why McDavid will want to stand up for what he feels is an injustice. Oilers fans probably hope he won't have to. Any one of Milan Lucic, Matt Hendricks, Patrick Maroon or Zack Kassian may beat McDavid to it and for McDavid, it's probably better left that way.