The center ice position was one of the strongest for the Chicago Blackhawks just a few weeks ago. A group headlined by Jonathan Toews and supported by the likes of Artem Anisimov, Teuvo Teravainen, and Marcus Kruger boasted an impressive mix of two-way play and dazzling offensive skill. However, the recent loss of the promising Teravainen has changed the outlook of the position dramatically for a Hawks team looking to compete for a Cup once again in 2016-17.
Source: #Blackhawks are shopping Marcus Kruger and are putting out feelers on possible trade partner for Andrew Shaw.

— Chris Kuc (@ChrisKuc) June 22, 2016
Recent trade rumors involving Kruger seemed to spark up before the draft when Stan Bowman was forced to choose between keeping the veteran center and negotiating a new contract for Andrew Shaw. After Shaw's big trade this past week, Kruger appeared to be safe from joining many of his former teammates in being traded to save salary cap space.
However, the Blackhawks still only have about $6.3 million in cap space after the Shaw move. While that might seem like a comfortable number for a team constantly crunched just below the ceiling, it would likely not be enough to add any impact players in free agency, which the team would almost certainly need to do in order to improve.
Why Kruger
Kruger is hardly helping his team's cap situation thanks to his newly-awarded contract that carries a cap hit of $3.08 million. That kind of cap hit is relatively large for a Blackhawks roster that can't afford to pay too many other players outside their core of Toews, Patrick Kane, Brent Seabrook, Duncan Keith, and Corey Crawford.
Additionally, the cap hit is exceptionally large for a player who has struggled to score points over the past two seasons while playing a vast majority of his time on the team's last line. There is little doubt that he is a very valuable player, but determining just how much that value is worth is an important question for the Blackhawks right now.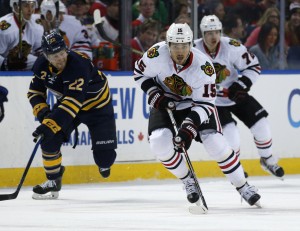 When one also considers that the only other player the Hawks could realistically trade to free up room is Artem Anisimov, the case to move Kruger becomes stronger. Anisimov is the only player currently on the roster capable of playing top-six center minutes outside of Toews. With no quick or affordable replacements for those kinds of minutes currently available, Anisimov looks like a lock to stick around.
Why He Stays
Even when the points against Kruger are carefully analyzed, there is still a strong case to be made for keeping him. Specifically, the recent losses of Teravainen and Shaw leave the Hawks without much of the depth they had last season, and Kruger will be counted on to help provide it.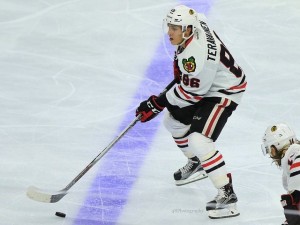 The trade of Teravainen is the big key out of those two losses, however. Teuvo had previously done a tremendous job of holding down the team's third line center position, but his departure leaves a gaping hole in the middle of the lineup.
Meanwhile, Kruger has played in the third slot before, most recently with Marian Hossa and Andrew Ladd in the first round of the playoffs against St. Louis. That line was productive, but that probably had more to do with the all-star wings flanking Kruger than the center's play on his own. Still, he remains the best option to fill that organizational need while several young forwards continue developing in the minor leagues.
What Will Happen
Analyzing this situation requires more than simply looking at what the Blackhawks could do with an extra $3 million to spend, as a more complete view of team strengths and weaknesses is the only way to truly arrive at an answer. For instance, the third line center position is not currently a weakness with Kruger in the fold, but the drop-off from him to a player like Dennis Rasmussen would leave a hole in that line.
Likewise, the Blackhawks are in need of adding more defensive depth to an inexperienced group of defensemen that endured some growing pains this past season. That need could be addressed by signing a veteran player like Brian Campbell on a discounted deal, but is it worth it to deal Kruger to accommodate Campbell for one year?
Source says Brian Campbell has serious interest in returning to #Blackhawks. Defenseman would have to agree to discounted contract.

— Chris Kuc (@ChrisKuc) June 22, 2016
This is definitely a tough situation to be in from a management perspective, and one that Bowman will have to carefully consider before proceeding. That said, Kruger's history in the organization and ability to fill Teravainen's spot in the lineup mean that he should remain a Blackhawk for the 2016-17 season.
David is entering his final year as a sport management and operations and information management double major at UMass Amherst. Originally from the West Suburbs of Chicago, David has enjoyed watching the Blackhawks for as long as he can remember. When not watching or writing about hockey, he can be found working on the McCormack Future Leaders Conference on the UMass campus.