When the NHL season kicked off in October, Teuvo Teravainen was the player pegged to play on Chicago's top line next to Jonathan Toews and Marian Hossa. Aside from the opportunity to play more minutes on the team's top line, Teravainen's opportunity also put him on the same line as two future Hall-of-Famers who helped Brandon Saad land a $36 million contract with Columbus over the offseason.
The offensively gifted Teravainen seemed like a perfect fit in a top-line role, but inconsistent play led to him actually being a healthy scratch at one point and he is now playing in a support role on the team's third line with Andrew Desjardins and rookie Phillip Danault. Thankfully for the Blackhawks, Teravainen has been excellent in his unconventional role in the bottom six.
Teravainen's New Role
His speed and skill have made him the perfect compliment to the grit and defense of Desjardins and Danault. Additionally, the defensive struggles that resulted in his healthy scratch at the start of the season have become less noticeable as he adapts to his new role.
The above shot chart shows that Teravainen has been allowing nearly 6 fewer shots per 60 minutes in high and medium danger scoring areas than the average player. And he's been able to do that while taking nearly 10% more of his zone starts in the defensive area. Those are very good numbers for a player that has also scored nine goals and twenty-one points already this season.
Overall Improvements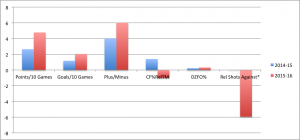 The above graph does a great job illustrating the all-around improvements Teravainen has seen in his game. Asides from a slightly lower possession figure, the young Finn has improved every other major aspect of his play for the Blackhawks this season.
Even more impressively, these improvements have taken place while he has had to constantly be adjusting to new line mates and roles as he shifts throughout the lineup. That kind of flexibility is key when playing for renowned line-mixer Joel Quenneville. And Quenneville's trust in the Hawks' top prospect seems to be increasing: Teravainen has played over eighteen minutes three times in the past nine games despite recording just two points over that span.
Earning Q's Trust
In the past a drought of that kind from Teuvo might have forced Quenneville to take him out of the lineup. But his rising ice time through the slump is a great indicator of his newfound ability to contribute at both ends of the ice.
His one goal over the last nine games was the empty netter shown above, but positives can even be drawn from that short clip of him guiding the puck into an open cage. First off, he was on the ice while protecting a one goal lead against a team that features Sidney Crosby, Kris Letang, and Evgeni Malkin (to name a few). Secondly, the start of the clip shows Teravainen taking away Crosby as an option in the slot before pressuring Ben Lovejoy and reaping the rewards of putting in effort in the defensive zone.
I'm not saying Teravainen will ever be confused with great two-way players like Pavel Datsyuk or Jonathan Toews throughout his career, but those are all encouraging signs from a young player with immense potential. I for one am excited to watch him grow into a larger role following his success this season.