It was a quiet trade deadline day around the NHL as we saw only 16 trades consummated but one team that needed to make a trade was the Chicago Blackhawks and they did by add defenseman Chris Campoli formerly of the Ottawa Senators.
Many 'Hawks fans we a little upset with the addition of Campoli as he doesn't fit mold of a physical, penalty killing, shot blocking defenseman that many believed the 'Hawks truly needed. What might have force the 'Hawks hand was the loss of Jordan Hendry Sunday night against the Phoenix Coyotes and just needed to add someone.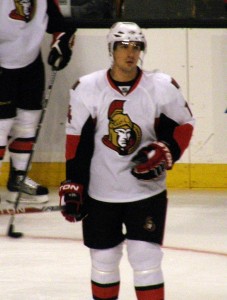 But with that being said Campoli is still a very capable defenseman and actually fits the mold of what coach Joel Quenneville likes in a defenseman as he is a good skater, a good puck mover and still responsible in his defensive zone. In addition to Campoli's on ice capabilities he as could be apart of the future for the 'Hawks as Campoli is an RFA at the end of the season and could provide the 'Hawks with a solid 5th/6th defenseman for next season and beyond.
There was a thought amongst some, including myself, that the Campoli might have been able to make it to Monday nights game against the Minnesota Wild but visa issues delayed his arrival and will make his Blackhawk debut tonight against he Calgary Flames.
With Campoli entering the lineup tonight it will likely be John Scott who will be scratched unless Niklas Hjalmarsson is unable to go.  It must be noted that Scott played admirably in limited his minutes against the Wild and fought Brad Staubitz after Staubitz took a run at 'Hawks defenseman Brian Campbell.
It might not be what Blackhawks fans were expecting but with the addition of Campoli the 'Hawks have at least added some much needed depth and have secured a player who can help them during this stretch run and beyond.