One of the more underrated parts of shooting the puck involves getting the puck to the net. Television screens shattered from remote controls are a direct correlation to the number of times a forward misses the net on a sure scoring attempt, and we have all sworn at the blinking images when our powerplay quarterback shoots into the knees of an opponent and the puck is cleared to centre.
The NHL.com event summary during every game calculates the number of blocked attempts and misses, along with other real-time statistics such as giveaways, takeaways, and defensive blocked shots.
Once we determine the amount of shots a player has blocked, we can determine his overall on-net percentage. A median on-net percentage usually falls between 52.5% and 57.5%, but unlike shooting percentage, the number is more sustainable, and you'll see teams and players maintain relatively consistent on-net percentage compared to their shooting percentages game after game.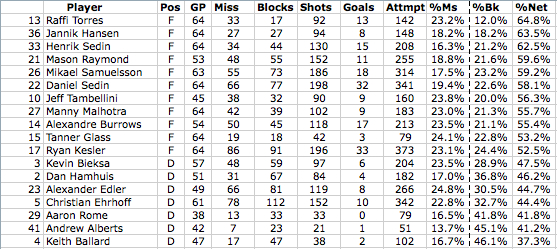 This chart is sorted by on-net percentage of each player among Canucks who have seen significant time this year. Raffi Torres and Jannik Hansen, third liners known more for their forechecking than for shooting, do a good job at getting pucks on net and as a result they've been rewarded with a combined 21 goals between the two. Among forwards, you'll notice Ryan Kesler is far below the rest, without consistent wingers to pass the puck to, Kesler often tries to do it himself. No everyday Canuck forward finds themselves below the threshold of 52.5%, and while I haven't separated the median between defense and forwards for every team, this is strong. Also note Mason Raymond, traditional media whipping boy for media members who don't do their research, gets a lot of his shots on, which means he's getting close to the net, which means he's getting chances.
Defensemen typically shoot from further away, hence there's more room for error. There's less net to look at, less to hit, and usually more bodies in front, so the puck has far less of a chance of getting through. Christian Ehrhoff and Alexander Edler, the set-up guys on the point, know this all to well and as a result their numbers are probably slightly lower than Hamhuis' or Bieksa's, but they also get a lot of pucks through, with just under 2 and a half shots per game getting through. Keith Ballard, Aaron Rome and Andrew Alberts, not known as offensive superstars to any extent, are below the rest, and Ballard has some very obvious shooting problems. Just over 46% of his shots do get blocked and less than 40% hit the net, which has resulted in just two goals this year.
This is just another way to look at hockey players. With only one team listed on this chart, you can't make comparisons team to team and player to player, so I challenge NHL.com to next year include the Attempts Blocked statistic on the real-time stats page.