Chris Driedger THW Close-Up: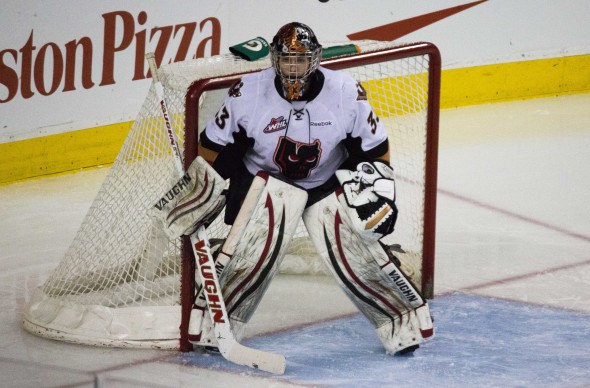 Date of Birth: May 18, 1994
Place of Birth: Winnipeg, Manitoba
Ht: 6-2 Wt: 186 lbs
Catches: Right
Position: Goaltender
NHL Draft Eligibility: 2012
In sports, as in life, one of the most important things to have is momentum.
Just ask Calgary Hitmen goaltender Chris Driedger. Ranked as the number 12 North American goaltender by NHL Central Scouting, Driedger emerged onto the scene as part of a goaltending tandem in Calgary with Brandon Glover. The Hitmen have rotated between the netminders all season, allowing both the team and the individual goaltenders to ride the waves of momentum.
The approach has allowed Driedger to greatly improve his stock after a 2010-11 season in Tri-City which saw him stuck behind Drew Owsley on the depth chart. He only played 22 games that season and posted a 6-6-1 record. This season, he's posted a 23-12-3 record, dramatically improving his goals against from 3.50 to 2.87 and helping the Hitmen rebound from a disappointing 2010-11 season. Having another draft-eligible goaltender in Glover there to push Driedger has definitely helped both men improve and given the Hitmen some strength in net to build upon throughout the season.
Driedger isn't quite an elite goaltender yet. He's sometimes prone to letting a game's momentum overtake him – case in point, a 9-5 loss to the Edmonton Oil Kings in February that saw him give up seven goals – but that's the kind of thing that a goaltender can eventually overcome with time and effort. And while he's yet to play in a playoff game in the WHL, he's shown he's able to elevate his play in critical situations; he stopped all 14 shots he faced in the CHL Top Prospects Game, which he only got the chance to play in due to an injury to Malcolm Subban.
Life's all about momentum. And if Chris Driedger can maintain the momentum he gained from his strong play during the WHL's post-season, he may find his draft stock elevated as well.
Scout's Honour:
"Driedger displays a very calm demeanor in the net, and he moves with good balance due to a low center of gravity. He has very little excess movement, and is the most minimalistic and economical of the four. His game is very simple; he doesn't waste any excess energy, he stays in good position, and he shows elements of durability by quietly letting the puck, and the play, come to him."
–Justin Goldman, the Goalie Guild
Statistics:
Bio/Interview(s)/Link(s):
International Tournaments:
No significant experience, but did participate in Hockey Canada's Program of Excellence Goaltending Camp in June 2011. He was the only WHL netminder to be named to the U-18 camp. He's considered a strong contender to represent Canada in a future World Junior event. He also previously represented Team West at 2011 World Under-17 Hockey Challenge. The team finished sixth.
ETA:
3-4 years
Risk-Reward Analysis:
Risk = 2/5 Reward = 3/5
NHL Potential:
Lower-tier NHL starter or consistent back-up.
Strengths:
*See "THW Close-Up" section above.
Positioning (simple yet effective, doesn't try to do too much)
Patience
Calmness
Flaws/Aspects He Needs To Work On:
In-game consistency
Managing a game – sometimes a bad early goal can take a game away from him
Tracking the play
Can battle the puck
Fantasy Hockey Potential:
Goaltender – 7/10
NHL Player(s) Comparison:
Alex Auld.
Off The Iron (Interesting Notes):
Originally drafted by the Tri-City Americans in the fourth round of the 2009 WHL Bantam Draft.
WHL's Goaltender of the Month for January 2012. (Teammate Brandon Glover won the honour in November 2011.)
Ranked 13th among North American goaltenders by NHL Central Scouting.
THW's The Next Ones prospect profile template design architect: Chris Ralph