Barring a surprising, late summer trade, it's likely the Rangers will conclude the balance of their heavy offseason lifting by completing deals with their four arbitration-eligible RFAs. With roughly $12 million in cap space available (assuming Pavel Buchnevich is on the NHL roster and Tanner Glass demoted to Hartford), the club should have ample space to get their RFA deals done. However, given the rising cost of retaining younger talent, the Blueshirts probably won't be able to extend more than one of those RFAs long term.
The Rangers have typically played hardball with their RFAs preferring to sign them to short, bridge contracts as opposed to locking them up for a lengthier period. Ryan McDonagh is the notable exception, inking a six-year deal with an AAV of $4.7 million upon completion of his entry-level contract (ELC). But the M.O. under President and former general manager Glen Sather was to suppress the RFAs' earnings via bridge deals.
Even though the Rangers always spend to the cap ceiling, they do look to keep some space available for in-season additions. Suppressing the salaries of their RFAs helps accomplish that. If they had extended their RFAs in years past, they might not have been able to make moves at the deadline to add guys like Marty St. Louis or Keith Yandle in their pursuit of a Stanley Cup.
Of course the downside is at some point the cost to keep their players rises to a level the team simply can't afford. Carl Hagelin is the most recent example of that situation playing out. Upon completion of his two-year, $4.5 million deal, and aware he would be able to command significantly more on his next contract, the Rangers were forced to move Hagelin. We know how that played out.
Hagelin would go on to sign a four-year, $16 million contract with Anaheim and it begs the question: If the Rangers had been willing to offer four or five years at $3 million or $3.25 million per back in 2013, would the speedy winger still be part of the club? It's at least possible.
But that's the risk with the bridge deals. It keeps the retention cost down short-term but inevitably it costs more if you want to keep the player around beyond the short-term contract.
In a series of three posts, we'll examine the two options the Rangers have with their RFAs and try to predict how the club will handle their RFA business. First up is Chris Kreider.
Comparable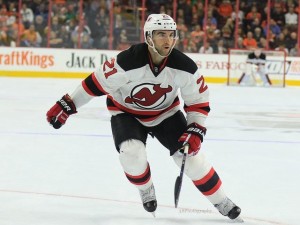 Kreider capped off his two-year, $4.95 million deal, tallying 21 goals and 43 points in 79 contests. It was his second consecutive 21-goal campaign and will undoubtedly garner him an increase over the $2.475 million AAV he earned on his last contract.
A close comparable to Kreider is New Jersey Devils forward Kyle Palmieri, who recently signed a five-year, $23.25 million extension as an RFA. Palmieri is coming off his first 30-goal campaign and has similar career scoring rates to Kreider. At five-on-five, Palmieri has tallied 1.83 points-per-hour compared to Kreider's 1.74 points-per-hour. In terms of possession, Kreider has an advantage with a career 51.0 CF% against 48.0 percent for Palmieri. Still, given the similarities in scoring numbers, he likely represents a fair comparable for what a long-term deal for Kreider would look like.
Case for the Long Term Deal
Kreider has been a bit of an enigma the last couple of years. With his rare combo of speed and size, he has the ability to dominate shifts, creating high quality scoring chances for himself and his linemates. But too often he isn't visible on the ice. He'll go through stretches where he simply isn't producing. This season, he experienced pointless droughts; six, five and three separate occurrences of three games. He went goalless for at least five games on five different occasions with one eight-game streak. Given his talent, those types of droughts are inexcusable.
Teams pay for offense though. Just this summer Mikkel Boedker, a player without a 20-goal season on his resume, got $4 million per year over four seasons and some thought that was a bargain.
Troy Brouwer, who'll be 31 next month, received four years and $18 million and has two 20-plus goal seasons in his 10-year career.
Darren Helm cashed in to the tune of just less than $4 million annually and his career-high in goals for a season is just 15.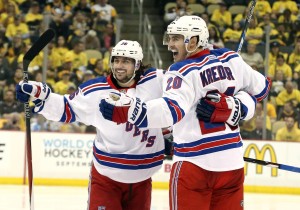 The question with Kreider is whether or not he is a finished product; specifically, is he a 20-goal, 45-point guy or can he tap further into his skill-set and approach 30 and 60? The Rangers and Kreider's representation will need to decide on that before determining the best course of action.
Case for the Bridge Contract
The obvious advantage to this strategy is to give the organization a couple more seasons of results before committing big money long-term. At the same time, a two-year contract likely comes in under $4 million annually, thus saving the team some precious cap space.
The downside, as we have seen before, is that if Kreider were to eclipse the 25-goal mark and even approach 30, his price would skyrocket the closer he gets to unrestricted free agency. In this scenario, the likelihood of re-signing him lessens greatly and the team would either lose him as a free agent or have to trade him.
Verdict
At 25 and in the prime of his career, a long-term deal along the lines of what Palmieri got makes a lot of sense. This summer was yet another example of how expensive offense is to buy on the open market. Even if Kreider doesn't take his game to the next level, he's still worth that deal. And if he does, he'll represent tremendous value for the Rangers.