Chris Kreider will need to be consistent on offense, but that's just the beginning. For the first time in his career, the New York Rangers will need more from him than some flair; the team will also need him to be a leader on the club with several new faces coming into the fold. In his career, Kreider has been the type of player who can take over games when he's "on" because of his ability to score, and also because of his ability to be physical and drive the overall pace of the game.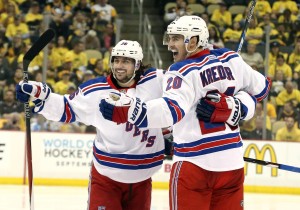 Now that Kreider has three full seasons in the NHL, he needs to take that next step in his career: to become the glue that keeps the team mentally strong, the guy that helps to mentor the next generation and a player that can still be trusted in pivotal situations.
Leading the Charge
This preseason Kreider has been excellent, not just on the ice, but also in terms of leadership. The brightest example of this has been his work with New York newcomer Pavel Buchnevich. Throughout the games, Kreider has been on a line with the young Russian and has been seen giving the winger pointers after plays. Now, Kreider was expected to be a big help with Buchnevich because he's one of the only Rangers that speaks any Russian. That said, it's special to see a young player look so engaged in helping out a rookie he hardly knows.
Kreider, Buchnevich and Mika Zibanejad have easily been the Rangers' most impressive line this preseason. One detail that jumps off the page is that Buchnevich has become better and seemingly more comfortable in every game he's played and he finally put some points up against the Philadelphia Flyers.

Playing Tough
With Tanner Glass on waivers and seemingly off the team for the season, the club will need Kreider to bring some sandpaper to the core of forwards. The American-winger is one of the few Rangers who can lay heavy checks on opponents and that will be something that the team needs during the season.

Kreider is a physical specimen and he knows it. He's always been the type to come to the aid of teammates, and that's a quality that always helps a team come together. We saw an example of this in the last preseason game against the Flyers where the big winger had an exchange with Radko Gudas, who plays the Rangers extremely physically.
Kreider wants a piece of Gudas, gloves off, but officials step in

— Steve Zipay (@stevezipay) October 7, 2016
Kreider doesn't and shouldn't be the guy that steps up to fight every time something sketchy happens on the ice, but it's important that a team with new faces establishes that they will stick up for one another early on. If there are a couple of guys willing to mix it up, it usually gives teams a bit more swagger. It's also important that Kreider not try to do too much physically because that could make it hard to play him late in close games.
From the THW Files – Kreider Signs 4-Year Deal With the Rangers
My Take
Kreider is a terrific hockey player with the potential to be just as good as a leader. It's impressive that a guy who's 25 years old can look so professional after just a few seasons.
The Rangers have lost some leadership in recent years, with the departure of Brad Richards, Martin St. Louis and now Keith Yandle. So it's important that this team continue to rebuild from within by growing not just good hockey players, but good people who can help keep the right mentality within the organization. Perhaps it's premature, but I see Kreider wearing a letter in the near future.