We've learned one thing about Peter Chiarelli during his time as an NHL GM: He cares not for a player's draft status. If he feels trading them will improve the team, he'll do it.
Let's take a trip down memory lane, shall we? When Chiarelli was with the Boston Bruins, he traded away former fifth overall pick Phil Kessel. As part of the return, he drafted Tyler Seguin second overall, and eventually traded him as well. Now with the Edmonton Oilers, Chiarelli has managed to trade away two former first overall picks in a span of a few months. You could say one thing about Chiarelli, he isn't afraid to make a deal.
Related THW Coverage – Nail Yakupov Traded to St. Louis Blues
How Good a Player is Nail Yakupov?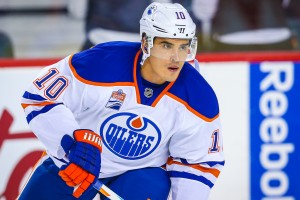 We all knew the trade was coming. Management and coaching didn't see eye to eye with Nail Yakupov, and the kid requested a trade out of Edmonton last spring. Unlike in Tampa Bay with Jonathan Drouin (where the Lightning actually wanted to keep him), the Oilers were more than happy to oblige Yakupov's request. Unfortunately, there were no takers at the trade deadline, and even less at the NHL draft. Simply by looking at Yakupov's stats, they don't jump out at you. in 252 regular season games, Yak has scored 50 goals, and 111 points. He's a career minus -88.
Simply by looking at Yakupov's stats, they don't jump out at you. in 252 regular season games, Yak has scored 50 goals, and 111 points. He's a career minus -88.
Since his rookie season in 2012, Yakupov is ranked 53rd in points among his fellow right wingers. In contrast, during that same span, the aforementioned Phil Kessel has amassed 252 points and 108 goals in 42 more games. Patrick Kane had played in just seven more games than Yakupov during that span, scoring 125 goals and 294 points. Those two are established players, with more experience than Yak, and better linemates (although Kessel played a lot of those games with the Toronto Maple Leafs, so take it with a grain of salt).
So let's compare their first four seasons in the league: Kane (also a first overall pick), scored 103 goals and 303 points in 317 games. Kessel scored 96 goals and 181 points in 292 games. Now let's compare all forwards during the past four seasons: Yakupov is in the same company as players like Kris Versteeg, Clarke MacArthur, Dustin Brown and Lars Eller. All perfectly fine players, but none are front-line stars. Plus, they all bring different elements to the table. Yakupov is touted to be a goal-scorer, but he doesn't do much of that.
Thank you to the Edmonton Oilers for bringing me into the NHL and the great fans of EDM You always made me feel welcome in your great city

— Nail Yakupov (@Nail10_1993) October 8, 2016
Why Was His Trade Value So Low?
Now in fairness to the kid, not everything is his fault. The Edmonton Oilers did an extremely poor job of handling his development. They rushed him into the NHL as an 18-year old. However, because he said he wouldn't go back to Junior and he wasn't eligible for the AHL, he painted the team into a corner. Let's chalk that up as his fault. But, once he was in the pros, the situation around him was about as messy as it could get. Rotating coaches, rotating linemates, management issues, and all-around team failures presented an unhealthy environment for a young player to thrive.
Yakupov was known for his confidence. He displayed it in spades during his Junior years, and it was still present when he was drafted. But I would pinpoint the loss of confidence to the day he scored a huge game-tying goal against the Los Angeles in 2013 and celebrated with pure unadulterated glee. His celebration wasn't enjoyed by all. He got roasted by the media (especially Don Cherry) and other NHL players for "show-boating". Do you think things like this don't rattle young players? They do, and it rattled Yakupov.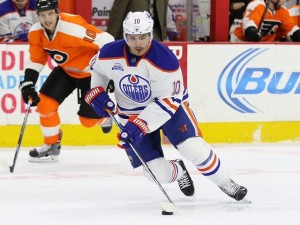 Yakupov's rookie season (which was in the lock-out shortened year) was actually the best statistically of his career. He notched 17 goals in just 48 games. The closest he got after that was in 2014-15 when he scored 14, but it was over the course a full season. (81 games to be precise). Young players with his kind of skill perform based on confidence. It can borderline on cocky, but that's what fuels them. Yakupov cares, no matter what his detractors might think. And he carried the weight of being "disrespectful to the game" on his shoulders.
The question is, who was there to help him through it? The lack of veterans on the team? The constantly changing head coach? Players like Yakupov need the right environment and support system to thrive, and he simply didn't have it. Obviously, the onus is on the player to perform. He worked hard, but not always on improving his flaws. He believed that if he did the right things, he would get results. But there's more to it than that. Now what you have is a 23-year-old winger who doesn't have good defensive numbers, who still appears to be learning the game, who doesn't play well with just any old centerman, and who doesn't have a place on the team.
Other GMs look at Yakupov as one of those guys who has all the potential in the world but seems to be going backwards instead of forward. It happens all the time. Guys tear it up in Junior but it doesn't translate to the NHL. If Yakupov isn't committed to playing without the puck and looks lost when he does have the puck, what role can he realistically play? His value on the trade market was low because he isn't a sure thing to make an impact.
Yakupov is a Victim of His Draft Status
Bottom line, if Yakupov was drafted 15th overall, and everything else about him was the same, the return would have looked fine. A prospect and at worst a third-round pick for a one-dimensional player who lacks size? That's pretty decent. But he wasn't a mid-round pick. He was taken first overall. And that's why the deal might be hard to swallow for Oiler fans, especially in light of the Taylor Hall trade. Two former first overall picks, gone in one offseason. The optics aren't great, but you have to look deeper.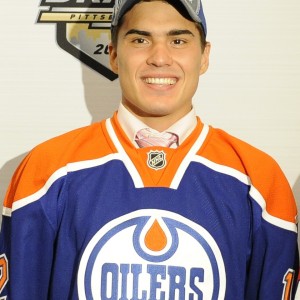 Yakupov wasn't going to be part of the Oilers' future. There's no point keeping him if he's going to spend most of the time in the press-box, and his skill set isn't suited for the bottom-six.
Is it frustrating the Oilers "wasted" a first overall pick? Of course it is, but that's hockey. There are very few Connor McDavid's, Sidney Crosby's and Patrick Kane's. With the majority of guys, there's no guarantee they'll be superstars. Of course, it's disappointing to see what's happened with Yakupov. Maybe he's the quintessential Junior star who simply doesn't have what it takes to be an NHLer.
Maybe he should have been drafted lower despite being the "best player available." Alex Galchenyuk would probably have gone first if he didn't miss so much time due to injury. Unfortunately for Yakupov, he will always be judged on his draft status, rather than the kind of player he actually is. At such a young age, there is still plenty of time for him to salvage his career. Let's hope he is able to do that. But right now, he looks like a bust. Let's face it. He came into a poor draft class, especially in terms of talent. At the time he was the best there was.
From the THW Archives: Nail Yakupov – NHL 2012 Draft Prospect Profile
We can't go back in time and change his draft position. It's up to him now to prove he can hack it in the big leagues. And Oiler fans have to accept the fact that things didn't work out, and it was best for both sides to move on. It's disappointing, there's no question. But that's how the story goes sometimes. In other years, he may not even have gone top-three. Or maybe not even top-five. He was a victim of circumstances out of his control. He didn't always help the situation, that's for certain. Now the page has turned. We just don't know how the chapter ends.
Marcy, a former hockey player, is a hockey correspondent on CTV News and TSN radio. She began her career as a Sports Journalist in 2009 and has been part of The Hockey Writers since 2010, where she is currently a senior writer and editor.