For the time being at least, it looks like the Rangers will go with 13 healthy forwards and eight defensemen after placing Tanner Glass and Nathan Gerbe on waivers while sending Cristoval Nieves to Hartford. Derek Stepan, Mika Zibanejad, Kevin Hayes, Jimmy Vesey, Mats Zuccarello, Chris Kreider, Rick Nash and J.T. Miller are virtually assured of top-nine roles, leaving a spot available for one of Pavel Buchnevich or Brandon Pirri. Jesper Fast, Josh Jooris and Michael Grabner will likely comprise the fourth line, as each will be expected to contribute on the penalty kill as well as at even strength. This means either hot shot rookie Buchnevich or Pirri may be the 13th forward to start the season. While Buchnevich needs to play regularly to further his development, Pirri also deserves to be in the lineup.
From the THW Files – Brandon Pirri Signs With the Rangers
Five-on-Five Goal Scoring
Perhaps it's difficult to believe, given the relative lack of interest in Pirri on the free agent market this summer, but the 6-foot, 183-pound forward has been among the league's most prolific goal scorers on a rate basis over the last two seasons. He's averaged 0.94 goals-per-60-minutes of five-on-five play; a rate that ties him for the 30th since 2014-15 for players with at least 800 minutes of ice time in that situation. His 0.33 goals-per-game average also ties for 30th best in the NHL. For what it's worth, Pirri has proven he can put the puck in the net with regularity.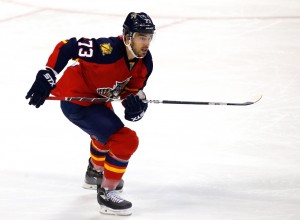 The Rangers have iced one of the better offensive teams the last couple of seasons, finishing seventh in goals scored in 2015-16 and third the year before. On the surface, it may not seem like the Blueshirts needed to sign Pirri but injuries happen in the NHL and finding competent goal scorers on the open market isn't easy. Pirri's presence on the roster means the club won't have to look far for a replacement if one of the team's top-nine goes down with an injury.
Power Play Production
While the Rangers have been a top-10 offensive team overall the last two years, their power play has been a middling unit. They finished 14th in 2015-16 and 21st the year before. Pirri has been one of the league's top producers with the man-advantage over the last couple of seasons and can help boost the Rangers attack.
Pirri has averaged 2.68 goals for every 60 minutes of man-advantage ice time played over the last two campaigns. For comparison purposes, just eight players have had a higher power play goal scoring rate during that span. Just for fun, Alex Ovechkin, Vladimir Tarasenko and Joe Pavelski are three of those eight skaters.
(All stats provided by Puckalytics.com)
Play Away From the Puck
Over the last seven-plus months, Pirri was traded from the Florida Panthers for a sixth-round pick to the Anaheim Ducks, who didn't tender him a contract as an RFA; and he sat on the free agent market almost through August before landing in New York. It's interesting that despite his goal scoring prowess, his two most recent employers evidently didn't think particularly highly of Pirri. Much of that likely has to do with how coaches view his play away from the puck.
Rangers head coach Alain Vigneault has already noted he would like to see Pirri improve his play on the walls and defensively. But he has more than made up for those deficiencies with his elite offensive contributions.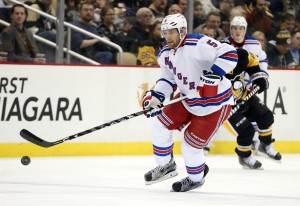 In 5v5 Close situations (when teams are within a single goal in the first two periods or tied in the third), Pirri's teams have scored 52 goals when he has been on the ice and allowed just 39 during his playing career. In 2015-16, just 91 forwards out of 400 who played at least 200 minutes in 5v5 Close situations had a better Goals For Percentage than Pirri's 57.1%. This suggests that his defensive inadequacies are either overblown or simply haven't had the negative effect one expects.
Vigneault had no problem continuing to put Dan Girardi and Marc Staal over the boards, despite the obvious fact that they struggled tremendously in their own zone and simply don't produce offense to offset their defensive woes. Pirri, on the other hand, contributes more than enough goal scoring to cover any struggles in his play away from the puck.
More from THW – Pirri Poses Interesting Problems for Rangers
Put Him In Coach
Vigneault may prefer to play the rookie over Pirri but after scoring four goals and six points in four games this preseason, and given his impressive career track record, the former Panther, Blackhawk and Duck deserves to be in the lineup every night.