One product of having great depth at one or more positions is the struggle in deciding who plays and who sits. It can become a problem in a sense, but a good problem at that, as all of the options a team has are strong.
The New York Rangers are facing this exact problem with the glut of NHL-capable forwards they have. Likely only 13, and no more than 14 will make the NHL roster. The player who is perhaps creating the most difficulty in the decision-making process for the Rangers' coaching staff is the offensively-gifted Brandon Pirri.
A Valuable Skill Set
The Rangers signed Pirri late in the offseason, adding him to an already deep and talented mix of forwards. Pirri, who can play the center or wing positions, is only 25-years-old but is already on his fourth NHL team, having played previously with Chicago, Florida, and Anaheim. His strengths are on offense, as he has a lethal shot and the great instincts of a goal scorer.
While it could be argued that some amount of inconsistency has contributed to Pirri being unable to stick with one team for very long, he has proven that he can score at the NHL level. The most notable example of this was in 2014-15 when Pirri played for Florida. During that season, he put together one of the oddest stat lines anyone will ever see: in 49 games, Pirri potted an impressive 22 goals, with just two assists. More than anything, that stat line speaks to what the strengths of his game are.
As such, Pirri represents a welcome addition to the Rangers, a team that has a lot of playmakers but needs more pure shooters. In the club's first preseason game on Monday night, Pirri showed what he can bring to the table, scoring a gorgeous power play goal off the rush.

The quality of Pirri's one-time shot did not go unnoticed by head coach Alain Vigneault.
Vigneault on #NYR Brandon Pirri: "His goal was a major-league shot. I liked what I saw from him. He seems like a real versatile player."

— Sean Hartnett (@HartnettHockey) September 28, 2016
Where Does Pirri Fit?
Pirri adds an element of offense that the Rangers could really use. Nevertheless, the problem is figuring out where he would fit into the lineup once the regular season begins. His skill set is a more natural fit for a top-nine forward role, especially with Vigneault's preference for three scoring lines and one defensive/shutdown fourth line.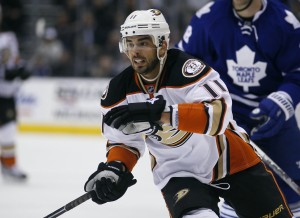 The top-nine appears to be largely set without Pirri though, as Derek Stepan, Mats Zuccarello, Chris Kreider, Rick Nash, J.T. Miller, Mika Zibanejad, and Kevin Hayes are locks for seven of the slots. Then there is Pavel Buchnevich, who has had good chemistry in training camp and in the first preseason game with Zibanejad and Kreider. The Rangers also likely would not risk sending him to the AHL under any circumstances, as he could opt out and go to the KHL if that were to happen. Buchnevich, though he has no NHL experience, should be guaranteed a top-nine spot. The last spot will likely go to much-publicized college free agent signing Jimmy Vesey, who also excels offensively and impressed in the Traverse City prospects tournament.
The fourth line also sees a number of players battling for regular playing time, including Jesper Fast (a virtual lock), Michael Grabner (same as Fast), Nathan Gerbe, Tanner Glass, Maxim Lapierre (on a PTO), Marek Hrivik, Nicklas Jensen, Josh Jooris, and Oscar Lindberg. Lindberg will miss the first month or so of the regular season as he recovers from hip surgery, but with a solid rookie year already under his belt, it would be hard to deny him a spot upon his return.
Even on the fourth line, which would not really play to his strengths anyway, Pirri has other players standing in his way. Jooris, however, tweaked his groin in Tuesday's preseason game, so Vigneault will see how Pirri fares at center.
Vigneault said @pirri91 told him he can play all 3 forward positions, so tomorrow he'll have him at center. Jooris still out. #NYR

— New York Rangers (@NYRangers) September 28, 2016
Pirri might have a chance for a temporary fourth-line center role, but A) it would be just that: temporary, and B) it is not the most suitable position for him, as he is a scorer, not a shut-down forward.
As it stands, Pirri getting regular playing time once the season starts on Oct. 13 would have to be at the expense of one or more of Buchnevich, Vesey, Fast, Grabner, Jooris, or Lindberg. This is also assuming that the other fourth-line candidates do not make the final cut. The more likely scenario, barring a potential trade, is that Pirri ends up making the roster as the 13th forward. If so, hopefully, the Rangers give him something better than last year's treatment of Emerson Etem, which saw the former first-round pick spend most nights in the press box before being traded to Vancouver for Jensen.
Pirri can provide the Rangers with a much-needed sniper's approach, but only if he is in the lineup. New York has some interesting and difficult decisions to make over the next couple of weeks.
Tom has been with The Hockey Writers for almost four years. After previously covering the LA Kings and the New York Rangers, Tom now covers the Anaheim Ducks.
While in college at Clemson University, the 2016 college football national champions, Tom wrote game summaries and feature articles for the official team website of the Greenville Drive, a Class-A minor-league baseball team and affiliate of the Boston Red Sox. Tom is happy to be able to continue to fulfill his passions for sports and writing with THW.