News of Winnipeg Jets RFA defenseman Jacob Trouba requesting a trade surely grabbed the attention of many NHL general managers. A 22-year-old right-handed defenseman who can play on the top pair is something any team would want. It also just so happens to be exactly what the New York Rangers need.
A Natural Fit With the Rangers
The Rangers had a productive offseason after a sluggish season. The 2015-16 season saw the club get by with smoke and mirrors until their poor play finally caught up to them in a decisive first-round loss to the eventual Stanley Cup Champion Pittsburgh Penguins. GM Jeff Gorton infused the team with youth and speed up front, adding Mika Zibanejad, Jimmy Vesey, Brandon Pirri, Michael Grabner, Nathan Gerbe, and Josh Jooris. Highly-touted prospect Pavel Buchnevich also signed his ELC with the club and should be on the opening night roster.
The Rangers have possibly the best forward depth in the entire league. Their Achilles' heel, however, is their defense corps. Outside of Ryan McDonagh and perhaps the emerging (though largely unproven) Brady Skjei, the Blueshirts really do not have any above-average puck-movers on the blueline and are largely anchored by the declining/already-declined Dan Girardi and Marc Staal. As was evident in Team Russia's loss to Team Canada in the semifinals of the World Cup of Hockey, having a talented group of forwards really doesn't mean much if a team's defensemen can't quickly move the puck out of their zone.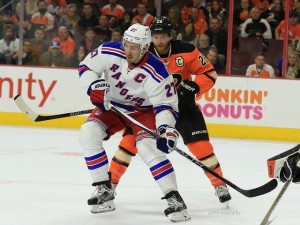 That is why the Rangers should have been looking at Kevin Shattenkirk (and still could within the next year), and should now be looking at Trouba, who reportedly wants more of an opportunity to grow as a defenseman playing on the right side. He would have that opportunity with New York, and would immediately help the club in terms of moving the puck up ice quickly.
He could also give the Rangers a formidable top pair by partnering him with McDonagh. Assuming the Rangers would be able to lock him up long-term after theoretically acquiring his rights, that could be a dominant duo on the Broadway blue line for years to come.
How a Trade Could be Completed
The Jets will undoubtedly demand a high price for Trouba. With their depth up front, the Rangers have some options in terms of what they could offer. But Winnipeg is also said to want a talented, young defenseman who plays on the left side.
lots of teams have spoken with #nhljets about a trade for Jacob Trouba. Ask is very clear – left hand D of same calibre and age

— gary lawless (@garylawless) September 25, 2016
As much as the Rangers would love to add to their defense without taking away one of their better pieces, they would have to seriously consider dangling Skjei if the Jets insisted on this particular demand. Skjei fits the above description perfectly: he is also 22 years old and is a former first-round pick who appears to have a bright future, and is left-handed.
For the Rangers, giving up Skjei would be tough, but getting Trouba, a right-handed shot who has already proven his abilities in the NHL over three seasons would be worth it. Winnipeg might ask for more than just Skjei, in which case the Rangers could also offer players like Nicklas Jensen or Dylan McIlrath. Getting Trouba would still be a net gain on defense for the Rangers, even at the expense of both Skjei and McIlrath.
New York could also see what Winnipeg thinks of any of a number of packages involving forwards, and not Skjei. Players like Jensen, Jesper Fast, Oscar Lindberg, or even Rick Nash (likely with some salary retained) or J.T. Miller could be on the table. As difficult as it would be to move any of those players, especially the 23-year-old Miller, the Rangers have to look at what's best for their team. They would be dealing from a position of strength to address a position of weakness.
Of course, this is all speculation, and many teams will likely be gearing up to make offers to Winnipeg, The Rangers, at the very least, need to be one of those clubs and reach out to Winnipeg to explore their options.