Six years ago, the Montreal Canadiens had a major decision to make. They had two excellent young goalies who were both restricted free agents and it was obvious that one had to go in order for both players to become full-time starters. Jaroslav Halak was fresh off an outstanding playoff run that captured the hearts of Habs fans. Halak's backup during that run was Carey Price, a former fifth overall pick who hadn't quite lived up to his immense potential. The Habs would go on and commit to Price as their future, while Halak was shipped to the St. Louis Blues, and the rest is history.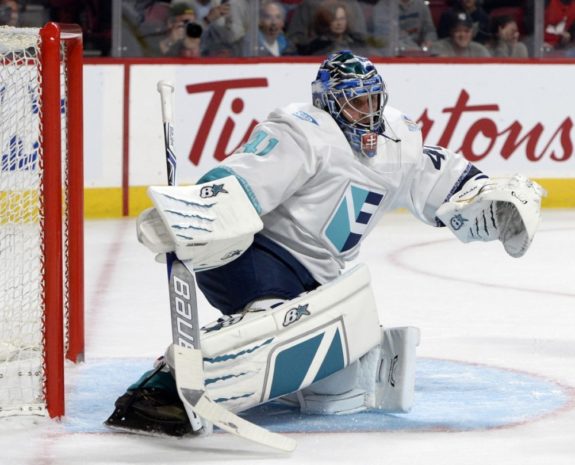 Price vs. Halak
Halak has continued to succeed after Montreal, but Price has since realized his potential and become a superstar. Montreal made the right decision in keeping Price as the team relies so heavily on him to win and he is regarded as one of the best players on the planet. Now, six years after that trade, both goalies will square off in the best of three final series at the World Cup of Hockey.
Team Canada has been favoured to win the tournament throughout, so it's no surprise that Price and the Canadians are in the final. As for Halak and Team Europe, it is a bit surprising to see them come this far. A combination of players from several different countries, Team Europe did not look strong in the pre-tournament. However, once the tournament began, they gelled incredibly well as they went two and one in the round robin to clinch a berth in the semifinal, going on to beat Team Sweden in overtime to get to the final.
@TeamEUR_WCH coach Ralph Krueger on Jaroslav Halak: 'We wouldn't be here without world-class goaltending. He's given us that.'

— Helene Elliott (@helenenothelen) September 25, 2016
Flashback to 2010
There is no real rivalry between Price and Halak, but seeing them both in the same high-stakes game revisits the decision the Habs made to choose one over the other. As a fifth overall pick, Price was destined to become a star and did just that with the Hart, Vezina, Ted Lindsay and Jennings trophies along with an Olympic gold medal. Halak has a Jennings trophy from his time with the St. Louis Blues, but he isn't the star Price is. As a ninth-round pick back in 2003, Halak bucked the odds by becoming an NHL starter.
It is not uncommon for teams to have two number one goalies and have to part with one. In the past few years, only the Roberto Luongo-Cory Schneider tandem in Vancouver can rival the amount of press the Price vs. Halak decision garnered.  For a few years after the trade, the debate raged on but it has since been put to bed with Price's emergence into superstardom.
Reporter: "What do you think about a Price vs Halak matchup?

Halak: "I don't."
#WCH2016

— Peter Roumeliotis (@PeteyBeats) September 25, 2016
Team Canada is the heavy favourite to win the World Cup of Hockey but to count out Team Europe is a mistake. They don't have the depth and star power of Canada but they play their system well and Halak has carried them this far — he is more than capable of winning big games for his team. Team Europe relies far more on Halak than Canada does with Price. The goaltending will play a critical part in the narrative of the next couple of games, and while this is isn't solely on Price vs. Halak, it is interesting to look back and see how things unfolded.
---
The Hockey Writers coverage of the World Cup of Hockey 2016 is being brought to you by PrimeSport, the official Fan Travel & Hospitality Package Partner of the World Cup of Hockey 2016.