Jacob Trouba, one of the Winnipeg Jets' top young players, has made public his request to be traded out of Winnipeg and says he will not report to training camp. The market for a talented, young right-shot defenseman is large and there are many teams who will kick the tires on a deal with the Jets.
TSN's Gary Lawless reports that many teams have already put in that call. In return, he says the Jets are looking for a left-shot defenseman of the same caliber and age.
next deadline in Trouba/#nhljets situation is Dec. 1. not on a contract by that point – can't sign or play this season. So Dec. 1 is D-day

— gary lawless (@garylawless) September 25, 2016
The interesting thing about the request is that it doesn't appear to have anything to do with money. The statement from his agent explicitly says Trouba is looking for a better opportunity than he has in Winnipeg, where the team has two right-shot veteran defensemen already.
Finding a trade partner will likely have to involve a team that has the right roster hole, with a significant opportunity on the right side. Additionally, Trouba is unsigned at the moment, so the team would have to have or be able to clear the cap space for a pretty decent-sized long-term extension.
Here's a look at seven teams that could provide a landing spot for Trouba.
Arizona Coyotes
Incoming general manager John Chayka has wasted no time making his mark on the Coyotes. He has proven repeatedly that he's not scared of making a big move to manifest his vision for the club. Trouba would be yet another splash and would certainly improve the right side of the team's defense. Their top two defenders, Oliver Ekman-Larsson and Alex Goligoski, are both lefties, meaning that Trouba almost instantly shoots to the team's top pairing with Ekman-Larsson. That's not to say that there isn't help on the right side, but they have four right-shots in Connor Murphy, Michael Stone, Zybnek Michalek and Luke Schenn that aren't true top-pairing defensemen at this point.
Among the many teams interested in Trouba, ARI has been and will likely continue to be a serious suitor. But it'll be a long list.

— Bob McKenzie (@TSNBobMcKenzie) September 24, 2016
The Coyotes have a bevy of young assets that could help them put together an alluring offer to the Jets, but they probably don't have the left-shot defender that the Jets covet. However, a package could start with 2016 first-round draft pick Jakob Chychren, who is left-handed, but he might be a few years away from making an impact in the NHL. There's also the possibility that Jets GM Kevin Cheveldayoff might ask for a premium to move Trouba inside the conference.
Boston Bruins
Boston is certainly among the teams who could most desperately use blue line help, and the right side is easily their weakest. They could be a perfect trading partner for the Jets. Their best defensemen — Zdeno Chara, Torey Krug and steady depth defender John-Michael Liles — are all lefties. On the right side, they have Adam McQuaid, Kevan Miller and Colin Miller at the top of the depth chart.
It's similarly lopsided among prospects and team depth. Among right-handed defenseman, the only promising prospect is Brandon Carlo. On the left side, they have Jakub Zboril, Matt Grzelcyk, Linus Arnesson and Jeremy Lauzon. They don't have a player of Trouba's caliber to trade, but they have talented left-handed prospects that could form the heart of a package.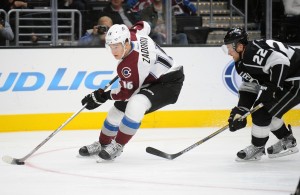 Colorado Avalanche
The Avs need help on their blue line and don't have many right-handed defenders. However, their two best defensemen — Erik Johnson and Tyson Barrie — are both right-handed. After them, it's a wasteland with Eric Gelinas, Francois Beauchemin, Nikita Zadorov, Fedor Tyutin, Chris Bigras and Patrick Wiercioch all being left-handed (though Colorado didn't always stick with playing guys on their natural side under former head coach Patrick Roy).
Colorado has the assets to make a deal, but, again, there isn't a left-handed defenseman of Trouba's caliber and the opportunity on the right side isn't really there for him. It's a team in need, but it is likely not the right situation, especially after they locked up Barrie on a long-term deal this summer.
Edmonton Oilers
The odds on the Oilers making a move for Trouba can't be huge after they made a massive trade to acquire Adam Larsson from New Jersey. But it'd be foolish to assume that the trade for Larsson has fixed all of the team's problems on the blue line. They could still benefit from help on the back end, especially from a top-pairing right-shot defender like Trouba. It might not hurt that Oilers brass got an extended look at Trouba during the World Cup when he played for Team North America, coached by Todd McLellan and run by GM Peter Chiarelli.
The Oilers still have plenty of assets to deal, but they're predominantly young forwards, something the Jets aren't short on. If the right player package is offered, it always makes sense, but from the standpoint of need, the Oilers might not be the best option for the Jets. If it did happen, the deal probably starts with Darnell Nurse becoming "former Oiler Darnell Nurse."
---
RELATED: The Optics of a Trouba Trade to Edmonton
---
New Jersey Devils
The Devils are on the upswing and have some quality prospects, but they don't have an abundance of assets that they can move for Trouba. Nonetheless, the loss of Larsson in the trade for Taylor Hall puts them in a position of need. Gaining a young right-shot defenseman makes a lot of sense for the Devils and the opportunity would be there for Trouba to jump onto the team's top pairing with a veteran like Andy Greene, filling the role of the departed Larsson.
Ottawa Senators
The addition of Trouba would go a long way toward solving one of Ottawa's biggest problems. Trouba would likely land on the team's second pair, which, with the nature of Trouba's request, might not be what he's looking for.
But the Senators need help on the blue line. It thins out pretty quick after Erik Karlsson. But with how thin they are on both sides, sending a defenseman back to Winnipeg — and the prospect of a fiscally tight organization having to pay up for Trouba — might make this a long shot.
Toronto Maple Leafs
This side of the Buffalo Sabres and Coyotes, the Leafs may have more high-quality prospects to offer than any team in the league. With an immense amount of talent in their forward prospect group, turning that into a high-quality RFA defenseman would help to round out their roster as they begin turning the corner from a rebuilding team into a team that wants to compete.
Coach Mike Babcock has always been very clear that he likes to have a rightie and a leftie on each defensive pairing and the team's strength is down the left side with Morgan Rielly, Jake Gardiner and Martin Marincin all there. There's potential on the right side, but the team doesn't have a clear-cut top-pairing right-shot defender. Trouba would solve the problem and GM Lou Lamoriello always seems to find a way to make things happen.