As The Hockey Writers reported, Jacob Trouba has requested a trade from the Winnipeg Jets.  It won't take long for a list of teams to start inquiring about the asking price for the right-handed defenseman, and the Edmonton Oilers — who are now intimately familiar with Trouba and his play at the World Cup of Hockey — should be one of those teams. Of course, there is no guarantee that the Jets concede to Trouba's trade request, but should the defenseman become available, there are two distinct points of view when considering whether or not to make a play for the young right-handed blueliner.
Coincidence that Trouba asks for a trade from Winnipeg after playing for both McLellan and Chiarelli after the World Cup? Prob. But still.

— OilersNetwork – Blog (@oilersinsider) September 25, 2016
First Point of View: Trouba Has Value
Trouba is a proven NHL defenseman ready to play heavy minutes in all situations. He's a big, strong and physical defender, a fluid skater and has an offensive upside. Honestly, at 22-years-old, he's only scratching the surface of what he's potentially capable of and if he becomes a future part of the fold in Edmonton, Trouba would immediately solidify the Oilers blue line core.
In Winnipeg, Trouba is also the odd-man out. The Jets employ both Dustin Byfuglien and Tyler Myers as right-shooting defencemen, so it's not surprising Trouba (also a righty) sees himself as on the outside looking in and wanting a more prominent role than one of a third-pairing blueliner. On many other NHL teams, Trouba would be a top-four defenseman. Since Byfuglien and Myers aren't leaving the Winnipeg organization, and Trouba doesn't seem to have interest playing the left side, Trouba saw the writing on the wall and asked out.
Just spoke with #nhljets D Jacob Trouba: "I want to play on the right side to realize my potential. That's not going to happen in Wpg."

— gary lawless (@garylawless) September 24, 2016
Typically, when a player publicly asks for a trade, all 29 other NHL teams realize their leverage position just got a bit stronger. In theory, Winnipeg either trades Trouba or they miss having a considerable talent on the ice for an extended period of time. Not an ideal spot for the Jets to be in.
This situation with Trouba may be a bit different, only in that Trouba is a restricted free agent who needs to have a contract in place by December 1, to play out the current season. The Jets know they can be patient, threatening that the longer Trouba sits out, the more likely he'll miss the entire NHL season and the paycheques that come with it. It's not the optimal situation for Trouba.
Both the team and the player are in a tough spot and there's a risk by Winnipeg to let this linger, potentially becoming a distraction to their organization who wants to get pre-season started and have the team focused on getting the season off to a good start. If the Jets have conceded Trouba is not a part of the plan moving forward and want to improve their team, the time to make a move is now for both clubs. Perhaps this is something the Oilers can take advantage of.
Second Point of View: Trouba Comes With Long-Term Consequences
From an Oilers perspective, there is no downside in trading for Trouba when looking at how it affects the team this season. If Edmonton can pair Oscar Klembom with Adam Larsson and Andrej Sekera with Jacob Trouba, it's a formidable top-four group with a good balance of left-shot and right-shot skill. Edmonton should relish the opportunity to employ such a unit. The problem with trading for Trouba is what it means for the future.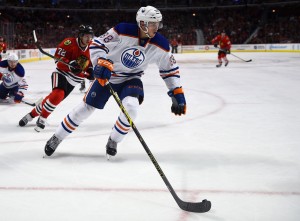 Trouba is a restricted free agent this season. He'll be asking for north of $5 million per season and the Oilers have to consider the long-term cap ramifications that come with signing a player to that kind of extension. Should they feel it makes sense to do so, Edmonton will then have to consider the consequences of how adding a quality fourth defenseman alters their projected protected list of players in this coming summer's NHL Expansion Draft.
In respect to expansion, NHL clubs will be allowed two options when protecting players. Option one is to protect three defensemen, seven forwards and a goaltender. Option two is eight total skaters and one goaltender. With Trouba on board in Edmonton, option one seems off the table. The Oilers would be foolish not to protect Klefbom, Larsson and Trouba. Because they are forced to protect Sekera based on his no-trade clause, that makes four defensemen protected. Then protecting Jordan Eberle, Milan Lucic, Ryan Nugent-Hopkins and Leon Draisaitl (Connor McDavid does not require protecting) leaves up-and-coming defenseman Brandon Davidson exposed. That's not an easy decision to make if you're the Edmonton Oilers.
A Trade Likely Starts With Darnell Nurse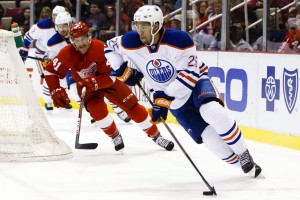 A number of Oiler fans aren't going to want to part with Nurse, but logically he makes the most sense from the perspective of starting a trade conversation with the Jets. Despite the potential need to move Trouba quickly, Trouba isn't going to come cheap. For the Oilers to be in any serious conversations with Winnipeg — conversations that Jets-GM Kevin Cheveldayoff will similarly have with multiple teams — Edmonton will need to offer something where the perceived value will be dear.
The Oilers have depth on the left side and Nurse provides that perceived value as a prospect with a tremendous upside. Nurse is likely ready for a regular role in the NHL and even though he hasn't proven anything at the NHL level, he's viewed of highly in Edmonton and also highly regarded around the NHL. Winnipeg could use depth on their left defense and Nurse plays the left side where Edmonton can afford to make a sacrifice. Coincidentally, Nurse also comes advertised with a similar skill set to Trouba — a big, strong, gritty and smooth skating blueliner with some potential upside.
Finally, Nurse doesn't require protection in the upcoming NHL Expansion Draft. The Oilers can't lose him to Las Vegas and this is something to consider from an Oilers perspective.
Which Direction Would the Oilers Lean?
How much the Oilers kick tires on the availability of Jacob Trouba is likely determined by how badly they want to win this year. If Edmonton is thinking shorter-term success, they could do much worse than Trouba who fills an organizational need quite nicely and is at an age where he can provide experience and grow with the core of the Oilers.
Should the Oilers lean towards trying to make this trade happen, the chances are that Edmonton has to sweeten the pot and Nurse won't get it done alone. Edmonton traded Taylor Hall for Adam Larsson, and with the market set, Cheveldayoff knows the value of a strong, young and NHL ready right-handed defenseman. The Oilers have plenty of prospects to throw on top of any deal, but how far does it go? Where does the line stop and what does it do to your team if signing a player who asked for a trade is more challenging than first originally thought?