Sometimes limited cap space can be a good thing. For the New York Rangers and GM Jeff Gorton, the current cap crunch will likely encourage the club to give opportunities to the organization's young talent to earn roles with the team as opposed to trying to solve their deficiencies with money. Pavel Buchnevich is headed to North America and will be given every opportunity to win a spot in the team's top-nine. The team's AHL affiliate in Hartford might graduate F's Nicklas Jensen and Marek Hrivik to the big league roster as bottom-six role players. Gorton simply won't have enough payroll flexibility to wade into the deeper free agent waters with the intent of reeling in one of the big fish this summer. But that doesn't mean the Rangers won't be active in free agency; it just means they will be judicious with their funds.
The Rangers have certainly had more than their share of successes rummaging through the free agent bargain bin. In recent years the club has brought in the likes of Benoit Pouliot and Anton Stralman at points when their respective NHL careers might have been on life support.
Stralman had been cut loose by Columbus and failed to crack the Devils roster after a training camp invite in advance of the 2011-2012 season. When injuries crippled the Blueshirts blue line, they took a flier on Stralman and were rewarded handsomely for their gamble. Today, Stralman is recognized as a legitimate first-pair defender and is playing on a fat contract he signed in the summer of 2014.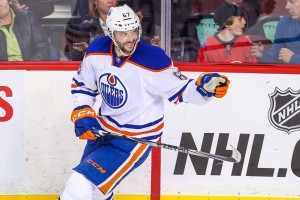 Pouliot, the fourth overall choice in the 2005 entry draft, had mostly unsuccessful stints with four different NHL organizations before catching on with the Rangers for the 2013-2014 campaign. He would find good chemistry on a line with Derick Brassard and Mats Zuccarello and go on to tally a career-high 36 points. Pouliot's efforts earned him a long-term contract after the season with Edmonton and is considered one of the few positive moves made by the former administration.
If the Rangers follow that same formula – former top prospect, inconsistent NHL career but still young enough to have some untapped upside – one player they might target to boost their bottom-six production is RW Chris Stewart.
Top Prospect
Stewart was a first-round draft choice, 18th overall, in the 2006 entry draft by the Colorado Avalanche. Central Scouting ranked Stewart eighth among North American skaters in their final pre-draft rankings that year. He made his NHL debut a little more than two years later, at the age of 21, and would tally 11 goals in 53 games as a rookie. The following season, his first full campaign in the NHL, Stewart would net 28 goals for the Avalanche and looked well on his way to developing into one of the game's top power forwards.
That belief was reinforced by a second 28-goal season split between Colorado and St. Louis after the physical winger was dealt to the Blues with D Kevin Shattenkirk and a second-round pick for C Jay McClement, D Erik Johnson and a first-rounder. But it would no longer be smooth sailing for Stewart.
Inconsistency
After back-to-back 28-goal seasons and at just 24 years old it seemed the sky was the limit for the young power forward. But Stewart would struggle to duplicate his early successes in subsequent campaigns. His best goal-scoring output since has been 18 in the 48-game, strike-shortened 2012-2013 campaign. He has seen his total regress to 15, 14 and 8 in the three seasons since. During this time, he's been dealt twice, first from St. Louis to Buffalo and then from the Sabres to the Wild, before landing with the Ducks last year as an unrestricted free agent. In five years Stewart has gone from goal-scoring power forward to journeyman role player.
Relative Youth
One thing still in Stewart's favor is his relative youth, particularly among his fellow free agents. Of the 252 players set to reach unrestricted free agency this summer, just 44 are younger than Stewart. Studies suggest that NHL forwards reach their prime at 26. Production regresses from that age on, albeit at a somewhat minimal rate until age 32. It stands to reason that Stewart is still close enough to his prime that he can be a productive player in the right situation.
He's Cheap
Stewart waited until July 12th last summer before latching on with the Ducks as a free agent. He earned just $1.7MM on a one-year deal and after an eight-goal, 20-point campaign it's hard to envision a bidding war suddenly erupting for his services. The Rangers scooped up Viktor Stalberg last year for one season and $1.1MM. It's feasible Stewart might be amenable to something close to that figure. That would put Stewart into the quintessential buy-low category of free agents.
Goal Scoring Potential
While I wouldn't count on Stewart returning to his 20+ goal days, he should be more than capable of netting double figures. He did tally eight in 57 regular season games with the Ducks. Prorated over an 82-game schedule that would have resulted in between 11 and 12 goals. That qualifies as decent offensive production from a bottom-six player.
Versatility to Play Up and Down in the Lineup
It also isn't out of the question that Stewart recaptures some of his earlier goal-scoring prowess and perhaps even offers head coach Alain Vigneault another option in the top-six. Seven Ranger forwards last year potted at least 14 goals and given Vigneault's proclivity to give more minutes to whichever line or lines are playing well in any given game there should be opportunities for Stewart to earn extra ice. Last year, Stewart saw a fair amount of time with Anaheim's top line center, Ryan Getzlaf, as well as fourth-line duty with Mike Santorelli. Conceivably, he would bring the same type of versatility to the Rangers.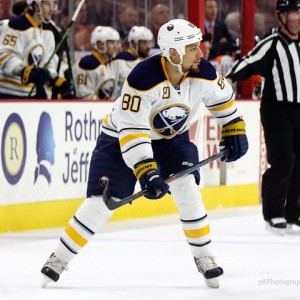 Right-Handed Shot
Stewart also adds another right-handed shooter to the roster. Last season, the Rangers only iced two in their lineup regularly (Derek Stepan and Jesper Fast). Adding another starboard-side shooter would add balance, both at even strength and more especially on the PP where coaches prefer to have at least two right-shooting players.
Low Risk
If we were to assume Stewart signing for one season and a salary of between $1M and 1.5MM, if he failed to work out, the Rangers would be able to send him down to the AHL and suffer minimal cap exposure; somewhere in the range of $50,000 and $550,000 based on the above salary projection. No team wants to bury valuable cap space in the minors but the potential upside of a player like Stewart might make it a worthwhile gamble.
Not an Advanced Stats Darling
While Stewart was solid in the possession department this season finishing with a SAT% of 51.35% at 5v5, it can be argued that was a result of the team he played on. The Ducks were one of the top regular season possession clubs finishing fifth overall in SAT%. Over the previous three seasons split between Anaheim, Minnesota, St. Louis and Buffalo, Stewart's individual possession numbers are far less solid. His aggregate SAT% during this period was 44.50%.
It's easy for a team like the Rangers to see the appeal in a player like Chris Stewart. He's big, can play a physical game, skates well for a player his size and has exhibited a scoring touch in the past. At 28 he shouldn't be past his prime and for a modest price, signing the veteran winger would represent the type of low risk, moderate reward addition the Blueshirts have had success with in the past.