Game 4 of the Eastern Conference Finals played out very similar to the Pittsburgh Penguins' 2015-16 season. A slow start put them on the brink of humiliation, then a late surge brought them within striking distance.
Unfortunately, they fell just short of forcing overtime and will head home in a tied series.
Pittsburgh had to expect an energetic start from Tampa Bay in Game 4. They were staring at a 2-1 series deficit and the possibility of going on the road down 3-1 with a loss on Friday night. They came out flying, Pittsburgh didn't answer quickly enough and all of a sudden, it was 2-0 Lightning.
Jonathan Drouin and Tyler Johnson would pile on two more goals in the second period and the Penguins would find themselves trailing 4-0 heading into the third. They fought back, starting with a signature snipe from none other than Phil Kessel but it was too little, too late.
Sounds gloom and doom, right? Fortunately for the Penguins, it's far from it.
Penguins Remain the Better Team
Pittsburgh outshot the Lightning 30-25 at even-strength in Game 4 and so far in this series, they hold a 99-60 advantage in that area. After the Lightning's early goal, Pittsburgh began dictating play and created quality chances. They were derailed far too often but still showed some encouraging signs. And, if the Penguins were given a 5-on-3, which they deserved due to Kessel's stick getting slashed during their power play early in the second, things likely would have looked much different.
The chart below reflects scoring chances, which Pittsburgh was credited with 32 while Tampa recorded only 23.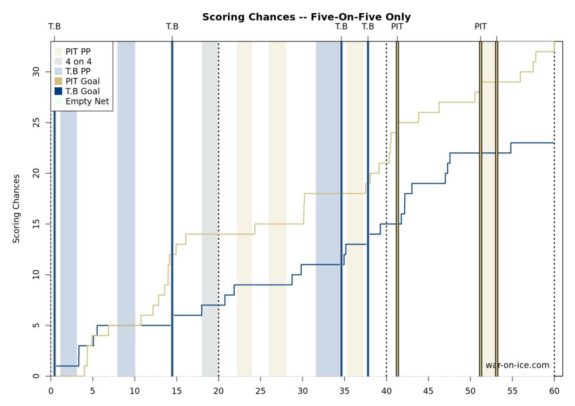 (Courtesy of WarOnIce.Com)
The opportunities are there and when playing five-on-five, the Penguins are dominating.
Pittsburgh looked like a carbon copy of their former self on Friday night though. For the first time, we saw Mike Sullivan's Penguins get baited into bad penalties, most notably Kris Letang whose double minor led to Tampa Bay's third goal. Frustration was mounting and it showed in their play. Evgeni Malkin turned the puck over multiple times on blind passes and in general, it was sloppy hockey all around.
Still, the underlying numbers remained in their favor.
Score effects played a role in how the stats shook out, considering Tampa Bay played a 1-3-1 in the third period and Pittsburgh poured it on. Still, the larger sample size that consists of all four games thus far echoes the same results. Pittsburgh is fine and if they stay the course, they'll put this series away soon enough. I'm sticking with my original prediction of Penguins in six and fully expect a much better performance when they return to Consol Energy Center on Sunday night.
Although, there are some tough decisions to make.
Decisions, Decisions for the Pittsburgh Penguins
Trevor Daley suffered what looks to be an ankle injury when he was checked by Lightning forward Ryan Callahan. I don't see any ill intent on the play but either way, the result is far from ideal for the Penguins.
https://twitter.com/RealKyper/status/733895483551191040
If Daley is forced to miss time, the Penguins have a large hole to fill. They have both Derrick Pouliot and Olli Maatta available to them but neither has been very impressive as of late. So, who slots in for Daley?
Both.
Conor Sheary has cooled off and Bryan Rust, aside from his assist on Crosby's overtime winner in Game 3, has also struggled a bit with the lightning. Sullivan has to consider scratching one of his forwards and dressing seven defensemen. Maatta and Pouliot can be put in situations that suit them best and the minutes that Daley normally fills, which ranks second among Pittsburgh blue-liners, can be divided among the group.
Oh, and what about those goaltenders?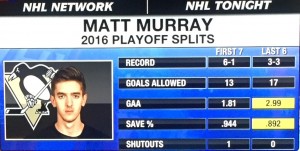 Marc-Andre Fleury replaced Matt Murray in the third period and saw his first action since March 31. He played well but contrary to popular belief, he didn't provide the spark Pittsburgh needed to surge. Tampa's willingness to sit back and the Penguins' ability to find their game is why the third period got interesting.
Sullivan wouldn't hint whether or not he's going back to Murray for Game 5 in his post game presser but I assume we see Fleury get his shot. As you can see from Murray's recent numbers, he hasn't been great. Starting Fleury only makes sense if there's the potential of him outperforming Murray.
At this point, that's a realistic possibility. Fleury also got an important 20 minutes under his belt to shake off any rust from his extended absence.
Murray played a big role in Pittsburgh's success up to this point and based on how confident Sullivan is in the youngster, he may be back between the pipes. Most importantly, Pittsburgh can win with either of them so whatever decision Sullivan makes should work out just fine.