Chris Stewart had a banner year last season, which saw him lead the St. Louis Blues in total points (36); something the front office was looking for over the previous 2 seasons.  This led to his new two-year 8.3M dollar contract signing over the summer, and a restored faith in his play from all Blues' employees and fans alike.  So far this season however, Stewart seems to have lost his stride and his hunger for driving the net and fighting for every inch on the ice.  Hopefully he is merely off to a slow start and will pick up his play as the season continues, but fans are starting to worry that he only plays the way he truly can when he knows a payday is near by.
Historically Chris Stewart Has Fans Confused
This 18th overall draft pick from 2006 has showed bursts of greatness throughout his career, but has also showed a lack of consistency at times.  His first few seasons saw glimpses of super-stardom,  but he never really seemed to steal the spotlight at the right times.  Chris Stewart was also playing on a Colorado Avalanche team that was in the midst of rebuilding, and trying to find their identity.  After some relatively minor injury problems (mostly due to a broken wrist in 2010) he was traded to the Blues in a blockbuster move that sent the #1 overall draft pick of the St. Louis team (Erik Johnson) to Colorado for top prospect d-man Kevin Shattenkirk, and of course Stewart.
Regular Season                   Playoffs
Season               Team         Lge GP G   A   Pts PIM+/- GP G A Pts PIM
2004-05 Kgstn Frntncs OHL 64 18 12 30 45   -8      — — —   —      —
2005-06 Kgstn Frntncs OHL 62 37 50 87 118 19    6  2  0   2     13
2006-07 Kgstn Frntncs OHL 61 36 46 82 108 -8      5 4  2   6       6
2006-07 Albny Rivr Rts AHL 5  1    2      3      2   -3     1 0 0   0      0
2007-08 Lake E Mons AHL 77 25 19  44   93  -24    — — —   —     —
2008-09 Lake E Mons AHL 19   5    6    11   23    -4     — — —   —     —
2008-09 Col Avalanche NHL 53 11 8   19   54  -18    — — —   —     —
2009-10 Col Avalanche NHL 77 28 36 64 73     4     6 3 0    3       4
2009-10 Lake E Mons AHL      2     0   0   0    2      0     — — —   —     —
2010-11 Col Avalanche NHL 36   13  17 30 38  -10   — — —   —     —
2010-11 St. Louis Blues NHL 26   15   8   23 15     4     — — —   —     —
2011-12 St. Louis Blues NHL 79   15 15  30 109 17    5 2 0    2    12
2012-13 Crmmtschau   GBun 15     6 14   20   24          — — —   —     —
2012-13 Librc Bil Tygr Czech 5       0  1     1      2     0    — — —   —     —
2012-13 St. Louis Blues NHL 48    18 18  36  40    0    6 0 1     1      0
2013-14 St. Louis Blues NHL  7       0   2    2    19    -3
NHL Totals 326 100 104 204 348   19 5 1    6     16
Why Are St. Louis Fans Worried?
As you can see above his career numbers do speak for themselves (thanks goes to hockeydb.com), and on paper he seems to be a great addition for any team.  Then why the skepticism?  Because every team, and especially the Blues of today's game, need that consistency from their players night in and night out so they know who they can count on when that big moment in a game or series arises, and who can carry them through the playoffs as well.
Another reason fans are questioning the Blues power forward is because he only seems to truly find consistency in contract seasons.  This means he has to find better ways to dig deeper every year in order for himself and his team to reach that next level.  Finally, he also needs to find his stride in the playoffs more consistently if he wants to be a pivotal piece in a cup win for his team.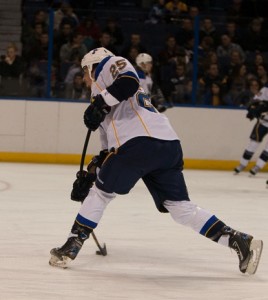 Good News May Be Closer Than Fans Think
All the worried fans out there may be able to rest easy in the near future, as Stewart has been practicing on a line with stalwart Patrik Berglund, and young sensation Jaden Schwartz.  This is in hopes of jump starting Stewart's offensive production, which is currently at a weak 2 assists on the season.  Many fans can note that Berglund, Schwartz, and Tarasenko were the Blues most effective line to start the season, but have fizzled out as of late.  This gives Chris Stewart the opportunity to step in and revive the line and himself.
Tarasenko is the odd man out for now which could bring up another long list of questions, as he is a player who thrives from more ice time, and one who is still trying to find his NHL stride (something that takes ice time to figure out).  That is a story for another day however, because the fans main concern is the top offensive producer from last season (Stewart) coming out of the gates at a snail's pace.
Leadership On and Off the Ice is Key to Blues Success
Chris Stewart quietly showing leadership behind the scenes #stlblues http://t.co/QRclaXPqne

— Andy Strickland (@andystrickland) September 22, 2013

As you can see from this Andy Strickland Tweet, Chris Stewart is a leader on and off the ice for the team, and he needs to take advantage of his new line mate's strengths to help him find his scoring touch once more.  Fans can be sure that if this line stays together long term it will be for the good of the team.  Berglund is a huge strongman who still has delicate hands, and can get to tough scoring areas to wear out opposing teams d-men like a true pro.  Schwartz is a young up-and-comer who has been grinding out plays when he needs to, and finishing off scoring ones beautifully since his first days at Colorado College.  Stewart may just be the final piece of the puzzle as his "in your face" style of play is sure to be a good compliment to the rest of that line.
Let's all hope that this is the kick Stewart needs to get into high gear and find that silky sweet play making ability he had last season, so the Blues can climb the ranks of the Central Division, and the Western Conference.  If he shows up and shows out, look for the St. Louis Blues to go far, and maybe even challenge for the Stanley Cup this season.
Like what you've just read?  Follow me on Twitter: @pep30
The NHL regular season schedule was released on Friday. Check out our partners at TiqIQ for the best deals on St. Louis Blues tickets for all 2013-14 games.