Let's not sugar coat the facts, we all know the deal: the Buffalo Sabres will be looking to make a few moves come March and the NHL Trade Deadline.
Moving on into the offseason, it will be interesting to see what Sabres GM Tim Murray does with his lineup. He's said time and time again that he's not afraid to trade any player, as exemplified with the Ryan Miller and Steve Ott trade with the St. Louis Blues last season.
Chris Stewart, who came in return along others in Buffalo's trade with St. Louis, has cultivated around the rumors of who will — and won't be — leaving Western New York in the near future.
Players like Drew Stafford and Tyler Myers, who haven't been the same since their breakout years in 2010, have been name-dropped every season when the trade deadline comes about, but Stewart has been talked about as simply 'trade bait' — like his former teammate Jaroslav Halak turned out to be — ever since he arrived in Buffalo.
But…should they keep him?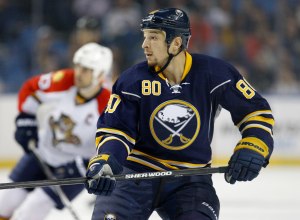 His stats say it all
There will be those that don't see any value in someone who's scored more than 50 points just once in his career.
But when you look at it, it's been consistency that has kept him from being the powerful force that he has the potential to become on an everyday basis.
Stewart, once first-round draft selection (18th overall) by the Colorado Avalanche in 2006, opened his career with 64 points (28 goals and 36 assists) in his second season in the NHL. He's put together four seasons with 30 or more points and has finished every season in the league with double-digit goal totals.
Stewart's lack of consistency, like mentioned above, has continued to be a problem while with the Sabres. In 44 games played with Buffalo (in 2013, 2014 and now 2015), he has only put together 10 points (5+5) and a minus-18 rating.
At 26-years old, he's played in 421 games, with three different teams, and has 238 points (120+118), which does point to his lack of consistency, but when he's on his game he's extremely difficult to play against for an entire 60-minute game.
He brings a physical presence to any team he plays for. His 6'2'' and 231-pound frame gives him the advantage against most opponents, which turns into a puck-battling forward in his offensive zone.
He has the heart
Stats can only tell you so much, though. He's underperformed for a first-rounder, but he's showed his capabilities in getting on the scoresheet along with bringing an intense style of hockey to the ice.
After coming over to Buffalo (who finished the season in last place in the league) from the Blues (who had championship aspirations), Stewart could have simply gone through the motions and waited to be dealt. But he's the one player that has been seen game in and game out giving his all for a team that he didn't have anything to do with a year ago.
When the Sabres signed Brian Gionta to a three-year deal during this past offseason, you could tell where the captaincy would eventually come from, but the leadership in a locker room filled with 20-year olds needs to be widespread. Stewart has embraced a role in leadership and if he were to stay past the trade deadline and become a part of Murray's long-term plans, he's someone that can be expected to lead.
A month ago, Stewart was a healthy scratch for a Sabres team dangling by a thread in the bottom of the Eastern Conference standings. Some thought a trade was upcoming, but instead it was a coach's decision. Sabres coach Ted Nolan said Stewart was playing too soft, which didn't go over well with the Sabres winger.
The debacle was not a good sign for Stewart, but since Nolan called him out, he responded with anger paired with six points (2+4) in the 12 games since then, in which Buffalo only won four.
Read: Top Five Buffalo Sabres' UFA Trade Bait
In the end, return will speak for itself
You can argue whichever way you want for as long as you want, but in the end, Murray will ship anyone out of Buffalo if he sees a deal that fits his long-term goals of winning a Stanley Cup.
His job is to piece together a team that will be able to compete at a high level in the coming years, and with the soon-to-be stacked 2015 NHL Draft and with the Sabres dropping closer to the bottom of the league with each loss, Stewart may be someone who won't see the end of the season in Buffalo.
Although keeping Stewart may increase the morale and production this season, and possibly the next, the best move for the Sabres is to recover solid pieces through a trade this season.
Alex is a contributing writer for the Buffalo Sabres at TheHockeyWriters.com. He is from Buffalo, and has worked for the NBA and PGA TOUR. Follow him on Twitter @AlexBusch93.