The Toronto Maple Leafs have been very active on waivers this season. From sending down aging NHL veterans to claiming, waiving and re-claiming Seth Griffith. The Leafs have used waivers as a way to test out players that they believe could have potential or to grab a player, like Ben Smith, to fill a specific role.
https://twitter.com/FriedgeHNIC/status/827925093510737922
They continued this trend by claiming Alexey Marchenko off of waivers from the Detroit Red Wings. This move was followed up by waiving Frank Corrado, who cleared waivers. Not only does this give the Leafs a new eighth defenseman in their depth chart that could move up into a permanent role, but it also signals the end of Corrado's time in Toronto.
Marchenko In; Corrado Out
This was a long time coming for Corrado. After spending the season in the press box watching the Leafs play, it's about time he was sent through waivers.
Corrado clears waivers.

— Bob McKenzie (@TSNBobMcKenzie) February 5, 2017
Now we shouldn't presume that this is because of Corrado playing poorly. He looked okay during his 39 games with the Leafs last season, but he's still young and has time to grow. And defensemen are known to take a lot longer to develop into NHL quality players. This season, Corrado only played two games for the Leafs.
He looked shaky during those two games, but who wouldn't. His first game was on November 12 against the Pittsburgh Penguins, which was a month after the season started. After that it was January 19 against the New York Rangers. That's two months after his first game.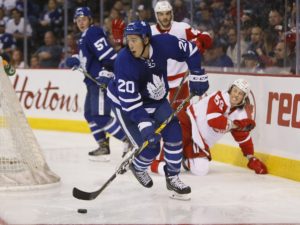 People can talk all they want about training and conditioning, but it doesn't come close to actually playing. Any player will look bad when they don't play for months at a time.
This is just an unfortunate situation for Corrado. Mike Babcock has shown that he has players that he loves and will play no matter what, and there are players that he won't play for whatever reason. Corrado and Josh Leivo happen to be part of the latter group. At least now Corrado will get a chance to play with the Toronto Marlies.
By sending Corrado down it's clear that Marchenko is the new eighth defenseman on the Leafs depth chart. Marchenko is also a right-handed defenseman, which means that he will have to beat out Roman Polak to get ice-time.
Battle for the Third Pairing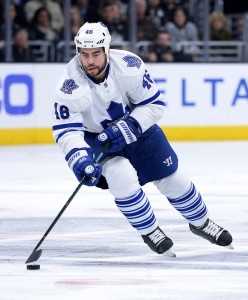 The Leafs' third defensive pairing has easily been the biggest problem for the team. Polak and Matt Hunwick were noticeably bad to start the season. The two have since improved, or have at least become less noticeable in their mistakes, but they are still a liability for the Leafs.
They both consistently lose track of players around the net and are easily beaten along the boards. They have the highest amount of minutes on the penalty kill for Leafs' defensemen and somehow the Leafs have the sixth highest penalty kill percentage in the NHL. If the Leafs improved their third pairing they could become better defensively overnight.
And so in comes Marchenko.
He immediately gives Polak competition and is already familiar with Babcock. He played 13 games in 2014-15 when Babcock was still the head coach of Detroit. So what does Marchenko bring to the Leafs?
Marchenko brings size at 6-3, 215 lbs, and mobility. A right handed shot which doesn't hurt.
Like Zaitsev, played in WC and WCH for Russia.

— Paul Hendrick (@HennyTweets) February 4, 2017
Marchenko is a big right-handed defenseman, which could make Polak expendable. The Leafs have traded Polak at the deadline before so it's possible that they trade him again. The only problem is Marchenko doesn't bring the same physicality as Polak.
But what he lacks in physicality Marchenko makes up elsewhere. He blocks a similar amount of shots as Polak with Marchenko blocking 1.5 shots per game and Polak blocking 1.8 per game. Marchenko would also bring more mobility to the third pairing when compared to Polak.
Marchenko has six points in 30 games this season, which isn't a surprise. He won't contribute much offensively, but that's expected. He is a defense-first defenseman and that's what the Leafs sorely need. The Leafs will have lots of time to decide on Marchenko since his contract goes until the end of next season at a cap hit of $1.45 million.
Marchenko is an interesting pickup. He looks to be better than Polak defensively and could end up making Polak expendable at the trade deadline. His first game in a Leafs' uniform will be an interesting one to watch.