After a slow start to the season, the defending Calder Cup champion Cleveland Monsters have hit their stride. Like their parent club in Columbus, the Monsters are using the month of December to their advantage.
In eight games thus far in December, the Monsters are 6-1-1 and have gone above .500 in the standings. Going into Tuesday's game against Charlotte, Cleveland has a record of 13-11-1-2, good for fourth place in the Central Division, and ninth place in the AHL Western Conference. They own a points percentage of .537. Chicago, the eighth-place team, has a points percentage of .554. Their record is 13-10-3-2, just two points ahead of the Monsters.
Coming off of the championship season, we knew the team would have important questions to answer. Which Monsters were ready for promotion to Columbus? How would the new faces on the team do? How would coach John Madden do after losing Jared Bednar to the NHL? At first, it didn't look so good.
Growing Pains
Although the Monsters won their first two games of the season, they proceeded to lose eight of their next nine games. There was clearly an adjustment period taking place in Cleveland. A new coach combined with many rookies meant some growing pains. It didn't mean they'd play like this all season. But it did mean that there would be some bumps in the road. Combine that with losing some of their top players to Columbus for different periods of time, and you had a team trying to make the best of their situation.
Goals were hard to come by. In their first 11 games, the Monsters scored 26 goals, while allowing 42. Then as the calendar got closer to Thanksgiving, you could see signs that this team was figuring it out. The biggest of these signs was their play in net.
Goaltending Leading The Way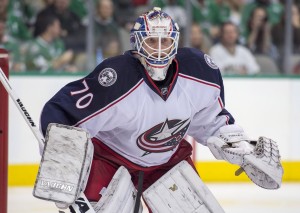 After a rough start for both Anton Forsberg and Joonas Korpisalo, each goalie is playing their best hockey of the season. Forsberg has won four of his last five starts, while Korpisalo has won three of his last four, with his only blemish thanks to a shootout loss. Not counting goals for a team in the shootout, the Monsters have allowed just 14 goals against in eight December games. The Monsters are always a threat when they get this kind of goaltending.
Scoring has started trending in the right direction as well. Not counting the shootout, the Monsters have 21 goals in their eight December games. They've been paced by T.J. Tynan, who has six points in his last six games. There are three players tied for the team lead with eight goals, Oliver Bjorkstrand, Daniel Zaar and Markus Hannikainen. Bjorkstrand and Hannikainen each spent time in Columbus. Each are scoring about every other game.
Other players have gone under the radar, such as recent Columbus signees Justin Scott and Nick Moutrey. Each play with an edge and have improved as the season has gone on. If the Monsters have to kill a penalty, you can expect both players out there. Their performances have been noticeable of late. As a result, each saw some time on the top line. Scott even earned a call to Columbus for his consistent play.
The Road Ahead
We are far enough into the season now where what you see is what you get. If this is the kind of Monsters team we see for the rest of the season, they're heading in the right direction. Strong goaltending plus an improved defense along with timely, balanced scoring is a recipe for sustained success.
The Monsters play their next four games at Quicken Loans Arena. They have their holiday break in the midst of that stretch. They host Charlotte on Tuesday and Thursday. Then they have their break, followed by a two-game set with Grand Rapids. The Monsters can make a big move if they take care of business as home.
The Monsters have hit their stride. We'll see if they can carry their momentum into 2017.