Corsi Darlings Nieto & TK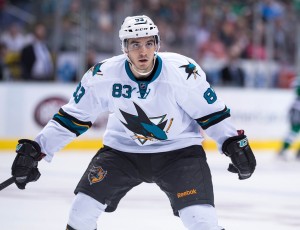 Not only has San Jose Sharks winger Matt Nieto led his team in corsi all season, he is currently sixth out of all skaters in the entire National Hockey league. Furthermore, Nieto's recent linemate Tyler Kennedy also happens to be fourth on the Sharks in the advanced metric. When it comes to fenwick percentage, it is pretty much the same story for these two as Nieto is first and Kennedy fifth on the Sharks.
In the last five full games that the two wingers have played, they each have two goals and an assist. Both players were clearly starting to heat up production wise to match their possession numbers. That is until both essentially missed all of the Alberta road trip. Kennedy played just 1:38 in Calgary before suffering another fluky (Martin Havlat-esque) injury. It didn't look like much but after the game Mercury News' David Pollak had this tweet:
Tyler Kennedy seen walking out of #SJSharks locker room area with his left arm in a sling after early hit. No, he won't play vs. EDM.

— David Pollak (@PollakOnSharks) December 7, 2014
That doesn't sound like it will only be a two or three game injury. As for Nieto, the speedy young winger missed a game earlier this season due to an unspecified injury and missing two in a row here recently is certainly concerning. For a smaller guy generously listed at 5'11" 190, he isn't afraid to throw his body around, one has to wonder how he is holding up physically in his first full NHL season.
There is no question losing these two talented wingers hurts. Over the years the Sharks have had the same problem every year, and that is depth scoring. Every time they seem to get away from Joe Pavelski centering the third line, whether by choice or forced due to injuries, the Sharks struggle to get secondary scoring. It is quite the head scratcher that despite having the majority of their success during last year's Kings series with Pavelski at third line center, the Sharks have yet to play him in that spot once this season.
That said, prior to missing action these past two games, Nieto and Kennedy were playing tremendous hockey with James Sheppard on the third line. Going into that Alberta road trip, it looked like the secondary scoring was turning around even without Pavelski bumped down to the third line.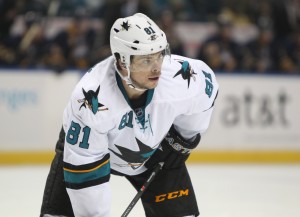 Neither Nieto (who did take part in Tuesday's morning skate but looks to be out for a third straight game) nor Kennedy ought to be out long term, but the Sharks are in a win now mode. Even short term injuries if they linger to five, six, seven games or more could be problematic. With Raffi Torres having been out all year, and Brent Burns back on the blue-line, the Sharks are essentially out four top-9 caliber wingers from last year's roster with Nieto and Kennedy injured. Moving Pavelski down to center, that would leave the Sharks with a dearth of options on the wings. Without Nieto, Kennedy, Torres, and Burns up front, moving Pavelski to center now would mean someone like Barclay Goodrow or Tye McGinn having to be bumped up to play with Joe Thornton and Tomas Hertl. That just isn't an ideal situation having bottom six grinders playing on a scoring wing with Thornton.
Time Isn't On Their Side
In San Jose's most recent game in Edmonton, their lone goal in the 2-1 loss did come from McGinn but it was a beautiful set up by Patrick Marleau. Over the course of the season McGinn has been frequently a healthy scratch. San Jose's lineup vs the Oilers featured bottom six wingers of McGinn, Goodrow, Mike Brown, and John Scott. Four players that are often healthy scratches as the four bottom six wingers is clearly not good enough. Chances are the Sharks will sink even lower in the standings if they have to get by with those four all in the lineup on any sort of regular basis. And time is something they simply don't have. Even after winning four in a row prior to the Edmonton loss, they are still nine points behind first place Anaheim, six behind second place Vancouver (who has a game in hand on the Sharks), four behind Calgary (who also has one game in hand), and one point behind Los Angeles who has two games in hand.
After Tuesday's rematch with the Oilers, the Sharks will have played 30 games already as the half way mark of the season is closing in. The Sharks are still too good to miss the playoffs entirely but if they have an aspirations to catching Anaheim, they must start picking up wins much more frequently than they have to start the year. It is always a stretch to say a team must win X amount of games on a home-stand but in the five gamer coming up, the Sharks would do themselves a lot of favors if they can win at least four of those. They get the Oilers twice, a slumping Minnesota Wild team, and then the Nashville Predators and the St. Louis Blues. It is a very winnable home stretch but with the Sharks' knack for losing to struggling teams, it could very easily go the other way. Ten points are available, eight or more could really put them in a good position heading towards the Christmas break, especially if they can beat the Ducks in Anaheim on Dec. 22. However, four points or less and a loss to Anaheim could put the division entirely out of reach.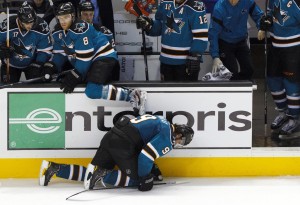 While the Kings did win the 2012 Stanley Cup as an eighth seed, if the Sharks end up getting into the playoffs as No. 3 seed or as a wild card, that makes their run through the playoffs incredibly daunting. In this day and age with the divisional format, having to face the Ducks and Kings in the first two rounds would be an incredibly difficult task. Then perhaps having to facing Chicago or St. Louis in the Western Conference final? Yikes, a certainly more arduous road than the 2012 Kings going through the Canucks, Coytoes, and Devils in three of their four rounds. Sharks fans may want to believe that the regular season doesn't matter because the Sharks historically are great in the regular season, and therefore being so-so this year isn't a big deal. Except it is a very big deal as being great in the regular season ought to give them much better matchups come the playoffs. San Jose seems to have Anaheim's number head-to-head in recent years, so finishing ahead of them isn't unreasonable. Winning the division would be a huge boost for the Sharks. Unfortunately, the injury bug is starting to bite at a very inopportune time.
Andrew has been credentialed to cover the Sharks since 2010 and the 49ers since 2012. He graduated with his BA in Broadcast Electronic Communication Arts in 2013 from San Francisco State University.