With the end of the regular season in clear view and a playoff birth on the horizon, there are a number of questions on the minds of Edmonton Oilers fans all around the country. Will Connor McDavid reach 100 points? Will the Oilers make the playoffs? If so, in what position? How will they do once they get into the postseason? Are they overworking Cam Talbot?…
Depending on who you ask, there will be a variety of answers to each of these questions. Here's what we can reasonably expect from the Oilers to finish the year.
The Playoffs?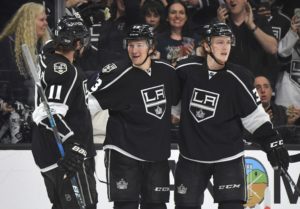 At this point, while it isn't technically a lock, the playoffs are a given. The Oilers are one of the hotter teams in the NHL right now while many of their adversaries in the Western Conference are starting to falter. The only team that can bump Edmonton out of the postseason is the Los Angeles Kings and they've won only two games in their last six contests. The Kings are now 11 points behind and that's simply too great a deficit to overcome.
No win is ever guaranteed but the Oilers have eight games remaining on the season and five of them are against teams they should be defeating. They play the Kings twice and as such, ultimately control their own fate. Only San Jose and Anaheim pose what could be legit challenges and if the Oilers want to prove they'll be able to hang with the "big boys" come playoff time, they'll need to get up for those games.
Their Playoff Position?
With my "not-so-bold" prediction that Edmonton makes it into the playoffs, the real question is where they finish and who they'll be pitted against. The Oilers currently occupy the fifth seed in the Western Conference which would put them up against Anaheim. But, only two points separate the teams that could finish between second place and fifth place, so a lot of movement is still possible — in fact, it's likely.
Many are rooting for a finish that pits Edmonton against Calgary, thus rekindling the "Battle of Alberta".  Should Edmonton maintain their pace and San Jose continue to lose hockey games, that matchup isn't completely out of the question. McDavid and company may have to overtake Anaheim in the process and that may be easier said than done.
McDavid and His Quest for 100
Now at 87 points and with eight games remaining, can McDavid realistically reach 100 points on the regular season? The answer is a resounding yes!
McDavid has put together 26 multi-point games this season and he's on a 68 percent clip to earn at least a single point in every game he plays. If he earns two points in half of the Oilers remaining games, McDavid would have 96 points. He'd need only a single point in his last four to reach 100. With three of those games against the Canucks and Avalanche — two teams in the top-nine for goals allowed against — he could earn half the points he needs in those games alone.
To help matters, his linemate Leon Draisaitl is even hotter than McDavid is right now. Draisaitl has 13 points in his last six games. It will be a lot easier for McDavid to earn points when he's not the only driver of offense on his line. My guess is that Draisaitl takes it as a personal challenge to help his captain reach that 100-point marker.
How Many of the Final 8 Games Will Talbot See?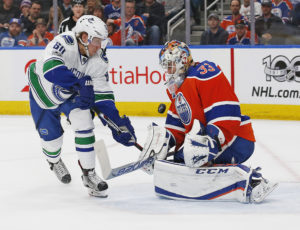 Talbot's last two outings have shown he's human. They were not his best efforts and given his workload, it makes sense that the debate over his playing time and consecutive starts would move to the forefront again. That said, he's proven to be a goaltender that rebounds when played.
For Oilers' coach Todd McLellan, it may not have been the wisest move to play Talbot in the second-half of a road back-to-back, but sitting Talbot isn't the answer. Edmonton's starter needs to quickly regain his confidence and help the Oilers lock in the playoff spot they so desperately covet.
Once done, next on the agenda is breaking a franchise record for the quickest 40-win season by an Oiler goaltender. Talbot needs three more wins to tie Fuhr's record for 40 wins. Fuhr did so in 75 games. Talbot could tie him in 70. If he's going to get there, a start and win against Colorado on Saturday is the best place to get that train going again.
How Far Can Edmonton Go?
Do the Oilers have what it takes to actually win a playoff series or two? If you ask General Manager Peter Chiarelli, Edmonton isn't a Stanley Cup contender, but that doesn't mean getting out of the Western Conference is an impossibility.
Edmonton's record this year against the Pacific Division is 14-5-3. Their record against the Western Conference is 26-11-6. Those numbers show that Edmonton can hang in the west. Where the Oilers have struggled a bit is against Minnesota and Nashville. Conversely, the Oilers are 14-15-3 versus Eastern Conference opponents. It gets uglier when you consider their record versus Eastern Conference playoff teams.
With the right matchup, Edmonton has a strong chance of winning at least two rounds. If they manage to get out of the Western Conference, the Oilers will need to find another gear to make it a contest.