In the dog days of summer, things are slow in the hockey world. Like really slow. There's the draft, a flurry of signings, and then a vast ocean of nothingness until the start of next season. It is awful and sad; hockey season is an eternity away.
Among the flurry of signings, teams usually deal with their restricted free agents. Whether that be via arbitration – though no one seems to be actually going to arbitration these days – or just giving out new deals, restricted free agents are signed.
For the Buffalo Sabres, there's still one restricted free agent to go. He's kind of important, too.  Cody Hodgson needs a new deal, it's just a matter of no one really knowing what he's worth.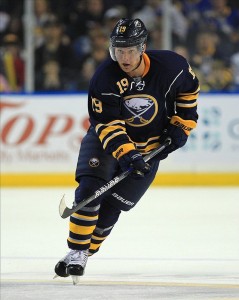 To Buffalo, he's the team's future #1 center; a top-line scorer teams crave.  He's obviously still young since he's restricted (just 23-years-old) and has very little in the way of an actual track record to rely on.
He debuted with the Vancouver Canucks, the team that drafted him, at 21 and put up 16 goals and 33 points in 63 games.  Because there was a glut of forwards in front of him, Hodgson was dealt to Buffalo for Zach Kassian, where he tacked on another three goals and eight assists with the Sabres. Whether that's because management thinks he's awesome or their hoping to strike gold with him so Canucks fans can say "CAM NEELY WHO?" is another thing.
In his first full(ish) season with the Sabres, shortened due to the lockout, Hodgson played in all 48 games for the Sabres, finishing with 15 goals and 34 points (.708 points-per-game, up from .493 from his rookie season. Over a full season, that's 64 points). He developed an obvious chemistry with top winger Thomas Vanek and flashed that offensive ability the Sabres were eyeballing when they acquired him.
Hodgson, at just 23, is yet to play his best hockey and his numbers are on the rise. But what's he worth? There are four similar comparisons to Hodgson. Here's a look at their numbers and what it meant in terms of a new deal:
Bobby Ryan
The 2nd overall pick in the 2005 Draft, Ryan had a very good season as a 22-year-old: 35 goals, 64 points as a budding power forward. It netted him a five year/$25.5M extension. Obvious caveat here that power forwards get paid more than most other players. There is a premium on power forwards in the league because they don't just grow on trees.
Hodgson likely won't see this kind of money; Ryan had already had two strong seasons under his belt by the time his 22-year-old season rolled around. With Hodgson, he's got one decent year as a rookie behind him.
Sam Gagner
Let me just start by saying that it blew my mind that Gagner is already entering his seventh season. He'll be 24 by the time the season starts. That said, he and Hodgson had nearly identical stats last year: Gagner finished as the Oilers second-leading scorer with 38 points in 48 games. He got rewarded with a three-year/$14.4M deal ($4.8M/per)
Gagner again has far more experience but until this past season, never really put it together. He had seasons similar to Hodgson's rookie year; still, $4.8M/per seems high for Hodgson based on what we've seen out of him so far.
Zach Parise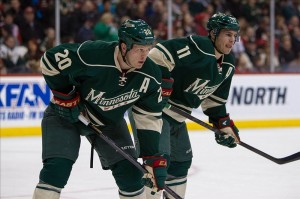 Ah, it looks like we might have a match. Parise had a decent rookie season (14 goals, 32 points) before having a breakout second season for the Devils with 31 goals and 62 points. It netted him a brand new four-year/$12.5M deal prior to year three.
The numbers are reasonable in term and length for both sides; the stats are eerily similar. Parise would go on to have a repeat in terms of numbers the following year before exploding for 45 goals and 94 points in year four. One can only hope CoHo follows the same career trajectory.
Tyler Ennis
Could his own teammate be a close comparable? Ennis had a good rookie year (20 goals, 49 points) before posting numbers identical to Hodgson's second year (15 goals, 34 points in 48 games), albeit in an injury-shortened year. That effort landed Ennis a two-year/$5.625M deal.
Hodgson isn't likely to take that small of a deal given that centers seem to be a premium position, he isn't as small as Ennis, and he doesn't have an injury history to speak of in the pros. If the Sabres can lock Hodgson up for the next two years at a term similar to that, they should high-five themselves until their hands are swollen.
So What's It Gonna Be?
The closest comparison, both in stats and what to expect out of a new contract, is likely to be Parise. A budding scorer coming into his own around 23-years-old getting locked up
A deal that paid him a shade over $3M/per. Obviously, Parise went on to much bigger things financially but that's not where we're going with this.
Something to think about as well is that these deals are driven purely on numbers. It's hard to tell exactly what type of defensive games these guys had without watching them but as a Sabres fan who watched Hodgson last year, he is not good defensively. Which is putting it nicely. He's a liability to say the least and that was in Lindy Ruff's notoriously solid defensive system. Will his offensive output overshadow his defensive game? Will he improve there? Something to think about.
Another thing to consider: long-term deals. Would the Sabres be against one given how the Tyler Myers deal has played out? He's been disastrous at times and looks nothing like the defenseman that won the Calder Trophy a few years ago. Would that hinder them from signing Hodgson, someone they consider to be #1 center material?
For Hodgson, he'll likely sign right in between the Ennis and Parise deals in terms of length (three years) and probably a little more than what Parise got because of inflation and whatnot. Something along the lines of three years/$10.5M would be wholly fair to both sides: Hodgson gets paid well for very little in terms of a track record and the Sabres get a reasonable cap hit on a burgeoning star if Hodgson continues to progress like they hope.
Follow me on Twitter: @RWTFC
The NHL regular season schedule was released on Friday. Check out our partners at TiqIQ for the best deals on Buffalo Sabres tickets for all 2013-14 games.