During the 2013 season, General Manager Ray Shero and the Pittsburgh Penguins had their way with the salary cap to put together a supposed "Dream Team." Adding Jarome Iginla, Brenden Morrow, and Douglas Murray was not enough to complete the dream though. The Penguins even used more salary cap magic to add Jussi Jokinen, but it still wasn't enough.
Now, with the salary cap falling, the Penguins find themselves as one of four teams (with Boston, Philadelphia, and San Jose) currently above the cap limit at the end of July. The CBA allows teams to be 10% over the cap during the offseason, but they must be compliant when the season starts.
Instead of spending up to the cap, Shero will now face a new task of trading away pieces of a roster that has already lost Iginla, Morrow, and Murray, along with Tyler Kennedy and Matt Cooke. According to Capgeek, Pittsburgh is currently $1.1 million over the cap. Also, Shero has traditionally kept his team $1 million or more below the cap limit for trading purposes.
Current Roster (rough projection):
Forwards:
Kunitz – Crosby – Dupuis
Bennett – Malkin – Neal
Jokinen – Sutter – D'Agostini
Glass – Vitale – Adams
Scratches: Jeffrey
Defensemen:
Orpik – Martin
Scuderi – Letang
Despres – Niskanen
Scratches: Engelland, Bortuzzo
Goalies:
Fleury
Vokoun
With moves to be made, who should the Penguins trade away?
Matt Niskanen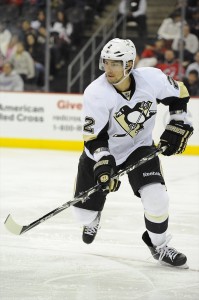 When the Penguins unexpectedly signed defenseman Rob Scuderi from the Los Angeles Kings, it quickly became apparent that there would be a logjam on defense for Pittsburgh. Scuderi is primed to be a shutdown defensive partner for Kris Letang, which solidifies one defensive pair. Meanwhile, Brooks Orpik and Paul Martin played most of last season together when healthy and they were the most reliable pair on the team.
With those four spots set and Simon Despres poised for a breakout year after being underutilized last season, Matt Niskanen ($2.3 million) looks like a costly luxury on the Penguins' blue line.
Niskanen has proven himself to be a reliable 2nd/3rd pair defenseman since the Penguins acquired him from Dallas in 2011. The 26-year old hasn't put up the offensive numbers he did in Dallas (35 points in '08-09) but he has improved defensively in his efforts to become a two-way threat.
In Niskanen's case, a trade would simply be due to a glut of defensemen throughout the system. He is hardly overpriced, but $2.3 million is also too much for a 6th defenseman on a team that needs to free up cap space. Orpik, Martin, Scuderi, and Letang are all capable of taking on 20+ minutes per game, Engelland is a trusted 3rd pair defenseman, and Despres and Bortuzzo are fighting to get more time in the lineup.
Meanwhile, the Penguins have a plethora of young defensemen in the minors who will soon be pushing to get to the NHL. The impending youth movement means that re-signing Niskanen (UFA after this season) may also be unwise.
Both the current and future status of the Penguins defensive corps forces Niskanen to the front of the line when it comes to trading options.
However, consider the idea that defense often wins championships. Over the past three postseasons, the Penguins have struggled on defense (and goaltending) far more than any Stanley Cup favorite should. Perhaps keeping Niskanen in a 3rd pair role is the depth that the Penguins need, regardless of his price for one season. With an offensively talented team that may want to keep their extra defensive parts, where else could the Penguins look to create room?
Jussi Jokinen
In retrospect, Jussi Jokinen had a baffling 2013 season. The versatile forward began the season in Carolina with two years left on a three-year, $9 million deal. He had a dismal start and scored just 11 points in 33 games while also being placed on waivers as the Hurricanes attempted to dump his salary. After going unclaimed, Carolina eventually traded Jokinen to Pittsburgh for a conditional draft pick (the conditions were not met) and offered to keep $900,000 of his cap hit.
Jokinen then scored 11 points in 10 games with Pittsburgh, mostly playing on the first line in Sidney Crosby's absence. He recorded 7 goals on just 13 shots in those 10 games. The move looked like a steal for Pittsburgh as Jokinen thrived in a top-6 role.
When Crosby returned however, Jokinen moved back into a bottom-6 role and eventually found himself as a healthy scratch again. He had three assists (two in the only game Crosby missed) and only played in 8 of the Penguins' 15 playoff games.
Jokinen has one year left on his contract and has a $2.1 million cap hit for the Penguins (while Carolina carries another $900,000). He has certainly proven himself to be a capable goal scorer, but it also appears that he needs a decent amount of talent next to him to succeed.
If he is on the 3rd line with Sutter and D'Agostini or another depth winger, will that be enough talent for him to produce? Is Jokinen's production even necessary on a team with Crosby, Evgeni Malkin, James Neal, Chris Kunitz, etc.?
His ability to play special teams and any forward position is valuable, but it may not be worth $2.1 million on a team with a plethora of star power already. The Penguins do need depth forwards, but Jokinen struggled in that scenario last season. If the Penguins want to go with depth at defense, it would appear that Jokinen would be the easiest fix on the offensive side.
Other Options
Brooks Orpik
The career Penguin is entering the final season of his contract and is earning $3.75 million. Orpik is the type of player that the Penguins could trade to both create cap space and get an asset in return. However, with the Penguins in "win now" mode, it seems unlikely that Shero would part ways with Orpik and disassemble the top defensive pair of Orpik/Martin. Orpik also has a limited no-trade clause.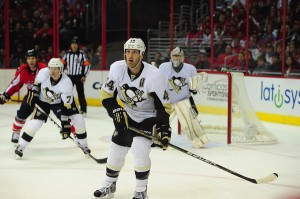 Marc-Andre Fleury
Every day of the offseason brings the question of what the Penguins should do with their above average regular season goalie who has consistently turned into a shell of himself in the playoffs. Fleury is making $5 million each of the next two seasons with a limited no movement clause and limited no trade clause. The Penguins do not have another goalie ready to help Tomas Vokoun yet and it certainly sounds like no one has completely given up on Fleury yet in the organization. This season will likely define Fleury's career, and that will probably happen in Pittsburgh for better or for worse.
[See: "Why Marc-Andre Fleury's Exclusion from Team Canada Could Benefit the Penguins" by Sean Griffin]
Packages
Looking at the roster, one player who may run out of room on the depth chart is defenseman Deryk Engelland. Engelland is only making $566,667 though, so he alone will not fix any cap issues. As a potential 8th defenseman though, Engelland is quickly becoming expendable. In an ideal world, Engelland would be packaged with a player like Tanner Glass.  Glass will be making $1.1 million in a probable 4th line role and can be replaced by a player making half of his salary easily. One potential issue with trading Glass though, and even Engelland, is that it will cost the Penguins grit and toughness that their lineup already seems to lack.
One way or another, Ray Shero will have to move someone to get his team cap compliant. Favoring defense, I would personally be looking to move Jokinen and potentially Engelland as well. The next big question will be which teams are even willing to take on that cap hit and will they give up anything? After all, the Penguins already acquired Jokinen for nothing as it is.
If you were Ray Shero, who would you try to move?
The NHL regular season schedule was released on Friday. Check out our partners at TiqIQ for the best deals on Pittsburgh Penguins tickets for all 2013-14 games.