Given that Pittsburgh is arguably the most talented team in the NHL, it's no surprise that so many Penguins have been invited to Olympic orientation camps.  Indeed, with Sidney Crosby, Chris Kunitz, James Neal, Evgeni Malkin, Jussi Jokinen, Beau Bennett, Kris Letang, Brooks Orpik and Paul Martin all receiving invites, the Pens could potentially send roughly half of their regulars to Sochi.  Hell, even Dan Bylsma (along with assistant, Tony Granato) will be coaching the U.S., while Ray Shero will act as the Americans' Associate General Manager.  One prominent name, however, did not receive an invite: Marc-Andre Fleury.
Fleury the Enigma
Whether or not "The Flower" was snubbed by Team Canada is open for debate but it's clear that Fleury's fall from grace marches on.  After all, it was only a few short years ago that the Pens' "franchise goaltender" was on top of the hockey world; he was coming off consecutive trips to the Stanley Cup Finals, an achievement that culminated in Pittsburgh's third Cup in franchise history.  A year later, Fleury was along for the ride in Vancouver when Canada emerged victorious in the 2010 Olympics.  Sure, he didn't see any playing time but the future was no doubt bright for the young netminder.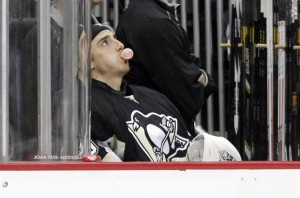 But the last few years haven't gone exactly as planned in the Pittsburgh crease.  After two disappointing playoff exits (neither of which were necessarily on Fleury's shoulders alone), the last two postseasons have been nothing short of a nightmare for the Flower.  He was lit up in last season's first round by the Flyers and sat helplessly on the bench for the bulk of the Pens' run this year after being yanked against the Islanders.  After Hockey Canada invited the likes of Mike Smith and Branden Holtby to camp in favor of Fleury, many are wondering how the normally happy-go-lucky goaltender will handle the news.
The Glass is Half Full
While Fleury is admittedly disappointed he isn't currently in Team Canada's plans, the exclusion could turn out to be a blessing in disguise for the Penguins.  Given that Marc-Andre's omission from camp doesn't necessarily preclude him from making the final roster, Hockey Canada has provided the Flower with ample motivation to produce a stellar campaign in Pittsburgh.  Clearly, a fast start to the Pens' campaign represents the only chance Fleury has to force Steve Yzerman, Mike Babcock and the rest of Canada to reconsider the status of the Stanley Cup winning goaltender.
There are, however, those that believe a strong start still won't be enough to land Fleury an Olympic roster spot.  After all, would Canada really roll the dice on the Olympic stage on someone who imploded between the pipes during each of the last two playoffs?  Perhaps not but, while not making the cut would surely disappoint Marc-Andre, his not being included on the final Olympic roster could potentially benefit the Penguins should it further fuel Fleury in his yearning to prove Yzerman et al wrong.  Regardless of how Canada fares in Sochi, what better way for The Flower to accomplish his goal than to lead the Penguins back to glory while rejuvenating his own career in the Pittsburgh crease?
And it appears the ultra-talented netminder is now willing to reach out to others in an attempt to put whatever issues exist between his ears behind him.  Specifically, per Shero's request, Fleury finally agreed to see a sports psychologist in the hopes of absolving any mental issues that have been plaguing the struggling backstop.  Is it a lock to return The Flower's status as an elite goalie?  Of course not but, at the very least, it's an encouraging sign:
"I think it's a good step for him, which he's really taken seriously since our year-end meeting. It's kind of like the situation with Matt Cooke in that you can't just hope you're going to come back and things are going to be different.  A lot of guys talk to somebody. It's a confidence thing." – Ray Shero, on Fleury seeing a sports psychologist
Sure, it can be argued that The Flower is a shell of his former self, that he can't handle the pressure anymore and that, if he was going to recover, it would have happened in this year's postseason.  And perhaps all that will prove to be the case.  But maybe, just maybe, Marc-Andre Fleury now has all the tools and motivation he needs to return to the top the hockey world.  Time will tell.