With the 2013-2014 NHL schedules being released a couple of weeks ago, hockey fans have undoubtedly combed through a bunch of games thus far in order to secure tickets or mark specific games for their respective viewing pleasure. Planning ahead of time for the '13-'14 NHL season might afford some fans better ticket pricing and other opportunities, but for those that cannot commit themselves too far down the line there is always the option of bookmarking certain game dates.
After finishing off the 2012-2013 NHL season by battling for a playoff spot and giving the Pittsburgh Penguins a run for their money in the first round of the Stanley Cup Playoffs, Islanders fans are probably anxiously awaiting the start of the upcoming hockey season to see how far their team has actually come. While Islanders fans certainly have a reason to be excited for the '13-'14 NHL season, the Isles will have the task of adjusting to play within the newly established Metropolitan Division as well as continuing to build off of their previous season's success.
Competing in the Metropolitan Division likely won't be any easier than playing in the Atlantic Division, and no opponent will take pity on the Isles' schedule or circumstances. Despite the fact that New York will play some of their road games in chunks (a pair of four game road trips & a five and six game road trip) during the upcoming season, there are several games in particular that Islanders fans should keep their eyes on – both preseason and regular season.
New York Islanders: Must See T.V.
Saturday, September 21, 2013 – New Jersey Devils at New York Islanders (Barclays Center)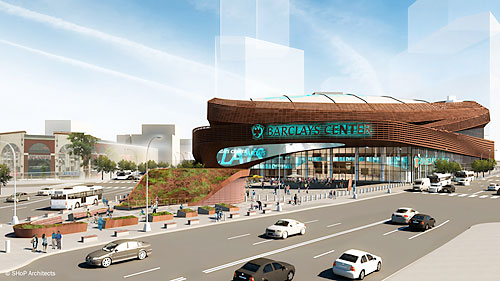 Yes, this is a preseason match-up between the Devils and Islanders, but it should be one that is anticipated as it will be the Isles' first game played at the Barclays Center. With New York moving to the Barclays Center for the 2015-2016 (and potentially earlier), Islanders fans will likely be curious as to how accommodating the team's new arena will be for their hockey team.
Despite all of its current shortcomings, the Nassau Veterans Memorial Coliseum has some of the best sightlines that a hockey arena could offer to its fans. Since many have debated how well a horseshoe configuration could tend to the viewing needs of hockey fans, the September 21st match-up between the Isles and Devils will serve as a glimpse as to what Islanders fans can expect to see when their hockey team moves from Nassau to Kings County. Whether or not this preseason game will be televised is yet to be determined, but this contest has been in the works for quite some time now, and could certainly help Islanders fans gauge their expectations for their future home.
Saturday, October 26, 2013 – Philadelphia Flyers at New York Islanders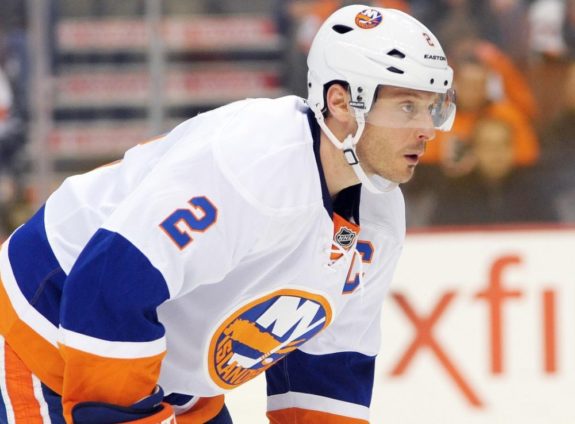 Even before the Metropolitan Division was established, the New York Islanders and Philadelphia Flyers knew each other quite well. When the two teams meet up for the first time in 2013-2014, there likely won't be any love lost between the two opponents, but the Islanders will be welcoming back their old captain, Mark Streit.
John Tavares will probably assume the role of captain for New York after Streit's departure, but Islanders fans will undoubtedly want to welcome back their former captain in warm fashion. Not only was Mark Streit a consummate professional during his time with the Islanders, he always believed in his team's ability to mature and compete as a unit. Even though Streit will be returning to Nassau Coliseum in a different uniform on October 26th, Islanders and Flyers fans can expect the two teams to resume their old style of play when they meet up in a brand new division.
Tuesday, December 3, 2013 – Pittsburgh Penguins at New York Islanders
For the last several years, a rendezvous with the Pittsburgh Penguins on the hockey schedule likely caused some anxiety in Islanders Country, but upcoming match-ups between the two teams might be met with a different type of anxiety from New York fans. After battling through six games with the Pittsburgh Penguins during the 2012-2013 Stanley Cup Playoffs, the New York Islanders were once again sent packing in the first round, but the Isles' most recent playoff round had a different feel to it.
While a six game ouster probably wasn't the way that the Islanders envisioned ending their season, their level of competition against a potent Pittsburgh Penguins lineup was unquestionable and plain to see. Dwelling on past postseason outcomes won't likely be a concern for a young and hungry team looking to get right back into the thick of things, and it should not surprise anyone to see the Islanders play with the utmost confidence against such a tough divisional opponent.
Tuesday, December 17, 2013 – Tampa Bay Lightning at New York Islanders
Can a match-up between a pair of number 91s get more interesting? I don't think so.
In ten games played at Nassau Coliseum, Steven Stamkos has registered eleven points (5 Goals, 6 Assists) against the Islanders. Out of any opponent that Stamkos has seen on the road ten or more times, the Islanders are only the second team against which Stamkos scores at more than a point-per-game pace (the other being the former Atlanta Thrashers).
Despite the fact that Stamkos plays very well against the Islanders, New York managed to sweep the season series from the Lightning last season. While the Lightning will be moving to the Atlantic Division this year, the Islanders will still see their Floridian opponent for a total of three contests during the 2013-2014 NHL season – all of which should promise to be exciting games.
Wednesday, January 29, 2014 – New York Rangers at New York Islanders (Yankee Stadium)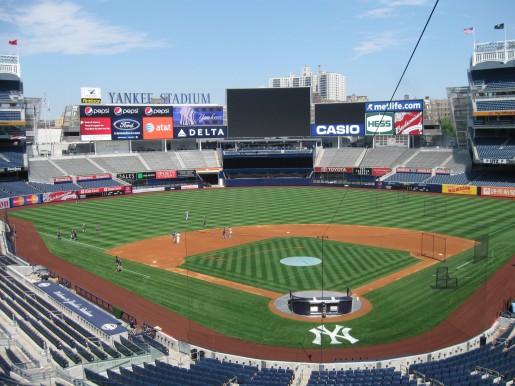 This will by far be one of the most anticipated games for fans of both the New York Rangers and New York Islanders. New Yorkers (and those living in the metro-area), especially those that are fans of hockey, have probably been waiting to host their own outdoor event since the NHL made such events an annual occurrence. Even though the January 29th game featuring the Islanders and Rangers battling at Yankee Stadium won't be a traditional Winter Classic event, there won't likely be any shortage of action when these two teams meet up in the neutral confines of the Bronx.
While both New York teams will be playing in unfamiliar territory, the Islanders will receive the "home-ice advantage" for this contest. Not only will this match-up be exciting for fans in attendance, those watching from the comfort of their home will probably be just as inclined to tune in to this game as it will be nationally televised on NBCSN. Since this game will serve as the first portion of a home-and-home series for these two teams, fans of the two teams might want to keep their eyes glued to their respective franchise as there could be a serious swing of divisional points from January 29-31.
Other Dates of Note
Friday, October 11, 2013/Thursday, January 2, 2014 – New York Islanders @ Chicago Blackhawks/Chicago Blackhawks @ New York Islanders
The last time the Islanders played the Blackhawks, the two teams put on quite an offensive showing. Any time that a team plays the defending Stanley Cup Champions there is guaranteed to be some action. While the outcome of these two contests certainly cannot be determined ahead of time, fans must keep in mind that both the Islanders and Blackhawks have offenses that could light the lamp in frequent fashion.
Saturday, January 18, 2014/Monday, January 20, 2014 – New York Islanders @ Philadelphia Flyers/Philadelphia Flyers @ New York Islanders
The late stages of January will be packed for the Islanders in terms of play against divisional opponents. Intra-divisional play could see a bunch of points traded between two teams, and divisional standings could be on the line as a result. The Isles' home-and-home match-ups against the Flyers will take place a week and a half before their home-and-home meetings with the New York Rangers, so the Islanders will have to be on point during the latter stages of January as such constant play against divisional opponents can drastically shift standings in the Metropolitan Division.
The NHL regular season schedule was released on Friday. Check out our partners at TiqIQ for the best deals on New York Islanders tickets for all 2013-14 games.