Eight Washington Capitals' players will take part of the 2014 Winter Olympics this winter, as the hockey tournament takes place in Sochi, Russia. The Olympic break is set to run from February 9th to the 25th. Below is a team by team breakdown for the Washington Capitals players that are participating.
Canada
Goaltender Braden Holtby and defensemen Mike Green and Karl Alzner received invites to team Canada, along with 44 other players. Holtby will face tough competition as he aims to make the team, with talented NHL goalies Roberto Luongo, Carey Price, Corey Crawford and Mike Smith also receiving invites.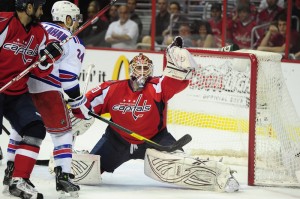 Alzner and Green also face tough odds to make the team, as Stanley Cup champion defensemen Brent Seabrook and Duncan Keith received invites. Shea Weber, P.K. Subban, Kristopher Letang, Alex Pietrangelo are almost sure locks for Canada's roster. There were eight left handed defensemen and nine right handed defensemen invited to camp. You can view the entire Team Canada orientation camp roster, here. I'd say Alzner has a better chance to make the Canada roster than Green, due to his defensive talents and mentality.
Carlson invited to Team USA
Washington's 23 year old offensive blue liner has a solid chance of making USA's roster in Russia. He has 97 career points in 234 NHL regular season games, along with 13 points in 37 total playoff contests. Carlson will compete with defensemen Erik Johnson, Jack Johnson, Kevin Shattenkirk, Ryan Suter and Keith Yandle for playing time.
Team USA could boast the best goaltending in the entire tournament, led by L.A. Kings net minder Jonathon Quick. Even Quick's backups are highly capable of starting for the United States, including Ryan Miller and Jimmy Howard. The goal for the United States' defense should be to generate solid stretch passes to their forwards, especially talented scorers Patrick Kane, Ryan Kesler, Zach Parise, Bobby Ryan and Phil Kessel. Any United States medal would be exceeding expectations in Sochi during 2014.
Team Russia
Forwards Alex Ovechkin and Evgeny Kuznetsov are locks to make the Russian squad as their home country hosts the Olympics. Washington's Captain will join fellow NHL stars Pavel Datsyuk, Evgeni Malkin and Ilya Kovalchuk in hopes of obtaining gold. The Russian team will come together in Sochi on August 23rd and 24th for camp. Former Washington Capitals players including Alexander Semin, Sergei Gonchar along with goaltender Semyon Varlamov will join Ovechkin and Kuznetsov at Russian camp prior to the NHL season.
Team Sweden
The Swedish Olympic team meets from August 12-14 prior to the NHL season as Nicklas Backstrom and Marcus Johansson, who is still a restricted free agent, represent the Capitals for team Sweden in Russia. Backstrom, Washington's first line center heading into next season, gets the opportunity to play with numerous talented forwards including Henrik Sedin, Daniel Sedin, Gabriel Landeskog and Henrik Zetterberg.
You can follow Matthew on twitter @m_speck and email him at mspeck21@yahoo.com with any questions or comments.
Matthew Speck covers the Washington Capitals organization for The Hockey Writers. He provides coverage of both Washington at the NHL level and prospect related content. Matthew also covers local sports for the Lebanon Daily News in Central Pennsylvania. You can email him at mspeck21@yahoo.com with any questions or comments.