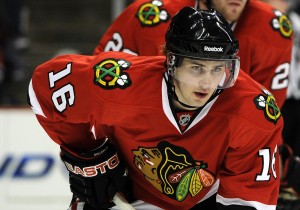 Earlier this month the Chicago Blackhawks re-signed centre Marcus Kruger to a two year extension in a move that was not acknowledged by many. After the Blackhawks Stanley Cup victory many fans were pleased with how Bowman kept the team in large part together. Despite losing a few pieces like Bolland, Frolik and Emery, the majority of the 2013 championship roster will be back in Chicago come next season. With many hungry players in Rockford it's expected those spots to be hotly contested for in training camp. One Blackhawks forward, centre Marcus Kruger, will also be looking to make a name for himself next season.
Kruger was a 5th round pick of the Blackhawks in 2009 and made the team for good in 2011, since then he has been a steady reliable cog in Chicago's bottom six group. Entering his second NHL season Kruger had 4 goals 9 assists for 13 points in 47 games while averaging 14:09 of ice per game.
With Dave Bolland getting traded to Toronto it creates an opportunity for Kruger to step up into a top 9 position and grab the vacant 3rd line centre position. Kruger picked up 8 of his 13 points 5 on 5 and rarely sees and time on the powerlpay (just 12:55 last season)
Kruger has proven himself to be defensively responsible and has limited his defensive lapses more and more each season. Coach Q has used him in a penalty killing situation on the regular with him logging over 110 minutes on the PK last season in just 47 games, up from his 94:26 minutes of penalty killing in 71 games during his rookie season.
As he continues to grow it has become apparent Coach Q is not shy in rewarding him with more responsibility. As he is reward with more ice time his production will also need to pick up as he averaged just .28 PPG last season which was down from his rookie season of 26 points in 71 games (.37 PPG)
The one area Kruger needs to improve is faceoffs, despite taking the third most faceoffs on the team with 493 draws he won just 46.2 % of his draws. Dave Bolland led Chicago in faceoffs taken in 2011-12 and was 2nd on the team last season with 518 draws in just 35 games, so the team will need Kruger and Handzus to step in cover the gap of Bolland's departure.
Fresh off his first Stanley Cup victory look for Kruger to welcome the opportunity to seize a larger role with the club and elevate himself to permanent third line centre position. Kruger has all of the skills necessary to be successful and now must prove he is willing to work for it.
The NHL regular season schedule was released on Friday. Check out our partners at TiqIQ for the best deals on Chicago Blackhawks tickets for all 2013-14 games.