It is being wildly opinionated in the not-so-mainstream media (Twitter) that this year's Pittsburgh Penguins' Development Camp is nothing more than a dog and pony show. It all stems around one central idea that this front office and coaching staff do not trust their younger players within the system. Many have taken to Twitter, or their personal blogs to opine on the Penguins' desire to stay away from their young talent.
The Defense
This young talent resides firmly on the Penguins' blue line. Sure there are young forwards that the coaches will take a look at this week, but none of them possess top-6 ability. No, whatever studs that the Pens can boast about, are all defensemen. Names like Brian Dumoulin: a player so highly regarded before becoming a Penguin that GM Ray Shero insisted he be included in the Jordan Staal trade of 2012. No Brian Dumoulin, no Jordan Staal to Carolina.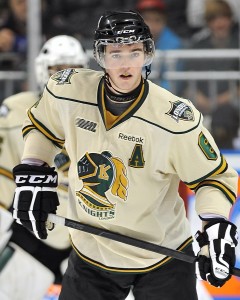 Take Derrick Pouliot, the player that the Penguins took with the 8th overall pick in last summer's draft. The pick which was acquired along with Dumoulin and Brandon Sutter in exchange for Staal from Carolina. Another facet of that deal that had it not been included, the deal would have been off. And keep in mind, Shero knew exactly who he wanted with that 8th pick. So that tells you how high they were on the young Portland Winterhawks defenseman.
Then there is the London Knights' connection: Olli Maatta (also drafted in 2012 with the Penguins' own 22nd overall selection) and Scott Harrington (2011 2nd round pick) both played for the OHL powerhouse last season. In fact, they were paired together for much of the season, with Maatta leading the Knights' defensemen in scoring each of the past two seasons, and Harrington served as team captain in 2012-2013.
One other name to keep in the back of your mind is Harrison Ruopp, the main return from Phoenix when Shero sent the underachieving Zbynek Michalek back to his roots at last years' draft.
Now there are certainly more young promising defensemen in the system. Guys like Philip Samuelsson (son of former Penguin Ulf), Nick D'Agostino, Reid McNeill, Alex Grant, and Alex Velischek. Not all of these players, however, will translate to the NHL. Guys like McNeill and Grant seem destined to be fringe NHLers, while Samuelsson, D'Agostino and Velischek may have some value to the Penguins in terms of a trade (more on this below in my prognostication).
Despite what I hope (which is that youth will be served here in the steel city within the next two seasons), these bloggers' and fans' points are all valid. You needn't look any further for proof of said validation than head coach Dan Bylsma's season-ending press conference when he referred to Simon Despres as a "top-4 defenseman" and Beau Bennett as a "top-6 talent."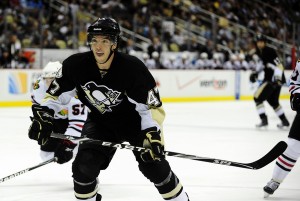 Despres saw action in 33 regular season games this past season, mostly due to various injuries in the Penguins' top-6 D. In other words, had it not been for those injuries, Despres may not have seen action at all. And as if that weren't enough, Shero traded for defenseman Douglas Murray at the trade deadline to add one more log to the jam.
Then in the playoffs, Despres was inserted into the lineup in Game Three vs. the New York Islanders, and was so bad on his first two shifts that his ice time totaled under seven minutes for the entire game (a game which went into overtime, mind you).
The problem with Bylsma's quote at the press conference is that two weeks ago, when free agency opened, the Penguins then went and signed back 34 year-old defenseman Rob Scuderi.
The Forwards (or lack thereof)
As I stated earlier, the cupboard of young, talented forwards is bare. Beau Bennett, despite seeing his first real NHL action last season, remains the brightest spot in an otherwise dark and gloomy area for the Penguins' pipeline.
Bennett will without a doubt start this season (barring some major setback in his development) with the NHL club. In his brief time with the Pens last season, he showed signs of his promising upside. Bennett has very good vision on the ice, which allows him to distribute the puck very nicely. He should fit in perfectly alongside Sidney Crosby and Pascal Dupuis, if not this season, then very soon.
Now of course the Penguins certainly do have forwards in their minor league system. Tom Kuhnhackl is a name that the organization was supposedly high on for a time. Unfortunately for the German-born winger, injuries have prolonged his road to the NHL.
Other names in the forward crop include Josh Archibald, Teddy Blueger, Jake Guentzel, Adam Payerl (who may sniff the NHL this season), Paul Thompson and Oskar Sundqvist. Those within the organization, mainly Special Assistant to the GM Tom Fitzgerald and Director of Player Development Bill Guerin, will tell you that they are very high on Sundqvist and one other player I have yet to mention: Anton Zlobin.
Zlobin and Sundqvist, along with Teddy Blueger, are the only forwards whose talents may translate to the top six with the Penguins. But unlike the defense corps of the Pens' development system, the forwards are all a long way from seeing NHL duty.
The Prognosis
With Brooks Orpik, Deryk Engelland and Matt Niskanen's contracts all set to come off the books at this upcoming season's end, Shero will most likely be looking for replacements for those players. The biggest complaint that I've seen in the "Twitter-sphere" is that Shero and Bylsma will be unwilling to give the young guys a chance, when the time for that chance seems the most obvious.
If I were sitting in Shero's seat right now, I'd be nearly ecstatic at the idea of having such talented, young defensemen with which to plug the upcoming holes. Niskanen may already be a goner, considering the Penguins' current cap situation (about $125,000 under the cap, with Robert Bortuzzo and Dustin Jeffrey yet to sign). Engelland has little to no trade value (he's a solid bottom-pairing guy, but nothing special and bottom-pairing defensemen are a dime a dozen in this league). As for Orpik, his situation is the most interesting. I'm sure that Shero would like to bring him back after this season, but obviously it would have to be at the right dollar amount and length of time. Think no more than three years at probably somewhere in the neighborhood of $2.5 million per.
Which brings me to the future. The forward situation is dire, and Shero has trade pieces at his disposal to try and replenish that department. But on defense it is much more promising. This season's defensive pairings figure to look something like this (I'm obviously basing this off of the current roster):
Martin-Orpik
Scuderi-Letang
Niskanen-Despres/Engelland/Bortuzzo
At some point this season I fully expect that Dumoulin will get a taste of the NHL, and I wouldn't be surprised if Harrington gets one, too. Which for me draws the conclusion that they should be full-time NHLers come the 2014 season. Perfect timing considering that Paul Martin's contract will expire at the end of the 2014-2015 campaign. If all would go according to my plan, then the defense pairings for the start of 2014 would look like this:
Scuderi-Letang
Orpik-Despres
Dumoulin-Harrington
Obviously those pairings could be tinkered with to find the right fit. Perhaps Bylsma would want veterans skating alongside the two youngsters. Personally I like the idea of the Dumoulin-Harrington pairing. Both are big guys with shut-down potential written all over them.
Now comes the tricky part. By the time 2015 rolls around, Maatta and Pouliot, the supposed cream of the Penguins' defensive crop, should be ready to go. At this point though, it becomes almost useless to surmise what could be, considering that the end of this scenario is a full two years away, and who knows what will happen by then.
But the bottom line is this: I agree with those out in "Twitter-verse" that the Penguins need to take advantage of this young defensive talent that they possess. I do not agree that this year's prospects development camp is nothing more than a preview of what we'll see going out the door via trade.
My hope, is that Dan Bylsma and Ray Shero will come to their senses on the young guns, and build what could be one of the best defense corps in all of hockey.
You can also email me at TDTorraoTHW@Gmail.com

Pittsburgh, Pa. Class of 2000 graduate from Robert Morris University with a B.A. in Mass Communications. Full-time objective sports fan.