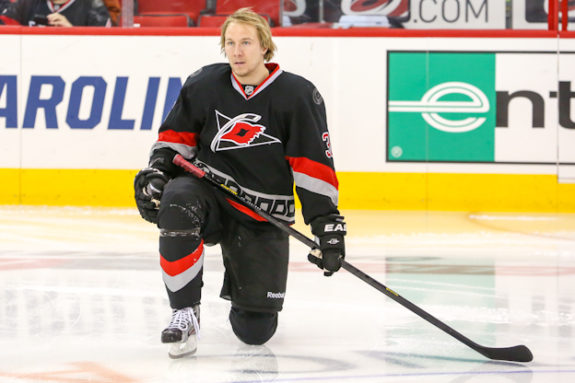 Ray Shero made his final move on Wednesday afternoon by trading Eric Tangradi for Jussi Jokinen.
Well, okay, not exactly.
Shero and the Pittsburgh Penguins traded a conditional draft pick to the Carolina Hurricanes in exchange for Jokinen.  According to TSN's Bob McKenzie:
If Jokinen plays 25 per cent of PIT 2013 playoff games AND PIT goes to Cup final, CAR gets 7th round pick from PIT. #tradecentre

— Bob McKenzie (@TSNBobMcKenzie) April 3, 2013
If Jokinen plays 50 per cent of PIT 2013 playoff games AND PIT wins the CUP, CAR gets a 6th round pick from PIT. #tradecentre

— Bob McKenzie (@TSNBobMcKenzie) April 3, 2013
Less than two months ago, Shero dealt Tangradi to the Winnipeg Jets for a 2013 seventh round pick, effectively completing the Tangradi for Jokinen swap.
From that perspective, the trade is a win for Pittsburgh.  Jokinen scored 30 goals with the Hurricanes in 2009-10 and will be a versatile offensive option for head coach Dan Bylsma.  Jokinen will initially fill in for Sidney Crosby (broken jaw, out indefinitely) at center on a line with Pascal Dupuis and Chris Kunitz.  He can also contribute on the penalty kill and second powerplay unit.
Most importantly, Jokinen is good in the faceoff circle.  He's won 59 percent of his draws this season and 55 percent last season.
Earlier this week, we pinpointed the Penguins' need for a center that could win critical defensive zone faceoffs, specifically on the left side of the ice.
We don't have detailed statistics for Jokinen's faceoff percentages on the left vs right side of the ice, but left-handed players like Jokinen are typically better at winning faceoffs on their backhand (the left side of the ice).
Phoenix's Boyd Gordon was our suggested acquisition and he ended up staying put despite his unrestricted free agent status.  Coyotes Assistant GM Brad Treliving said on Wednesday that Gordon was simply too important to the team's current playoff push for them to unload him at the deadline for a draft pick.
Jokinen didn't factor heavily into on our center analysis because he carries a $3 million salary cap hit for next season.  The Penguins have about $9 million in cap space for next year with a few holes to fill and that money could be better spent on re-signing free agents like Jarome Iginla, Pascal Dupuis, or Matt Cooke.
The Penguins, however, won't be paying Jokinen's full $3 million salary.
Teams are now allowed to retain salary of traded players under the new Collective Bargaining Agreement.  The CBA's Summary of Terms states:
In the context of Player Trades, participating Clubs will be permitted to allocate the AA and related Salary and Bonus payment obligations between them, subject to specified parameters ("Retained  Salary Transaction"). Specifically, the Club trading a Player may agree to retain a percentage of the SPC's AA and related Salary and Bonus obligations for each of the remaining years of the Player's SPC, up to 50% of the SPC's AA. In each Retained Salary Transaction, the percentage allocation of the retained AA and retained Salary and Bonuses must be the same (i.e., the Salary and Bonus obligations as between Clubs would be allocated on the same percentage basis as the AA being allocated) and cannot be altered from year to year. So, for instance, if an assigning Club agrees to retain 30% of an SPC's AA over the balance of its term, it will also retain an obligation to reimburse the acquiring Club 30% of the Player's contractual compensation (Salary and Bonuses) in each of the remaining years of the contract.
In English, teams can retain part of the salary obligation of a player they are trading away.  This makes it easier to move overpriced players to teams that were reluctant to take on the full salary hit under prior rules.
Shero and the team's salary cap specialist Jason Botterill utilized this rule for the first time in the Jokinen trade.
Hurricanes General Manager Jim Rutherford would not disclose how much of Jokinen's salary he agreed to retain, and the Penguins didn't mention the retention of salary in their press release either.  If we assume Carolina may have kept $1-1.5 million of Jokinen's salary for next season, the move makes sense for both teams.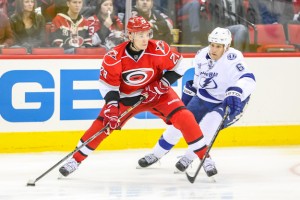 Carolina operates under a very strict budget and will be facing financial pressure next season.  Jordan Staal's 10-year, $60 million contract extension kicks in this summer and Rutherford just signed Alexander Semin to a five year extension at $7 million per season.  The Hurricanes will need all the financial room they can get and even waived Jokinen last week with the hope that another team would claim his full cap hit.
After Jokinen cleared waivers and the Penguins lost Crosby for an indefinite amount of time, the teams came together to complete a deal that helps both sides address their needs.
Having Jokinen in the fold at a reasonable price also offers Shero a backup plan if free agents like Dupuis and Cooke decide to test the open market.
If those players choose to re-sign with the Penguins, Shero and Botterill might take advantage of another option they've been granted in the new CBA.
Teams now have the ability to use two 'Compliance Buy-Outs' in which a player can be bought out of his existing contract and none of the salary cap hit remains on the books.  The Penguins don't have any crippling contracts on their payroll at the moment.  It might make sense to use one of these buy-outs on Jokinen if he doesn't perform or Shero wants the cap space to retain someone like Iginla.
Of course, these minor payroll details aren't nearly as important as the Penguins' on-ice performance will be over the next few months.
Pittsburgh was steamrolled 6-1 by a desperate and invigorated New York Rangers team on Wednesday night and their 15-game winning streak is now a distant memory.
"I thought the compete level from the Rangers was very high and we certainly didn't match it," said coach Dan Bylsma after the game.
"[From our players' perspective], you're not immune to conversations about how well the team is doing, and number of wins in a row, and adding good players to your team.  It's not the first time you hear those things and I don't think you can take your foot off the gas or think you just have to put the jersey on [to win]."
The Penguins and Jokinen will get a chance to get back on track with a rematch against the Rangers on Friday evening.
___________________________________________